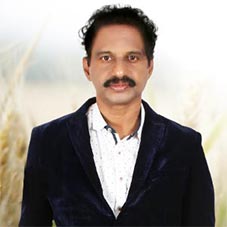 The complementing figures of the ever increasing population in contrast to an ever decreasing supply of living resources like food and water has made it necessary to increase the agricultural production and stabilize it in a viable and feasible manner. The benefits of 'Green Revolution' credited to Dr. MS Swaminathan have now reached a plateau; it has come to a halt. With diminishing returns it has now become necessary to devise alternate techniques. Besides, pollution is another nemesis that is born out of excess use of fertilizers and artificial growth regulators. Clearly, the need of the hour is a natural balance between life and property for existence.
Although agriculture has progressed dramatically over the years particularly using chemical fertilizers, pesticides, adverse impacts has resulted in some undesirable effects on both biotic and abiotic component of the environment.
Aware of the harmful effects of using such chemicals, farmers are increasingly opting for alternative methods of cultivation. One such alternative method is using bio products. Among the numerous advantages of this practice are safety of mammals & other non-target organisms, and environment compatibility. Bio products are essentials in supplying nutrients as well as facilitating easy availability of nutrients. Their role in supplementing nutrition makes them ideally suitable in integrated nutrient management systems.
In view of their several advantages, the demand for bio products has been rising steadily. Keeping in view the potential of bio products as an important component of sustainable agriculture particularly on small farmer holdings, a number of startups and other enterprises have to the fore to develop and market sustainable bio products. One such organization is GreenCare BioSciences that focuses on finding practical solutions to the field problems. Green Care BioSciences conducts activities that can rapidly generate gains for all stakeholders. "We hold the principle of partnership for growth focusing on understanding and fulfilling the needs of our customers on a local level", Dr. C.J. Benson, Director Operations, Green Care BioSciences.
Green Care Biosciences has deep rooted respect for the mother land and its farmers. Succeeded by its slogan 'Green Care means Green India', Green Care BioSciences has taken giant strides toward achieving a green India. Green Care has established the research works to reach farmers' requirements and demands. The products developed and marketed by Green Care are for the betterment of the farming
community in terms of yield and profitability. The experts at Green Care Biosciences produce nano tech organic and micro nutrient fertilisers for minimum quantity of fertiliser usage and maximum results to make the soil more fertile and environmentally free from all types of pollutants. This commitment protects the crops and food grains for the benefit of humanity by using the latest developments and technology.
Ayur products include certified ayurveda based health care products
Quality Researched Products
Over the span of 15 years since its inceptions, Green Care has developed a myriad of bio products that are sustainable for the good health of the overall farming ecosystem. Micro Nutrient Fertilizers, Organic Fertilizers, Energy Booster, Growth Enhancer, and Plant Protector are some of the products that Green Care actively produces and markets. Micronutrients are essential for plant growth and play an important role in balanced crop nutrition. They are as important to plant nutrition as primary and secondary micronutrients, though plants don't require as much of them. A lack of any one of the micronutrients in the soil can limit the growth, even when all other nutrients are present in adequate amounts. Green Care offers a dozen of micro nutrients. Organic Fertilizers also has become a significant substitute for the chemical ones.
Green Care's researched & developed energy boosters changes biological system in the plant by supplying organic elements in chelated form which supplies instant energy and health to the plants immediately. It develops more roots to strengthen the plant. It produces more tillers in paddy and wheat, and at the same time support photosynthesis which enhances the yield. It stimulates the secretion of hormones specially to develop more paths to strengthen the plant and also to increase photosynthesis for plant growth thereby enhancing the yield. Green care has also developed specialized plant protector products. The firm's plant protection technology is an advanced bio technology based research, containing highly specialized bio component in natural form and in such a concentration that gives protection from plant larval insects such as bollwarm, spodoptera and oter lepidopteron larvae that are damaging agricultural, horticultural and ornamental crops. Derived from alkaloid extract, this is a special biotech product used as a plant protector in larval form of pests in plants and flowers. Customers have time and again preferred Green Care products for their high grade quality.
Uncompromised On Farming Standards
Green Care BioSciences has been recognized and valued as a vital contributor to sustainable agriculture. "To us, a commitment to sustainability means a commitment to fulfilling our obligation to all of our stakeholders. We understand that it is only by increasing value to all these stakeholders that we can build an ever flourishing and lasting organization", says Dr. Benson.
The company places quality at the top of its priority list for attaining customer satisfaction and growth & expansion of organization. Green Care's entire endeavor is embarked upon making products that complies with farming quality standards. For achieving this, the firm ensures to use only the finest grade of raw material.

Explaining how Green Care maintains high quality standards, the Director of Operations says, "We have constituted farmers research group to identify and analyze information on the value of our products to their community. This information will be vital to our endeavor to achieve excellence in product quality and to respond immediately to any complaints".

Green Care Biosciences believes in ethical business at the professional front. Idea is that only by respecting the market and its prime requirements can a business achieve true success. However, the competition in the market has backlashes in duplications and illegitimate quality products. Green Care BioSciences overcomes these challenges by its quality product supply through its latest research and development practices. "Our prime commitment stands with the Quality and Timely services along with the selling solution, rather than the selling product in the market", adds Dr. Benson.

More Agricultural Innovations Is The Way Forward
Dr. C.J. Benson is backed by a team of well qualified and experienced agricultural professionals in the field of marketing and production. The team mainly looks for problem solving as solution selling to the farming community, rather than the conventional product sales.

Therefore, in the years to come Green Care BioSciences is committed to the potential of Nanotechnology for improving the agriculture scenario and bringing efficiency in the agriculture and food sector. Among the initial Nanotechnology steps, the leadership at Green Care BioSciences has started collaborating with researchers and companies manufacturing useful nanotechnology driven agro products. This is one of the many strides Green Care will be taking in the near future to further brighten India's future in the green revolution's history.

Dr. C.J. Benson, Director Operations
Benson Is An Efficient Business Manager And Has Enhanced Work Of Field Teams Performing The Operations Of Production, Research & Development, Marketing, Accounting Work According To Challenging Schedules. He Has Also Demonstrated Expertise In Cultivating And Managing Exceptional Teams To Meet And Exceed Demanding Targets. More So, He Is An Industry Expert Well-Versed In Industrial Standards And Market Trends With Experience In Policy Development And Staff Management Procedures Positively Impacting Overall Morale And Productivity Of The Company

Offerings
Agro Products
• Micro Nutrient Fertilizers
• Organic Fertilizers
• Energy Booster
• Growth Enhancer
• Plant Protector