AGS Transact Technologies: Promising Career Progression, Equal Learning Opportunities & Rewards Galore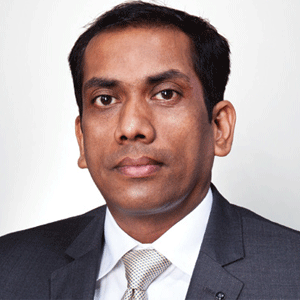 The might behind approx. 72,000 ATM machines installed, maintained/managed as of June 30, 2018,with approximately 50 banking customers, AGS Transact Technologies Limited outclasses as an Indian financial behemoth offering end-to-end cash & digital payment solutions and automation technology. The firm has segregated its entire business operations into three segments – Payments Solutions, Banking Automation Solutions and Other Automation Solutions (For Retail, Petroleum and Colour sectors). Its subsidiaries include India Transact Services and Secure value India, with the prime goal of transforming the financial technology sector in India.
Having served the Indian Army for almost six years, Capt. Partha Samai (Group Head - HR & Admin, AGS Transact Technologies) is renowned for his crucial HR roles at Airtel, Tata Teleservices & Tata Docomo and Tikona Digital Networks. He embarked onto the HR department of AGS Transact in 2011 wherein his current role is to ascertain that every employee is subjected to career progression, equal learning opportunities and rewards & recognition (R&R). In fact, he is proud to have facilitated almost 10 times growth in the employee count which stands at approx. 9900+ as of June 30, 2018. Below are the excerpts of an exclusive interaction of Capt. Partha Samai with CEO Insights. He has delivered great insights on his journey with AGS Transact Technologies' workforce as its HR head as well as the various facets that project AGS Transact Technologies as the best workplace for people today.
Kindly share few instrumental facets about AGS Transact that make it one of the bestworkplaces for the budding millennials today.
I have always been so proud to support various talents at AGS Transact who are bestowed with the organization's multi-faceted utilities in terms of career progression. For instance, we have a platform called Install Base that accordingly swaps the service engineers with recent promotions (as team leaders or area managers) to other businesses. This system clearly helps in talent retention at AGS Transact. In
addition, we maintain transparency within the teams, deploy rich leadership skills and offer flexible compensation structure and effective employee benefit scheme (medical insurance costing nil to employees)to further retain the talents. Moreover, our captive call center comprises of home-grown leaders looking after our engineers' lineage, thus ensuring that our connection with customer requirements & deliverables remains exemplary.

"Besides career progression, we ensure that employees hold a strong vision of taking each parameter of their competence to the next level while providing them the advantages of automation and self-service across our platform "

Besides career progression, we ensure that employees hold a strong vision of taking each parameter of their competence to the next level while providing them the advantages of automation and self-service across our platform. Our town hall concept involves sessions across various cities where employees and senior management can exchange ideas and grievances to motivate and build the loyalty of its employees. Hence, we are able to connect with every employee under one roof. Also, we give them liberty to speak their concerns through 'I am Heard' concept and not feel isolated or ignored at any point of time.

What are the strategies followed at AGS Transact to ensure that the acumen of hired employees match with your business model?
The cultural mismatch between today's educational curriculum and industry requirements has left only 38 percent of the engineering graduates employable. Only the smart ones who are adept enough to groom themselves on a self-learning methodology get hired and also sustain in their positions. To eliminate this, we educate and give enough feeds regarding our products & requirements to students through our incubation centers established in few colleges to give them hands-on training, right when they are in the third year of engineering. We execute this process with extreme patience. As the millennials are focused on futuristic aspects rather than stability in any organization, we intend to create technologically advanced products and also infuse interest in them on the same way before they step into AGS Transact. This helps us in absorbing multiple talents, especially from Tier-2 & Tier-3 colleges across the technical roles while we pledge to retain an engineer as an engineer itself in the organization.

Could you throw some light on the HRMS at your firm?
Our HRMS mobile application is like
a Genie. This friendly application allows our employees to mark their attendance right from the client's location, and even apply for leaves with a transparent mode to seek the reason for the same. Managers can then approve it. Usually, employees tend to accumulate leaves, thus missing on their personal time. We encourage our employees to take leaves and ensure they enjoy a perfect work-life balance. Female employees are provided with flexible work timings while their male counterparts assure their safety till they reach home.

Brief us about the various activities at AGS Transact that keep employees motivated.
While our marketing team assures the branding of our employees, I make sure that they get due share of recognition even out of their work zones. We are a health conscious organization and hence promote it in every way possible; through our gym where employees work-out, take shower and get back to work or the marathon event, which is the combined effort of HR and marketing team to promote fitness as a great health mantra while fusing it in AGS Transact' DNA.

At AGS Transact, we celebrate every festival, local and national, with pomp. As we have a pan-India presence, we share these activities across our offices through 'Sprinkles' emails to sprinkle the love and affection over our employees. We also encourage employees to participate in marathons and other inter-organizational sports competition.

State us about your future plans to escalate employee engagement.
Certainlyto augment R&R(rewards& recognition) programs andmagnify innovationsto incorporate raw and creative ideas into the business! This will indeed increase participation and accountability across all the employees at AGS Transact Technologies.

Key Management:
Capt. Partha Samai, Group Head - HR & Admin
Capt. Partha ensures seamless delivery of HR support for the business operations of AGS Transact Technologies across India by leveraging his rich acumen and experiences as an HR professional.

Offices:
Mumbai–Corporate Office (33 branch offices)

Offerings:
•ATM & Banking Automation
•Payment Solutions
•Cash Management
•Retail Automation
•Fuel Retail Automation
•Transit Business
•Colour Automation