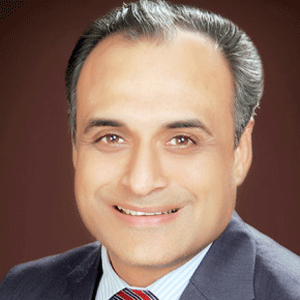 Today, an effective supply chain determines the overall success of an organisation. Positioned at the centre of the supply chain demands of its customers, DSV, a global transport and logistics company empowers approximately 1500 people in India, to breathe life into a hybrid model of 'Thinking Global, Acting Local'. This belief is core to the organisation and evidenced by a 50 percent locally generated revenue. The firm is flexible with its processes and strategies to cater to a customer's demands, while ensuring it remains compliant with the regulatory framework of the country and DSV's company policies.
When Sameer Khatri(Managing Director-India) entered the industry 30 years ago, words like supply chain logistics weren't even coined.Today, supply chains of organisations are competing to get the competitive edge over others, thus depicting vast transformation that has taken place. Sameer's experience in leading various cross-functional teams across departments and organisations, his representation in business forums and his certified leadership skills are shaping him up to be a leader with strong principles and deep business acumen.
Sameer, in an exclusive interaction with CEO insights, has shed light on various aspects that highlights DSV as one of the best companies to work. Here are some excerpts!
Since collaboration is instrumental in procuring high productivity levels, what are your methodologies to infuse the best version of collaboration across your firm?
Collaboration is imbedded across all functions of DSV, intertwined between the management and their extended teams. Our aim is always to achieve the Vision and objectives laid down by the organisation. Working for our stakeholders: employees, customers and shareholders, we, as DSV function
as alean organization, attributing every milestone or success achieved to our teams and not just to a single individual. DSV's management style istransparent, collaborative and ownership driven across functions. Results are achieved through clear definition of roles, responsibility, authority and accountability rather than a simple top-down approach to management.

Right from recruiting the right employees to creating a better workplace for them, kindly explain about your company's strategies.
Our preference will always be to recruit internally for most open positions, unless it necessitates us to recruit externally. The key will always be ensuring that the right person is gets the right job. Identification is done through Job Descriptions (JDs) and Key Performance Indicators (KPIs) that get circulated to multiple sources. We have recently embarked on a Graduate Trainee Program and will be hiring 15 new graduates from different colleges into our company. This is our way of bringing fresh talent into the supply chain industry, by grooming them and preparing them for leadership positions for tomorrow.

We create an environment for our people to enjoy their work and ensuring fairness through an objective and transparent appraisal process. Constant motivation is rendered to them to perform more and betterthrough a positive work environment. Employees undergo training sessions that are based on needs identified mutually between the candidate and his/her supervisor. Training programs are tailored to fit specific requirements, developed internally by our HR teams. Trainings are conducted, both by our internal and external faculties.

What are the various benefits that DSV provides to its employees?
Some of the benefits include provision for EPF, sick leaves, privilege leaves in compliance with the laws. Other benefits are special transportation facilities provided for our female employees to assure their safety. Employees on two-wheelers get specific attires during rainy and winter seasons apart from the required gears.All employees and their families are covered by a comprehensive and attractive Medical Insurance coverage. Our HR policies, while compliant to all laws, are kept flexible so that employees get extended maternity/paternity leaves by merging their unclaimed leaves and offering no Loss of Pay. We have a policy where employees
can select a shift within a certain time-frame which best fits their requirements.

How do you help your employees strike the perfect balance between their professional and personal fronts?
Celebrating all our festivals is integral to our culture. Sports are a regular weekend activity where the families and children are always invited. Employees are encouraged to leave office on time once their daily work is accomplished and never let them stay for late hours. Employees are expected to have disciplined work ethic.People who constantly work given additional support with tools and training to improve productivity. Since our industry works across time zones, laptops, mobile phones, connectivity and Skype video calling so that they can work at home while taking care of their exigencies too.

Kindly walk us through DSV'sfuture goals.
DSV would like to grow faster than that market, gaining market share from the competition as well as entering new markets. We would achieve this growth, both organically, as well as through inorganic means. We will invest in our people by creating an empowered workplace for them, so that they enjoy working in DSV. We will stay close to our clients and fulfil their supply chain needs through innovative solutions as well as investing in cutting edge technologies to give them the complete visibility to manage their supply chains better.Lastly, we will always stay a lean organisation and a company that is profit conscious, delivering increasing value to all our stakeholders.

Key Management:
Sameer Khatri, Managing Director - India
A Post Graduate in Marketing, Sameer is a true leader with deep-rooted experience in overseeing various teams, departments and companies acrossthe logistics realm.

Offices:
Asia Pacific,Americas, Europe, Middle East & Africa

Offerings:
•Air Freight
•Sea Freight
•Logistics Solutions
•Project Transport
•Customs Clearance
•Specialised Customs Services
•Free Trade Warehouse Zone