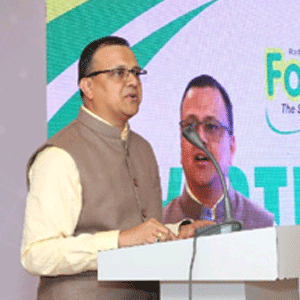 Forecasts reveal that India will emerge into a global economic powerhouse by 2025, wherein the supply chain industry will play a pivotal role due to the economy's multi-fold growth has well as the ongoing digital transformation. Poised perfectly in this industry as a holistic supply chain solutions company, Radhakrishna Foodland Pvt. Ltd. specializes in the food domain with strong accent on efficient execution. In stark contrast to the rest of the players, Radhakrishna Foodland executes business strategies based on Operations-driven Intelligence besides owning a decentralized, independent and empowered operations unit. The firm crafts fit-to-purpose and home grown solutions leveraging state-of-the-art technologies and executes decision making through data-driven analytics.
Despite customer delight being the main priority, Radhakrishna Foodland never compromises on its values and ethics. The firm stringently adheres to the Law of the Land, regional guidelines & compliances and Minimum Wages Policy. In an exclusive conversation with CEO Insights, Balasubramanian Iyer (COO) and Girish Deshpande(CFO) have articulated a gamut of aspects about the firm's work culture. Here are the snippets!
How do you manage to always remain as a people-focused company?
Our constant endeavour is to bring in customer delight in everything we do! Offering great client service every day with no room for mistakes and errors is no piece of cake. We are able to nail this only by being extremely people-focused, human and humane thus infusing joy even across monotonous works. Today, we take pride in our people (1650+) who are our pillars in driving the business seamlessly against all odds and ascertain execution in a structured manner. We ensure everyone feels a sense of purpose and achievement every single day for their exemplary performance on a daily basis and gets appreciated by the client. Also, we hone them into better individuals by indulging
them in various CSR activities.

With our Chennai distribution centre (generally male-driven area) spearheaded completely by women, we are planning to introduce more women in our other distribution centres as well.

What strategies do you follow to recruit and retain people in tandem with your firm's culture?
We focus on hiring simple, diverse people, especially regional but with the right attitude and passion to learn. The recruited talents are imbibed with the Foodland way of working through the right induction mechanism and also groomed through trainee programs (freshers), mentorship allocation (laterals) and operational trainings. Our prime goal is to assure that the new hires are comfortable with our environment and simultaneously respect and adhere to our morals & values.

Customer delight can only be achieved if our employees are satisfied and have the drive within them to serve clients diligently.
-BalasubramanianIyer, COO

While the members of our senior leadership team mentor and guide the high potential candidates through uniquely crafted programs, we conduct a spectrum of continuous L&D programs, technology-enabled SCM training programs and in-house e-Learning Training Media (over 250 hours). Also, we have job rotation& succession planning programs and soft skills, communication & behavioural development plans. Leadership teams are empowered through regular group & team building exercises as well as customized T&D and skillset building programs. We make sure that all of them comprehend their holistic strengths & weakness via 360-degree feedback mechanism. In fact, our people define the core culture of Radhakrishna Foodland and we are a team of highly committed individuals with strong belief in our vision. Monthly, quarterly and annual incentives in terms of appreciation letters and monetary rewards are bestowed onto our employees according to their performance while we regularly revise their incentive structures.

Tell us about your company's attendance management system.
We have HRIS, an in-house system that enables employees (both on-roll& associates) to stay independent and in charge of their information while helping them perform their tasks more efficiently. Through Intranet, they can easily access anyinformation and effectively collaborate with each other across India. Moreover, our in-house Unit Management System, UnitXPro allows them to manage their projects, tasks & daily
activities, emphasizing on productivity while eliminating risks and supports a distribution system's functions, processes & systems.

To assess the overall wellness of our employees, we have set-up an in-house OHC wherein a panel of our in-house doctors organize regular health check-ups.We also arrange frequent stress awareness & emotional connect seminars, weekly yoga sessions, employee engagement activities and CSR activities (typical employee spends five hours per year).

To assess the overall wellness of our employees, we have set-up an in-house OHC wherein a panel of our in-house doctors organize regular health check-ups.We also arrange frequent stress awareness & emotional connect seminars, weekly yoga sessions, employee engagement activities and CSR activities (typical employee spends five hours per year).

By placing relationships at the center of supply chain management, it is possible to create a more collaborative and effective dynamic system.
-Asmita Sambhus, Head - HR

Believing in work-life harmony instead of balance, we have crafted a policy of flexi-work hours, work from home and rotational duty while our emphasis is on mothers managing both work and home. We have always strived to be a place where employees feel at home by extremely supporting them during personal distress while they care about the company's well being as their own families. We also invite their families to attend our annual awards & meets.

Key Management:
Balasubramanian Iyer, COO
Holding more than three decades of work experience across diverse industries, Balasubramanian presently heads the operations function at Radhakrishna Foodland.

Girish Deshpande, CFO
Girish is a financial wizard with over 23 years of professional experience and currently oversees the establishment of a financial control environment at Radhakrishna Foodland.

Head Office:
Thane
Distribution Centers: Kalamboli, Noida, Bangalore, Kolkata& many others

Offerings:
•Distribution Center Management
•Logistics Operations
•Supply Chain Planning
•Data Management & Analytics
•Operations Centre
•Unit Management
•Value Added Services