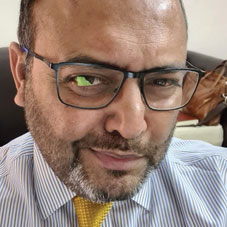 "The future needs passionate, happy, and confident young leaders, willing to challenge the status quo and stand up for their convictions." Cited by the English business magnate, investor, and author Sir Richard Branson, the aforementioned quote justifies the way of life of Ajay Bhati (CEO & Managing Partner, Lighthouse), who was molded into a premium industry stalwart owing to his association with some prominent brands such as Watson Wyatt, William M Mercer, Arthur Andersen, Ernst and Young during the onset of his career and felt invigorated to embark on his entrepreneurial venture at the age of 30. Establishing his brainchild, Light house in 2003 at Bangalore, Ajay's visionary mindset paved the way to his success and enabled him to open his second office at Muscat Oman in 2005. Acknow ledged as one of the most competent strategists, experienced consultants, and successful business leaders of Oman at present, Ajay is helping his clients to make lasting improvements to their performance and realize their most important goals by providing solutions in the areas of business turnarounds, digital transformation, designing and implemen tation of strategic plans, financial restructuring & advisory, managing large scale change, and implementation of human capital strategies via his business consultancy firm, Lighthouse.
Below is an excerpt of Ajay's interview with CEO Insights.
As a new age leader, what keeps you going today? What is the x-factor that has kept you motivated until this day?
Being a consultant and running a consulting firm are two different things. My past experience, knowledge gained by working on a wide variety of assignments and developing opinions on business issues helps me execute my role as a consultant but running a consulting business is a completely different ballgame. As any other business it demands investment of wealth, time, mind space and emotions. It compels you to display different perspectives in terms of finding ways to enhance organizational growth, build firm's capabilities by cultivating a new
generation of consultants providing them exposure to unique assignments, understand valuation of a business that sells knowledge, keeping track of its intrinsic value & growth and so on. Every day you are forced to encounter unusual issues to find innovative solutions. So, what gets me going is the challenge that comes from being in a business that provides creative solutions to solve problems for our clients and build capabilities in our people to become leaders of the future. It's very satisfying, I cannot see myself doing anything else.
I cannot see myself doing anything else
Share one of the most challenging projects undertaken by you. How did you accomplish it and what did you learn from it?
Every assignment comes with its baggage of challenges and concerns which impacts different aspects of clients' business. I recall a merger assignment of two BFSI entities, where we were required to carry out post merger integration. Such assignments are challenging because you are not only dealing with expectations of the board of directors, but also required to deal with people, culture, legacies, egos, turf issues,and above all anxieties. So it's never a straight forward open and shut case. It demands your experience, collective effort of the team and openness from the client to set the template right for the business to excel. We carried out a very extensive culture alignment exercise involving the board of directors, line managers and rest of the organi zation. We helped our client to define their future culture, values (non negotiable behaviors) that support the culture, and got the commitment of employees by conducting roadshows linking up with a performance management system, development of skill pool and leadership assessment & development, etc. before we looked at defining the roles and responsi bilities and setting accountabilities. This was followed by a comprehensive integration exercise where systems and policies were unified and migration of people were carried out to a new organization. It was a very unique and challenging exercise. It took us about six months to realign define and then very importantly, get the commitment of the entire organization to support the new way of doing things. What we learned from this assignment was that leadership is all about humility. When you are dealing with people in such a situation you need to understand that their perception of loss is always higher than the actual loss. Dealing with anxiety, rumor mongering can be curtailed by over communicating at every stage and
broad based decision making for taking ownership of change.

Define Lighthouse as an organization. Where is it placed in the market and how does it stand apart from its competitors in the industry?
For Lighthouse, the client is always right. Client is at the epicenter of everything we do. As a unique and boutique consulting firm, we have been successfully going about our business in the industry for the last 16 years and are uniquely positioned in the market. Unlike any other firms we see in the market we not only take the ownership of whatever we recommend, but partner with the client to ensure that the recommendations are being implemented in the right spirit. With our people, systems, methodologies, products, and partners, our USP lies in designing creative solutions, providing simple implementable solutions, building relation ships with clients and ensuring that the recommended solution gets implemented in the right manner.

With the industry going forward, what are the opportunities that you see in the market? And what would be your advice to the budding entrepreneurs in the industry?
I started this business with zero capital in 2003. Talking purely from a personal perspective of a management consultant, the industry is undergoing a radical change. Emerging technologies will take the center stage in the future. The entry barriers are low to give everyone a great opportunity to enter and scale their business very fast. To the budding entrepreneurs who want to venture into this domain, I'd like to advise them to identify their niche and believe in their abilities to run the show. Invest a lot in relationships, as consulting business is built upon that. I will also advise them to read a lot and never shy away from any assignment. Every assignment gives unique knowledge and helps you build relation ships. It's a fragmented sector dominated by big names but once you have established your name in the market, there will be no dearth of work.

Ajay Bhati, CEO & Managing Partner, Lighthouse
After completing his MBA in Finance from Symbiosis Institute of Management Studies in 1996, Ajay started his professional journey with Watson Wyatt as a consultant. After being associated with some prolific brands such as Mercer, Arthur Anderson, Ernst and Young during his illustrative career, Ajay founded Lighthouse, a premium management consulting firm that serves leading businesses, governments, non-governmental organizations, and not for profits to meet their most important business aims.