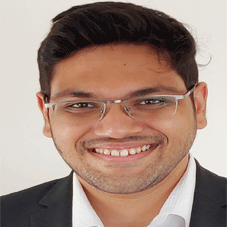 The fabrication industry is centered on manufacturing components that can be used to create larger machines and structures and Fabheads is one such company that specializes in the composites part manufacturing sector. In tandem, Fabheads focuses a lot of its resources on developing better, more reliable, automated fabrication technologies for the composites sector. The innovative products promising amazing results are handled by the company's CPO Akshay Ballal. Akshay Ballal has a dream to make products that can make a difference in the industry. To achieve such a feat, Akshay Ballal has built technologies that automate carbon fibre part manufacturing making it more accessible and reliable.
Engaging in an exclusive interaction with CEO Insights, Akshay Ballal shares his journey from being an intern to CPO at Fabheads.
Give us a brief detail about your educational and professional background before fabheads.
I graduated from Birla Institute of Technology, Mesra as a Mechanical engineer in 2017. I joined Fabheads as an Intern at that time Fabheads had just a small workspace in IIT Madras Incubation Cell alongside Dhinesh as CEO/Founder. This was the first time that I made something other than an ATV and I was hooked, which made me reject a well-paying campus offer from a reputed company and accept the Pre-Placement Offer that Fabheads had offered. I started my professional career with Fabheads and am now growing along with the company.
What different roles & responsibilities have you been undertaking at fabheads? How do you connect new ideas to your business strategy and measure the success of a new launch?
The main focus is on aligning the team activities towards a single goal
of making robust and reliable machines that solve the problems that the industry faces. To accomplish this requires me to build a cohesive team, to instill the company ethos onto the team members. In concern of product roadmap, we come up with new product features that align with the vision of the company.
Today's technology is changing faster than ever and even the fields which were considered to be slow are now becoming very fast. A visionary has to stay on top of the trends and make decisions that make sure the product is not obsolete and keeps the technology fresh.
A good product officer will be the heart of the product, one needs to forecast what changes and feature is to be made for the product to stay relevant in the current market
There is a lot of time that goes into testing and realizing these new technologies but it's all worth it. For example, the machine FibrBot-1k offers one of the largest build volumes for 3D printing. We realize that our FibrBot 300s printer needed modification based on the inquiries and requirements on the product, people wanted to print large parts and thus we launched FibrBot 1k. We decided to measure the outcome by taking the expansion in the kind of new parts that we can print now with our new product.
how do you develop your product strategy to ensure that it meets the vision and goals of the company? Tell us about the different kinds of services that you are offering to the customers?
Fabheads has a very agile strategy deployed at the product development. Through spending time on testing and validation rather than going through several rounds of paperwork and optimizations helps us quickly start understanding how our product behaves and we can start tuning it to the right specifications which have proved that it is faster and cheaper in the long run compared to the traditional way of doing things. We offer several kinds of services to our
clients such as specializing in composites part fabrication, providing end - to - end solutions for anything composites be it drones, automobiles, robotics and also, we design parts that are ideal for 3D printing rather than just fabricating a design that may not be completely optimized. Our flagship offering at the moment is our capability to print with continuous fiber which allows us to print parts that are stronger than aluminum but as light as plastics.

What's unique about your services that differentiate your company from other competitors in the market?
We do not just sell our 3D Printers. We also offer other value added services like composite design analysis, Design for Manufacturing (DFM) amongst others. Another unique feature of our product is customizability which is something that our competitors do not offer. We can tune our printers to the exact need of our customers and he can also upgrade the printer in the future to unlock new features. This makes buying our printer an easier decision for the end user.

What are the characteristics of a successful product officer and how would you describe your management style? How would you describe your future roadmap process?
A good product officer will be the heart of the product, one needs to forecast what changes and feature is to be made for the product to stay relevant in the current market. Concerning my management style, I believe in giving freedom to my subordinates to express themselves in the best way possible.

I follow a lot of websites and magazines related to other fields as well which helps in exploring new trends and technology which in turn helps to steer the ship accordingly.

Our future roadmap is that we want to build larger, faster and economical machines for making fiber composites parts.

Akshay Ballal, CPO, Fabheads Automation Private Limited
I Am Akshay Ballal, Chief Product Officer At Fabheads With A Dream To One Day Make Products That Can Make A Difference In Society And Change Conventional Thinking. Towards This Goal, I Have Built Technologies That Make Carbon Fiber Part Manufacturing More Accessible And Reliable.