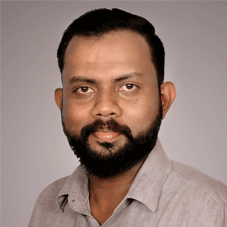 Dedicated to developing solutions across the spectrum and throughout the lifespan, Metanoa strives to address the needs of individuals with neuro-developmental disorders and their families through multilevel support while increasing understanding and acceptance of neuro-developmental disorders, and advancing research into identification and better interventions for neuro-developmental disorders and related conditions. Ensuring multilevel support to their families, Metanoa plays a key role in developing solutions for the needs of individuals with neuro-developmental disorders like Autism.
Engaging in an exclusive interactive session with the team of CEO Insights, Arun Chandran shares his journey and experiences as a Chief Product Officer at Metanoa who plays a great role in serving the society with Metanoa along with being productive and innovative towards implementing new ideas.
Can you tell us about the inspirational story of Metanoa and what was the motivation behind the establishment of the company?
I completed my graduation in BA English Literature. I'm very passionate about programming; hence, I started learning it myself in 2009. My cousin is my guru (mentor) when it comes to this. The first thing I learned was Java Two Micro Edition, then I learned armalade which is a 2D game engine, and I also learned a program called Unity, post which I became a freelance Unity Developer. I started Freelancing by year 2011 and by 2012, along with my cousin; I started a company called Ovoid
Studio. We have developed eight products and we marketed six of them. While some moved to the trash, but I believe you got to make mistakes to move forward. There'll be something that comes up with all these failures, you will be able to make new mistakes, because again, you're learning. Always, just keep trying one more time.
By 2019, I was presented with an idea, software for clinics and families who are treating or affected by neuro-developmental disorder, associated with them and in a few months started working with them.
Metanoa will take care of evidence-based documentation, reporting, and progress tracking autistic treatment using AI
Autism is one of the things that happen to fall under neuro-developmental disorder. Most people don't understand whether the kid is having any neuro-developmental disorder, they think that by age it gets over. But as the age in-creases, the chances of reducing, treating, or providing proper care to the affected child is below. With Metanoa, our goal is to achieve less time per patient by using their capability and provide care to another patient in the remaining time. We can provide more care to more people, it is going to be a huge help to the people. They can spend less time hunting for information, and more time working with therapies. Metanoa will take care of evidence-based documentation, reporting, and progress tracking autistic treatment using AI and Machine Learning.
What were the initial challenges that you encountered in your professional journeys? How did you overcome those challenges?
In the professional space, the main thing that we lacked was proper mentorship and guidance. People from Start-up Village were able to guide us in some ways but not completely and in every possible way they were good, without them I don't think we will be reaching at
this stage. As a start-up community, we required a vast audience a lot bigger community. We used to make mistakes on our own. Whenever I do a product, I make sure I do my 100% into that product, and then again, if it is failing, let it be.

According to you what are the elements for a successful CPO and is there any suggestions that you would like to recommend for the upcoming product officers?
The key thing is, always to talk to your customers and find a solution that is the mantra that I work on. As a product officer, it is our job to come up with right solutions. It is essential to talk to them and custom-build solutions because at the end of the day, nobody knows what customers want until you hear them out and build something that meets their requirement.

Another key thing is, the customer might be coming up with a solution to their problem, but it is our duty to understand the problem, and then provide them with a solution - Root cause analysis.

We believe, that is essential to stay inspired. We can't always be inspired by people in our spectrum, so I go beyond and talk to people. Some people do their job, respect their job, love their job, and, they will go beyond the schedule or timeline and work on it. I am inspired by that kind of people.

Can you tell us about the major achievements of your professional journey?
Failure is not the last thing because I've developed eight products, marketed six of them, two of them were trashed. Also, have created an app that has more than 600,000 downloads. Just try one more time, there'll be something that comes up with all these failures, you will be able to make new mistakes because again, you're learning.

Arun Chandran, CPO, Metanoa
Arun Chandran is a person who adores Product and Marketing, and also has hands-on experience in Growth hacking. Treats each customer up to their expectation level. He is a graduate in BA English Literature; also he is certified in App Store Optimization and Digital Marketing.