Akshay Mani: Instilling Organizational Transformation With Diverse Experience And Profound Expertise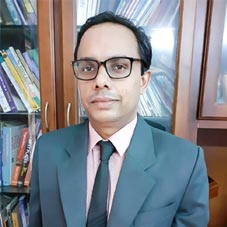 Beyond imparting business strategy, today's CSOs are experts in project development, analytics, technology, risk management, talent acquisition, and retention. A friend philosopher, and guide for organizational growth, the CSO is also the steward of governance for every business aspect. A particularly fine example of such a successful, modern-day CSO is Akshay Mani, Chief Strategy Officer –Logistics, Intents Mobi.
The veteran with more than 15 years of experience in consulting, teaching, strategic and operational aspects, is playing a significant role in the growth of Intents Mobi as a leading tech-driven brand for making Indian roads safer. Recognizing Akshay's problem-solving skills and expertise for leading the organization with great efficiency, CEO Insights had an exclusive conversation with him. Kindly peruse the following snippet to know about his journey.
Throw some light on your educational and professional background.
After completing my dual degree B.Tech + M.Tech in engineering from IIT Madras, I pursued Masters from The University of Texas at Austin. My first professional stint was at a leading transportation consulting firm called Cambridge Systematics in the USA. Subsequently, with a vision to contribute to India's transportation sector, I came back to India and joined as Manager at the World Resources Institute. In the last few years, I was also involved in independent consulting and in teaching and research as an assistant professor at SASTRA University, Thanjavur.
In March 2020, I joined Intents Mobi as Chief Strategy Officer - Logistics. My career path has been guided by the strong belief that to become a better thinker and to grow as a leader, it is important to gain varied experiences, especially in the early
stages of one's career. Working in different settings provides valuable exposure to different people, and geographical & cultural contexts, with their unique sets of problems and needs, that contribute to all-round professional growth. My diverse experience is helping me to not only make informed decisions but also guide and groom the next generation of young leaders.
What is the learning you have taken through your journey that ushered you to be a great leader?
I would like to highlight three important things. Firstly, having an eagle-eye perspective is very important. To become a great leader, you should have the big-picture perspective on things and think out-of-the-box.
Secondly, the mindset of thinking beyond yourself. It's not about you anymore but about what the organization requires to be successful and what is your role in making the organization successful? I recall the words of John F Kennedy "Ask not what your country can do for you, but what you can do for your country". Here I say, "Ask not what the company can do for you, but what you can do for your company".
Akshay is currently focusing on bringing his skills and expertise to address the growing urban transport and sustainable development challenges facing Indian cities as a result of rapid urbanization, sprawl, and growth of private motor vehicles
Last but not least, I think it is extremely important to shift from being a doer to an enabler. This means identifying and formulating the right strategies, and enabling their successful implementation by bringing the right people together and providing them with the resources required for success.
Brief us on the excellence of Intents Mobi in the current Business Service industry of India.
Intents Mobi is a geospatial intelligence company with a mission to develop and deploy innovative technology solutions at scale to solve our most pressing
transportation problems. The biggest problem the Indian transportation sector is facing today is that of road safety - India has the largest number of road accidents and road fatalities in the world. One of our key focus areas is to provide real-time situational awareness to road users and other stakeholders, which we believe can be a game-changer in promoting road safety, while also enhancing efficiency, reliability and convenience of travel.

For example, our mobile application Intents Go provides real-time alerts to drivers for potholes and speed-breakers, to help prevent accidents. Other exciting applications of situational awareness that we are working on include route optimization for passenger and goods transport based on road conditions, real-time road condition dashboards for government agencies and infrastructure management companies to monitor road quality, and driver behaviour monitoring and assessment to encourage safe driving.

In your professional journey, which are the milestones that bestowed you with the utmost satisfaction?
I think the experiences I have gained and the people I have met, worked with, learned from, and mentored, are perhaps the most satisfying part of my journey. I would just say that in all my past experiences and in my current position, I have been fortunate to get the opportunity to solve problems in a sector that plays such an integral part in people's lives, and that's a source of great motivation.

Akshay Mani Chief Strategy Officer, Intents Mobi
Comes with over 15 years of work experience in the urban transport sector in India and the US, focused on promoting sustainable transport solutions in cities, including public transport, intermediate public transport (IPT), walking and cycling.

Areas of Expertise
• Program/project development and management
• Strategic research and publications
• Stakeholder identification
• Engagement and capacity building
• Deep understanding of technical, policy and institutional aspects of urban transport and development.

Akshay on the personal front loves nature, walking, yoga and meditation. He reads historical non-fiction books. Sri Lanka is his favourite country to visit.