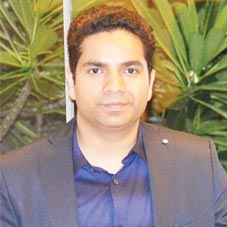 Very few intellectuals, with their scientific coherence and firm grip over technology, have managed to grab the attention around the world as the tech-savvy leaders of the next generation. One such name belongs to Amarjeet Kumar, who is leading India towards a techenabled future by investing time and energy in the brand new technologies available in the market and has been instrumental in developing the various standards in the IEEE platform in the field of communication.
Currently working as the Founder and CEO of Shrama Technologies, Amarjeet Kumar is an active contributor to multiple Technology forums such as IEEE, BIS, TEC, ISGF, and Wi-SUN Alliance. In an exclusive interaction with CEO Insights, Amarjeet Kumar sheds light on his life as a leader, visionary decision-maker, manager, and founder.
1. Give us a brief detail about your pro- fessional background and how has it helped you in your journey so far?
I commenced my entrepreneurial journey in 2010 with my firm Procubed along with my friend and mentor Bhupender Virk, which offered different solutions for our customers in India as well as abroad. Owing to that, we were one of the founding members of an industrial alliance called Wi-SUN Alliance which focuses on creating interoperable open standards for smart city kind of use cases. Being closely associated with IEEE and functioning as the Vice-Chair for IEEE std. 802.15.4u which we developed for India in 2016. I closely work with Bureau of Indian standards in defining standards for the communication technology to be used in smart cities, smart grid, smart metering, and other applications. I strongly believe that these smart infrastructures which are going to be the driving forces for the next generation cities and communication being the backbone of every Smart Infrastructure, it must be Interoperable, reliable, highly secured and resilient by design. As the convener, I am taking
care of defining a series of standards filling the gaps we have. Apart from that I have been working closely with the Ministry of Power and the Ministry of Housing and Urban Affairs to develop different guideline documents for different use cases.
2. What inspired you to establish Shrama Technologies? Tell us about its noble offerings?
At Shrama technology we have been trying to work on next generation issues which we are yet to encounter. We are focusing more of future problems with respect to smart cities. We are aggressively working on next generation communication systems and optimizing our offering using AI and ML. Few of the problems which we are going to encounter very soon in India are concerning electric vehicles and e-mobility infrastructure, smart grid and Smart City. Since the numbers of e-vehicles are going to increase in the future, being connected to electricity, all these electric cars will have a strong interplay between the smart grid and the electric vehicle infrastructure. We believe that some of these smart functionalities will make things more robust, clear, and open in future.
We are aggressively working on next generation communication systems and optimizing our offering using AI and ML
3. As the Founder and CEO, what different roles have you been undertaking at Shrama Technologies?
As Shrama Technologies is a startup and small company, I have to play different roles and solder those responsibility at the different point of time starting from leadership, technical issues, designing, to architecture. As a mentor and leader, I emphasize on three things which are having a proper vision for the company, keeping the team motivated and guided every day and lastly approaching and understanding a problem while facing it. I always try to focus on and spend more time understanding the problem effectively rather than rushing for a solution, and that's what I teach my team also.
4. Explain your role as a leader in bringing together people in a global organization. How has it worked for
the overall benefit of Shrama Technologies?
Before I started my company, I worked with many global companies where I had an opportunity to work with almost a long list of major companies in Japan, Korea, and the US. I had that market reach where I could go and get connected with all these different players in this market segment. I built this organization based on all those relations where I can connect with the required ecosystem partners, whether it is a silicon vendor or a module vendor or the cloud solution provider vendors. Being worked as a wireless embedded system developer in India and closely associated with Silicon Valley in USA, I am very well connected with different technical and other functional resource we needed. So, we brought together all these partners, resources and stitched together with our product and solutions. It helped us make our solution more deployable, more robust, and with a greater ecosystem.

5. How do you ensure to update yourself with the latest industry trends and technologies so that you could always steer your organization towards the zenith?
Whenever technology is developed, it is developed as part of the Standard Development Organizations (SDOs) such as the Bureau of Indian standards, IEEE or IEC, which are the major global or national standard bodies where the future technologies and solutions are being discussed. Being a part of all of these SDOs and assisting them in developing these standards benefits us in keeping our products up to date in the market as we are well aware that the SDOs are defining and what trends we are going to see in the coming future. As a result of which we are always ahead in the market maintaining a balance between our competitor and ourselves.

Amarjeet Kumar, Founder & CEO, Shrama Technologies
The Vice Chair for IEEE std. 802.15.4u, Amarjeet Kumar is actively working with the Bureau of Indian standards, defining the communication standard for the critical infrastructure for India. Being a communication engineer, he is also working closely with India Smart Grid Forum, MoUHA and other government bodies in India helping set the guidelines and roadmap with respect to communication system for future smart Cities and Smart Grid for India and other geographical regions. He was awarded the ISGF, President's Award for promoting smart grid in India in 2017 for the Indian ecosystem.