Amit Shah: A Visionary Engineer Pragmatically Engaged To Align His Company's Operations With Contemporarily Advanced Technologies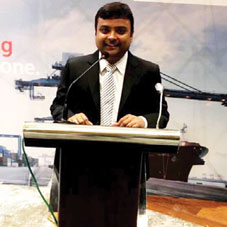 As a new-age leader, the exclusivity of Amit Shah is reflected in his achievements and journey. Plunging into his family business right after his education, Amit has been able to introduce some ground-breaking concepts to help his business acquiring the summit of success. After acquiring Universal wires in 2018 which was earlier dealing with losses, he solitarily navigated the company back to its former self along with a lot of fascinating accomplishments. Under the guidance of Amit, Universal Wires has emerged as a state-of-the-art manufacturing facility of hot-dip galvanized wires based in Sohar, Sultanate of Oman Plant Capacity around 6500 tons per month. As a visionary engineer who is pragmatically engaged to align his company's operations with contemporarily advanced technologies, Amit stands out amongst others owing to his rock-solid commitment and consistency to become better than yesterday.
Engaging in an exclusive interaction with CEO Insights, Amit highlights the various trajectories of him emerging as one of the most prominent Indian corporate stalwarts of Oman.
How has your journey been at this organization so far? What different roles have you been undertaking at Universal Wires?
Universal Wires arrived as a big opportunity in front of us. As this factory was making big losses earlier, We purchased this facility from the Government of Oman through a competitive bidding process, as there were other large companies interested in purchasing that 'state-of-the-art project', including Bekaert, the world's largest steel wires company with operations in 45 countries in 2018 to give it a new dimension. Implementing personal skill sets and efforts, with the help of the right team we have turned around universal wires in less than three years. Today, with successful turnovers we have become a profitable company and are already getting into year-on-year expansion. Not only we are having good volumes on our sales, but our target markets are also improving geographically. Supplying to more than 20 countries world wide including North America, South America and Europe, we are currently selling over 5000 tons of wire every month. The journey has been wonderful and we owe our
success to each one of our team.
What were the initial challenges that taught you the basic lesson of managing the functions of the organizations and achieve success in the later phase?
The initial challenge for us was to gain the trust of our suppliers. It takes time trust a new player in the industry and in our case, this factory had failed earlier before acquisition. With the right team in place, we gradually overcame this challenge and gained the confidence of our suppliers over time. Another major challenge was about manufacturing the right quality product. As far as the plant and machineries are concerned, we are one of the best technology plants in the region with the plant machinery from Europe. But unless we are satisfied with our quality, we cannot go out and sell our products. So, to restart the plant, we were always under tremendous pressure to make sure that the plant takes off and gives us the right quality of product to go out in the market. That was a challenge that we have overcome very nicely. Not only we started manufacturing the right quality product but also made sure that the plant comes back into a complete running mode once again.
We try to provide services to our customers in every possible way to make sure that they are happy with our products
How does your experience help you to chalk out the business operations for Universal Wires?
Being a third-generation leader working in the steel industry, I am still leveraging my expertise and experience across this domain to yield better outcomes for Universal wires. Certainly, our products got diversified, but it is also true that we still belong to the same vertical i.e., the steel industry as far as the raw material is concerned. Another domain of our proficiencies is running factories and currently, we are running more than five factories at a time. In this case, experience matters a lot, as while running a factory you need to make sure that you know a lot of systems in place. Owing to our business background, which especially encompasses running engineering-based factories, we've maintained our consistency across these two verticals. We've continued our journey across these industries and using all our knowledge and resources, we made sure everything falls in place and the factory is successful.
What strategies do you follow to overcome various challenges of customers and meet their requirements?
According to our strategy the customer comes first. With the right products and commitment we've
been able to build a loyal customer base. Interacting with them regularly is not only helping us to know our customers but also to know about their requirements and preferences. We are always receptive to their suggestions. If they suggest a change in the product, we look at it very carefully within our system to analyze whether this change is possible within our system or not. So, we try to provide services to our customers in every possible way to make sure that they are happy with our products.

How are you aligning with rules & regulations and certifications to meet the requirements of the Oman government?
The Omani government is very strict on environmental policies. They have imposed certain guidelines, and we strictly follow them. The plant being from Europe, the kind of plant, we also adhere to the international standard of products and manufacturing. As far as compliance is concerned, it's very important for us to have acquiescence with the Oman government. So far, we've been complying with all of their requirements, and they have been very cooperative with us at all points. So definitely Oman government does a fantastic job by giving a good and sustainable compliance standard for the businesses. We feel proud to be associated with the Omani government and we are more than happy to comply with them.

In your professional journey so far, which are the milestones that bestowed you with utmost satisfaction both as an individual and as the Owner?
Honestly, I have never been satisfied with myself, let it be the career part of my life or the owner part of my life. But the milestones that I've had in the last 15 years of my career we did a lot of technical advancements in our fabrication business. Along with opening up a facility in the US, we also opened a fabrication facility in Oman and took over this business. Since I joined the business, I have always been a reinforcement to my father, and I helped to bring in more growth to the business what he was doing. Needless to say, this could not have happened without my father's support. I'm proud to say that I'm working with my father and I could have such a father who can support me, even today at this age. He's the driver of the whole growth and I'm just following his footsteps till now.

Amit Shah, Owner, Universal Wires
A third-generation leader handling family business, Amit completed his engineering from University of Mumbai and then went ahead to pursue his MBA from The University of Texas at Arlington. An engineer by passion and profession, Amit has been leveraging his technical expertise to yield prolific results for his firm. He enjoys listening to music in his leisure and states Switzerland as his travel destination.