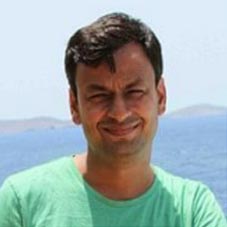 One such persona is Animesh Sharma, CTO at Indifi who has 18 years of engineering leadership, management, technical designs and software engineering experience. He has an excellent track record of building a highly competent engineering team from scratch and has been consistent in execution and delivery of full-featured, deployable quality products in competitive timeframes. He has in-depth knowledge and expertise when it comes to technologies such as Nodejs/Java/Python, Elastic search, Kafka, DRUID, OCR, Voice, Hadoop, Hbase, STORM, Cassandra, among others. Animesh's journey includes similar tempo of the excitement of implementing a new technology in the office floor or at home We are honored to get the chance of interviewing Animesh Sharma, who gave in-detailed narration of every query we had in this issue of the CEO Insights magazine.
Give us brief details about your educational and professional background prior to establishing Indifi. How has your journey at Indifi been so far?
I completed a 5 Year Integrated Master of Technology, Mathematics and Computing, at IIT Delhi from 1996 to 2001. I started my career as a trainee at Linkoping University, Sweden from May 2000 to July 2000. While working at Image Processing lab, I designed and implemented user-friendly software in MatLab, wherein, software was later used for research and training undergraduate students about tomography.
I have played a significant role in designing and implementing Reed-Solomon Encoder/Decoder for Altivec Architecture, wherein, encoding speed was increased 900 fold. Furthermore, played a role of software engineer for organizations including Fiorano Software Ltd. (Dec 2001 – Aug 2002) and FirstRain Inc (April 2003 - March 2005).
Thereafter, I joined Nextag (April 2005- March 2008) as a Sr. Software /Team Lead, wherein, he built an in-house distributed monitoring system to monitor more than 3K servers and integrated the same with F5 and Nagios. From 2008 onwards, he played a role of Engineering Manager.
I completed a 5 Year Integrated Master of Technology, Mathematics and Computing, at IIT Delhi from 1996 to 2001. I started my career as a trainee at Linkoping University, Sweden from May 2000 to July 2000
And was responsible for managing and building some of the critical modules – Travel, Stores and Mobile App. I successfully led and launched Nextag Stores order management system. And also re-launched Nextag Travel sites in collaboration with Priceline. I also played a crucial part in building the first Android Mobile App of Nextag. With his competence, he gradually moved up the ladder to become Vice President - Engineering at Nextag.
How has your role been as a CTO? Tell us about the experience that helps you to lead the technology fore-front of the company.
After leaving Nextag, I joined snapdeal in June 2015 as a Chief Technology Officer – Exclusively (Fashion Vertical). I built a technology team and launched App [IOS & Android] and Web on scalable ecommerce platforms. IOS App came in the featured App section, rated best App for month of April 2016 and reached 100K download within a month. Also, I was responsible for Snapdeal backend platform – Ads, Digital Marketing and Catalog platform. With this, post optimization reached revenue of 1 crore in a single day from Ads for the first time. After serving Snapdeal, I joined Adobe in April 2017 and headed engineering for the target part of experience Cloud. As part of Adobe Experience cloud, I took the responsibility for Target solution which is ~200M solutions
with 1200+ customers, with various components that included experimentation, recommendation engine, search and data science.

Tell us about your current role in Indifi. How have you been leveraging your experience across various organizations to help the company's growth bandwagon?
I joined Indifi as a CTO in November 2019, where I built a fully tech-driven micro and small enterprise customizable Financing Platform. When we speak about the company, Indifi Technologies is a digital lending platform that offers loans to those that have potential and intent. The company has been enabling businesses with potential to acquire funds at reasonable rates whenever required. From investing in physical capital, to aiding in properly and efficiently working capital management, Indifi has been offering flexible loans with sufficient tenure for one to pay without feeling any burden.

Please elaborate on the various solutions that are offered by Indify apart from loans.
We also have something called Line of Credit or overdraft facility, which is best suited for frequent cash inflow. As businesses typically need money to avail cash discounts by paying upfront or on time, extend credit to customers, pay off vendors or meet seasonal demands, Unsecured Line of Credit Loans from Indifi comes with the best solutions for these needs. Furthermore, Indifi is a leading online lending platform that understands the financial needs of businesses. Indifi facilitates tailor-made business loans without security to businesses. Invoice Discounting a popular business loan facility without collateral security from Indifi offers the following benefits to businesses such as Collateral Free, Quick Disbursal, Easy and Flexible Repayment Facility, Minimum Paperwork and Eligibility Criteria, Easy and hassle-free Online Process, and Low Interest Rates.

Tell us about the awards and recognition that have been bestowed upon you.
In my journey, I have been recognized with quite a few awards due to the effort and knowledge sharing that I put in all these years. I've been recognized for accomplishing $150K/day Internal Ads revenue at Snapdeal, Innovation award presented at Nextag in Year 2013. I have also presented two research papers in leading conferences, and secured fifth position in the National Mathematics Olympiad. Last but not the least, I was also the class convener of the Mathematics and Computing Department for the year 1999-2000.