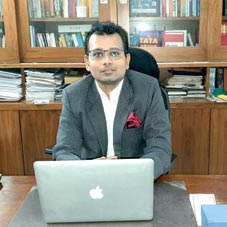 Acompany that invests in technology is investing in its success. With that said, a Chief Technology Officer is the one who shoves a company towards the technological drive and contributes to its future. However, the role of traditional CTO is changing and in many progressive organizations the executive is wearing a dual hat i.e., CTO & CIO. The incumbent is not only in charge of an organization's technological needs and R&D but also responsible for holistic digital transformation to make the organization future ready. A great example of one such CTO who is being a steward of success and pilot of growth is Dr Sourish Acharia of Teknobuilt - a global digital product and services company in the smart engineering and construction space.
The technocrat and business leader with nearly 17 years of experience, has played significant role in organizations across multiple sectors in the areas of digital transformation, technology & digital product solutioning, emerging technology incubation & ecosystem development and establishing of new tech governance frameworks. CEO Insights engages in an exclusive interview with Dr Sourish Acharia to further explore the endeavors in his journey.
Brief us on your educational and professional journey.
I am an engineer from Delhi College of Engineering (DCE) and did my MBA from IIM Bangalore. Later, I completed my Ph.D. from IIT Delhi. In my professional journey, I have worked with Blue Star, Uno Minda Group, Mahindra &Mahindra, Hero Corporate Services Ltd and its group companies, Srei Infrastructure Finance Ltd and its group companies and JWIL Infra Ltd (previously Jindal Water Ltd).
Highlight the interesting facts about your career path.
As a young manager, I was fortunate enough to be part of the accelerated management program giving me both national and international exposures early in my career. Post my initial stints with operations, once I moved into the strategy and investment management role, I got
a chance to work directly with some of the best-known business leaders of the country and was fortunate enough to manage various assignments involving business transformation, turnarounds, mergers and acquisition. While working for various business conglomerates, I gained deep insights into several business challenges across multiple sectors like Automotive, Steel, Financial Services, Education, Defence, Roads, SEZs, Infrastructure, and Water management. Further, these experiences have led me to incubate successful businesses right from ideation to successful ventures as an intrapreneur.
Dr Sourish Acharia has been part of ASSOCHAM Presidents office and contributed to policy formulation for the Indian government and Industries in various national and international platforms
With the increasing influence of digital technologies over businesses, I made a conscious decision to transition from a successful investment banking career to a digital transformation and CTO role. I feel one of the key advantages that I have as a professional is my strong technical background because of my IIT Ph.D. combined with strong business management expertise.
These have helped me understand the customer perspective and help build digital solutions around them. During my career, I also had two entrepreneurial stints. First, I incubated a precision engineering company in JV with a large auto ancillary group which I exited after successfully scaling up the company. Second, the company which I incubated in IIT Delhi as part of the Ph.D. was in the area of advanced analytics.
As a CTO, what were the key drivers that you deploy to ensure that the company's technologies are used appropriately and sufficient to meet its short/long-term needs?
In all my assignments, one of the key mandates given to me was to transform the existing traditional business model into a digital enterprise. This involved looking beyond pure traditional IT transformation and to drive enterprise-level digital initiatives for making businesses future-ready. A few key drivers for a holistic digital transformation which helped in successfully managing the exercise were:
• Creation of emerging technologies Center of excellence (CoE) and setup of the incubation program: Today digital technology like AI, ML, IOT, etc. are evolving rapidly and young start-ups are playing a crucial role in its development. Set up of CoE helped in tapping the potentials of the right start-ups.

• A platform focused IT product development: Moving from a pure product to platform approach quickly helped in enhancing the customer experience and helped in developing a collaborative approach in co-developing service offerings with the strategic vendors.

• Partnership with HR for people re-skilling in emerging technologies

• Implementing a mobile-first strategy: with mobiles becoming the most convenient medium for digital viewing, all legacy systems and new deployment were made mobile viewing compatible.

• Implementing smart IT infrastructure – cloud deployment: Use of IoT and augmented reality for O&M

Explain how your current roles & responsibilities as CTO has evolved in recent times
In the last two years, at a personal level, I have seen a major shift in expectations from the CTO role. With increasing digitization & faster innovation, my role has evolved from a technology expert to digital visionary where I am expected not to just create & implement a technology architecture for the organization but to incubate & create a technology ecosystem along with strategic partners.

How has your family supported you in your career so far? Also, how do you manage to balance your personal & professional life?
My wife is a corporate banker turned seasoned HR professional. She understands the pressure of a 24X7 job and supports me. To rejuvenate myself, we have a family ritual of taking a 10 - 15 days break every year and travel to a place of interest in India and abroad. To keep balance in my hectic schedule, I practice meditation for at least 45 minutes every day. I also love spending time, once in a while on social causes along with a few select NGOs.

Dr Sourish Acharia, Global AVP - Corporate and Digital
Interesting facts in the personal front
• Dr Sourish is a nature-loving person, he loves gardening and likes to travel to the wild and mountainous places.
• He is focusing on developing an active interest in technology blogging and plan to finish writing his 1st book.