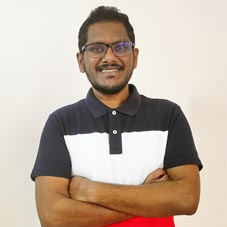 Being a firm believer of the aforementioned African proverb, Prince Champapilly, CTO, Appobile Labs, has been thrusting his company to reach newer milestones everyday by spearheading his team with such mutual trust, and he is keen on taking along the entire team with him in his successful ride. "My team is my pride and joy. Everyone in our team is a specialist in a certain area. We continuously upskill and cross-train them to make everyone full stack developers with clear understanding of the entire structure in order to retain them with us for the long haul," affirms Prince.
The Journey
Prince started his action-packed journey at Appobile with a freelance surveillance & disaster management product and an ML based Image Recognition automated testing kit for EVMs the company was building for BEL, which was followed by a satellite connected android tablet they built for education & healthcare in rural Africa. What started out as three youngsters working on a freelance project out of their CEO's home, soon turned into a rollercoaster ride, as they leveraged these experiences to launch Appobile's flagship product – SalesDiary, a platform facilitating end-to-end virtualization of Indian retail process, encompassing retailers, salespeople, service engineers, delivery van, warehouse, production centres, marketing, executives and even lead management. Prince repeated the feat with EMMLyt (formerly known as Kardamom), a comprehensive enterprise mobile device management solution, in partnership with Samsung Knox and Google EMM.
As the team grew, it was a daunting task for the perfectionist in Prince to delegate the tasks to teammates in a meaningful manner and guiding them to meet the same level of standard he had been implementing.
To overcome this, he channelled nearly 75 percent of time towards familiarizing the team with the framework and bringing them up to the speed, which put a huge dent in productivity. But, as the team took ownership of various aspects of the framework over a period of seven months, the team's productivity skyrocketed to newer heights, which Prince says, he would never have accomplished on his own.
Today, given the metamorphosis of SalesDiary into a scalable platform catering to over 15 lakhs retailers across India, Africa and Middle East and EMMLyt's evolution into a disruptive product occupying more than 3.5 lakhs devices in the government sector, it is fair to say that Appobile's founding premise was robust and is now well proven. Raising the bar higher for itself with every project it takes on, Appobile also emerged into India's first and only Andriod Zero Touch reseller that facilitates Android devices with zero-touch enrolment.
Evolving Apace with the Market
Besides his day-to-day responsibilities such as guiding and monitoring the development team, Prince also vests keen emphasis on promoting a healthy work environment and team building. Yet another major responsibility shouldered by Prince is performing predictive analysis on the client requirements brought in by the account manager and forecasting more features that can add value to the project. Most importantly, he orchestrates the continuous optimization and upgradation of the frameworks to ascertain that they are scalable and on par with the
latest trend by empowering the team to take ownership of various aspects of the framework.
His team members constantly monitor the upcoming trends in their domain and share it with the team during the monthly brainstorming sessions. The company never hesitates to upgrade its legacy stack, if the new technology is proven to have more advantages over its current stack. In fact, Prince ensures to have a legacy reinvigoration in tandem with the technology evolution at least once a year. "Our team has complete freedom to select the best and latest technologies whenever they are updating an older sequel. They often conduct independent research to figure out ways to make our stack better and present the POC to us. We almost always accept it," shares Prince.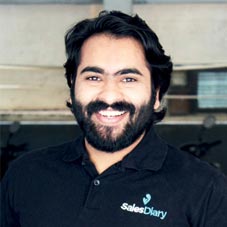 Sumant Hegade, Salesdiary Project Lead
Furthermore, he keeps himself updated by surfing through Google News and YouTube subscriptions that he has curated over the years to meet his specific interests. Prince was bitten by the tech bug at a very young age, thanks to his father who was an early adopter of computers and his brother who would create tiny programs with him when he was in third grade. And it is the encouragement of his fiancé that prompted him to join hands with an early stage startup.
A Fun & Transparent Culture
Prince has instilled a transparent, trustworthy and fun work culture at Appobile. He trusts his people to prioritize their tasks and allocate their time to accomplish their work by themselves, rather than setting exact date for each task and micromanaging them. Not bound by a strict 9 to 5 policy, the team is also given the flexibility of limitless work-fromhome and leave policies. This thrusts them to contribute their very best to ensure that every sprint is accomplished on time. As the team works in sprints, Prince schedules a light load sprint after the completion of a long hectic sprint so that the team can relax and catch up on their personal lives.
Today, given the metamorphosis of salesdiary into a scalable platform catering to over 15 lakhs retailers across India
Prince keeps the work fun by organizing daily gaming sessions during lunch break and arranging weekly game outings, since most of the team enjoys gaming. "After completing a long sprint, we go on a team outing and take a day off to wind down. As long as they complete the work assigned to them, they can take as many leaves as they want," proclaims Prince. Prince ensures that he takes two-weeks-long vacation every five months, usually to travel and explore different countries.
Promoting Synergy
Prince proactively plans out every single detail required by the team to accomplish the task assigned to them so that every team member has complete knowledge of the requirements and will be capable of tackling the challenges on their own, once the ownership is transferred to them. This detailed plan empowers the team to synergize, understand their role in the project and make meaningful contributions, which ultimately enhances the overall productivity.
Prince prefers to invest in continuously upskilling his team in line with the requirements of the newer projects, rather than bringing in lateral hires from the outside. He regularly runs a peer training session, where the team upskill each other (for instance, a web development specialist would upskill an android specialist and vice versa) enough to perform at least the basics of the peer's role during the mock development session conducted at the end of the day.
Upcoming Innovations
His R&D team is currently in the process of augmenting SalesDiary with an AI-driven algorithm for smart sales usage and suggestive ordering with personalized ML-based training for every individual
customer. This would provide the customers with personalized AI recommendations and actionable insights based on the analysis of customer's usage pattern, taking their industry into account. Already recognized as a robust enterprise grade product with users across continents, SalesDiary would foray into the Global market as well, which are completely different from the Indian sector.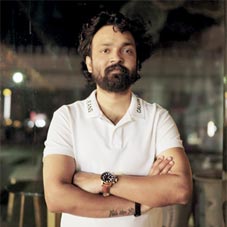 Nivil Boban, Emmlyt Project Lead
"Our primary focus will always be on India. We always want our products to enhance the lives of people around us," remarks Prince. Moreover, EMMlyt, which is currently catering to government and corporations, will metamorphose into a B2C product, where it can be used by parents to secure their children's digital devices (laptop, mobile and tablets) and control the usage to protect them from unsafe apps and websites. Taking such long strides, Appobile shows tremendous potential to grow along with its employees, under the able headship of Prince.
"Our primary focus will always be on India. We always want our products to enhance the lives of people around us"
Prince Champappilly, CTO, Appobile Labs
Possessing more than a decade of experience as a full stack developer, Prince architected a robust framework that serves at scale for Appobile's products across continents.
Favourites
● Interests:
Gaming, Anime and Exploring different countries
● Cuisines:
Artisanal Breads and Japanese.
Words of Wisdom
It's extremely important to instil a trustworthy environment. where there is mutual trust between the leadership and the employees. When they trust that their contributions will be validated without having to answer any unnecessary questions, they would be inspired to put their best foot forward. Even when the odds are stacked against you, sail ahead with a never-give-up attitude, keeping the long-term vision in mind.
Sumant Hegade, Salesdiary Project Lead
Sumanth believes that an Inclusive development approach and customer-centric product design are the building blocks for successful project management. The product lead and other stakeholders are collaborative partners at all stages of product design, which brings a sense of ownership and responsibility to each member. The software building process always starts with customer impact review and every new feature or update is built around a customer-centric hypothesis that has real world impact, this enables the team to hold themselves accountable to the predicted outcome.
Nivil Boban, Emmlyt Project Lead
Nivil professes that the best way to empower people is to give them freedom and space for cultivating a culture of learning, iteration and innovation while pointing out the pros and cons of proposed solutions. It educates and also helps in sharing ownership of the goals and objectives. Guidance, support and mentoring are key and Nivil believes this can only be developed when we focus on people's behaviors, not their results. When people feel empowered, their pleasure from work grows exponentially, and they feel more in control of the biggest part of their daily lives: their careers.
Prince Champappilly In Spotlight
•Continuously upskills and cross-trains the team to make everyone full stack developers with clear understanding of the entire structure in order to retain them for the long haul
• SalesDiary has metamorphosed into a scalable platform catering to over 15 lakhs retailers across India, Africa and Middle East
• EMMLyt has evolved into a disruptive product occupying more than 3.5 lakhs devices in the government sector
• Appobile is India's first and only Andriod Zero Touch reseller that distribute Android devices for zerotouch enrolment.
• The team is given the flexibility of allocating their time to accomplish their work themselves, work from home and limitless leaves