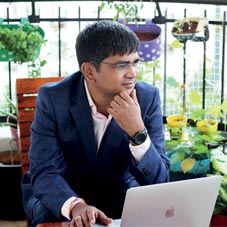 Sachin is currently working as CTO for Siesta Hospitality Services Limited which is regarded as one of the fastest growing hospitality businesses in India and a pioneer of 'Customized Business Stay Solutions' with Corporate Managed Residences across the country.
CEO Insights engage in an exclusive interaction with Sachin Mudholkarto know briefly about his impressive journey as one of the influential CTOs of the country.
Give us a brief detail about your educational and professional background.
After completing EEE from BITS Pilani in the year 1999, I joined Infosys through a campus interview. After a brief stint in Infosys, I shifted to a product-based company Lucent Technologies Bell Labs Innovations (Now Nokia) and worked on Bell Labs President Award winner 1xEvDOTelecom Product. During the 14 years of tenure at the company, I got exposed to various roles for Product Development functioning as a Principal System Architect and Engineer collaborating with Product Management as well development teams across Geo Locations.
Later I found myself working with HCL Technologies, where I interacted with the customers partnering with HCL Sales Leadership at a more pragmatic level and provided forward-looking technical solutions (RFP/RFI Response) for Telecom Network Analytics as Practice Team Leader.
Soon I decided to come out of corporate world and joined a bootstrap start-up where I worked on an innovative Sales AI platform for the Sales insights for a year, before moving on with Siesta Hospitality Services Limited.
Enlighten us about Siesta Hospitality Services Limited and the various portfolios or verticals it caters to within the industry.
Founded in the year 2005, Siesta is a Business Services Platform company which caters to the various verticals of corporate sector apart from Hospitality. Our deep understanding of our clients' non-core business requirements and a portfolio of 400+ client relationships enable us to build, operate, and manage a sizeable yet customized Business Services Platform.

We are the largest provider of Corporate Hospitality Management, and we can predict demand overrun and have created ample capacity to capture it while maintaining high occupancy ratios. Our proven delivery of service in the CHM business has allowed us to naturally transgress and provide Facility Management for clients in a seamless integration manner.

By successful training and placing of 2,100 candidates, our scaling with industry participants has made us an organization capable of replicating skilling and staffing across India. We are currently partnering with various state governments for training and employment generation of the youth for hospitality and non-corporate sectors as well.

What role do you play in the growth of the organization?
As the SHSL is equally into corporate as well as non-corporate ventures, basically I play an intriguing role in handling the functionalities of the company across different segments such as Business Hotels& Restaurants, Corporate Managed Residence, Facility Management, along with Skilling and Staffing.

Now with availability of novel technologies such as cloud-based solutions and SAS based services improving productivity and reliability, I am responsible for making seamless functioning of IT needs, and various other in-house applications where digitization plays a key rolealong with devising and implementing the IT roadmap aligned with the company's vision and mission.

I am intently concentrated on improving customer experience by the virtue of providing customer-friendly, web-based as well as mobile-based applications for various contactless services offered owing to the seriousness concerning the current pandemic outbreak. Let it be Centralized Reservations System, check-ins, check-outs, food delivery, or even availing the room services, effective class-room as well online Skill Development we are trying to ensure premium services in the new normal.

Internally I am also responsible for cloud migration, handling Goggle Cloud Platform, re-architecting in-
house built applications and hosting them as per functionalities in a cost-effective way. I am more inclined towards improving the cost of existing infrastructure and implementing new advanced solutions by keeping pace with the latest technological needs in a best optimized way.

Being associated with the telecom sector and start-up which enhanced my core competencies across product development, customer management, mobile/web development, data science and many more, significantly boosting my confidence to function effectively even in the hospitality industry.

In your journey over the past several years, which are the milestones that bestowed your utmost satisfaction?
There are many while in working in Alcatel-Lucent, be it first FOA in 2004 or being of migration of 1xEvDO product to ATCA platform to improve Performance and Reliability generating Millions of Dollars revenue to the company. However, one of the recent and key achievements was developing and showcasing PoC on Network Analytics Platform in MWC 2017 Barcelona using ML Algorithms.

At Siesta, the challenges and associated satisfaction are at different levels where I get to see immediate impact of implementing new solution/ service be it for internal operations improvements or one of the critical ask from our customers to integrate our services with their IoT, Cloud or ML based architecture and solutions.

Sachin Mudholkar, CTO, Siesta Hospitality Services
A person of immense professional quotient, Sachin youngest in five brothers shares a warm and intimate bond with everyone in family and stays with his father (Rtd. Post Master), wife, and son in Bangalore. A corporate professional herself, Sachin's wife has been a sturdy support for him through thick and thins without whom he would not have been able to make different transitions in his professional career.

Apart from working on regular office days, Sachin also shares his experiences in different forums as well as colleges by taking relevant sessions.

Speaker - APAC vSummit : Tapping IoT for Business Resilience - 2020, Data-Lake-Day: Moving Data Analytics to the Edge - 2019, World Machine Learning Summit - 2018, Analytics and RPA Conference - 2018, India Analytics Summit - 2017

Trainer - Real Time Big Data Analytics using Spark – @NHCE 2019, Faculty Development Program - AIML @NHCE 2018

Hobbies: Photography
Travel Destination: Goa and Kerala