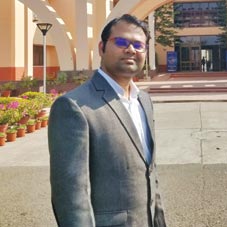 It takes a lot of courage to recognize the potential within and forge a path to achieve the desired success triumphantly. Encouraged by the Indian govt. to emerge as a new-age leader by subsequently ditching the traditional nine to five jobs, many young minds are choosing the path of entrepreneurship to create their unique identity and destiny. Abandoning a highest paying job of a software engineer in one of the leading MNCs, Anshul Shrivastava crafted his innovative project Axleweb Technologies which offers bot solutions across various verticals of the industry for multiple services such as customer care, feedback, booking, payment, and more.
The CEO Insights engages in an earnest conversation with Anshul Shrivastava to learn more about him and his journey as a frontline entrepreneur of the country.
Give us a brief detail about your entrepreneurial journey so far.
In 2013, three years after I joined Mindtree, I had this strong feeling of doing something of my own, as I was good in Technology and have built products and solutions for my company without prior experience of doing any sort of business before. I incorporated a partnership firm with one of my teammates who has good knowledge of programming and we started building websites for small businesses in the local area in 2013 - 2014. Together we started working on our new idea and even managed to hire a few employees.
It was all going well but then I got an opportunity for onsite to London, UK to work for a big media broadcasting company where I learned a lot about website development, mobile app development, AR and VR, and Chatbots, Alexa and more. I started working on freelancing websites and started creating chatbots for small businesses.
The idea took off and more and more people started contacting me for chatbots and Alexa skill development. So, I decided to resign from my current job and start my Chatbot, digital assistant and Alexa skill development company. In June 2019, I started this company AxleWeb Technologies focussing specifically on Chatbots, Alexa skills and AI-Powered Digital Assistants.
Tell us the major facets & achievements of your professional journey.
I believe when I resigned from my company and incorporated my start-up, that was the first milestone for me. After that, there were several milestones such as when we hired our first, second and third employee, when our company sales crossed Five Lakh rupees in just 4 months of operations and 20 Lakh rupees in 1 year of operation and when we were recognized by Department for Promotion of Industry and Industrial Trade, DPIIT, Government of India.
I got an opportunity to present my start-up at IIT BHU and IIM Indore. Also, I have got several awards and appreciations such as the Indian Achievers Award for IT Excellence and a letter for appreciation from the Oriental Institute of Science and Technology for conducting expert sessions on Entrepreneurship.
I learned a lot about website development, mobile app development, AR and VR, and Chatbots, Alexa and more. I started working on freelancing websites and started creating chatbots for small businesses
What were the initial challenges that taught you the basic lessons of managing diversified functions of large organizations?
When I was running my first start-up, the decision to leave it midway and pursue the onsite opportunity was a difficult decision which even caused our start-up to fail. But learning from that experience was so great that it helped me build my new start-up from the ground up with solid foundations. I have learned the basics of how to hire great team members, how to get work done from a team and how to create a product. I have learned how to
create and host websites, mobile apps and most importantly how to sell.

This helped me when I started my second start-up which is AxleWeb Technologies. As I knew how to hire the right team members, I prepared for it even before I incorporated this company. I already had clients through my freelancing business and had some experience in managing finances. Therefore, I was sort of prepared for the upcoming challenges and was geared up to tackle them.

As the CEO of a company what different roles have you been undertaking at Axleweb Technologies?
I have taken a lot of roles and responsibilities after I started this company last year. First of all, I had to learn how to become a leader and a visionary and sell my vision to upcoming employees. I had to work as an HR but fortunately, my wife was a professional HR so she helped me a lot in all HR-related responsibilities and she is still helping me. I had to work as a developer and mentor to my new employees who at that time had no idea about chatbots and AI-powered digital assistants.

Now my team is capable of delivering highly complex chatbots and Alexa skills so I don't have to go into details of implementation. I just oversee them and help them when required. I hired a CA and also setup a Finance Tracking system but still had to work as a Finance guy for my organization raising Invoicing, tracking income and expenses. Overall, I had to assume various roles and responsibilities during my initial days but now I am building the team and assigning the right people to the right role.

Anshul Shrivastava, Founder and CEO, Axleweb Technologies
A 32 years old entrepreneur from Rewa, Madhya Pradesh, Anshul Shrivastava completed his engineering in the Information Technology branch from Oriental college Bhopal in the year 2010. After joining Mindtree via campus placement, he started his professional journey from Pune as a Software Test Engineer. After four years Anshulwent on an onsite project in London, UK for 4 years and later moving back to India he resigned from Mindtree in April 2019 to pursue his dream as an entrepreneur. After 2 months, in June 2019, he finally incorporated this dream project and company AxleWeb Technologies.