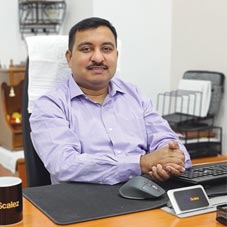 To know more about Kashikar and how he has been able to achieve sustained success in the industry and how his mentorship has helped Infoscalez Technology to grow into a thriving business, the CEO Insights gets into a meaningful conversation with him.
Give us a brief detail about your educational background and professional background and how has it helped you in your journey so far?
I am an alumnus of SIBM Pune and I have completed MBA (Sales & Marketing). In the 12 years of my career, I have worked in multiple industries like Automobile, FMCG, Tourism & Ecommerce in the field of sales. It gave me chance to
understand & explore various industries and their business operations. It helps me to understand my client's business from their perspective. This has further helped me a lot to build a rapport with the people whom I got connected to & start my own business. Some of the companies I worked for are Sterling Holidays, Pernod Ricard India, and Daily Ninja.
I divide my targets in three categories. Long term, short term and immediate. I try to focus on the short term and immediate goals first and accomplish them with the available resources at my disposal
The CEO of a company undertakes various roles such as a leader, visionary, decision-maker, manager, board developer and others. What different roles have you been undertaking at Infoscalez Technology?
While starting a tech company the main issue was not having any kind of tech knowledge. Thus, I started spending time with my techie friends & colleagues to understand the basics in the tech. In Infoscalze I am involved mainly in the business side i.e. sales, marketing, accounts &administration. Apart from this, I am also actively involved in the product development process. In the initial months, I used to handle all the four departments independently as the rest of my partners were Techies and had no experience in handling all the other stuff.
As the CEO of the organization, how do you make strategies and decisions for the organization and how do you prioritize your work? Also, how does your vast industry experience help you to chalk-out efficient business modules at Infoscalez Technology?
I divide my targets in three categories. Long term, short term and immediate. I try to focus on the
short term and immediate goals first and accomplish them with the available resources at my disposal. And all this while keeping in mind the longterm objective. When it comes to taking decisions, I try to discuss it with my colleagues and friends etc. I keep myself open to any suggestions and healthy criticism irrespective of the source. Since I have connected to people on various levels for different kinds of interaction, I have also been able to develop a prestigious mix of network which has budding entrepreneurs & the established set-ups with whom I can discuss or share the good practises in the current eco-system.

Briefly describe Infoscalez Technology's operations/Services/solutions. What changes have you brought about in the organization as the CEO? Also, what are your future plans for InfoScalez Technology?
Working with Agri based businesses gave me the idea to offer services like technology and marketing to people without burdening them with heavy costs. This further developed into an idea to provide Tech Solution to such players to build an Ecommerce platform of their own where they can manage their orders, inventory, operations and accounts basically a full-fledged and customized CRM & ERP System. Similarly, with marketing, we offer our digital marketing services on a revenue-sharing model rather than fixed charges. This further strengthens our relations with our clients as growth partners rather than just mere service providers. Going forward, we want to make InfoScalez a one-stop solutions company for all the business needs. As of now, we have clients from various parts of the country and we want to improve that and penetrate the international market very soon.

Jaideep Kashikar, CEO, Infoscalez Technology
Apart from being an industry stalwart with a stellar career, Kashikar also loves to travel and explore new places which helps him to take himself out of the busy and hectic corporate life. With his eye for perfection and detail, he has been able to create a name for himself in the industry and take InfoScalez Technology to newer heights.