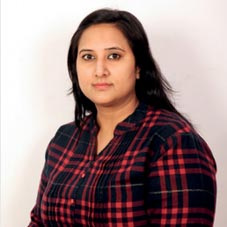 As time goes on, the market is changing, and typical office employees are not at all what they were ten years ago. Artificial Intelligence and Machine Learning are developing, so the same specialist's responsibilities are being transformed; the leader's functions are changing. A good CEO of the future knows how to work with data, understand his subordinates, and is flexible. So, the ability to quickly navigate, readjust, be flexible, and sociable, understanding technologies is the prior knowledge and skills of a successful CEO in 2020.
Sonia Sharma, CEO & Co-Founder of Tecxar, is a young and dynamic techno - functional expert and entrepreneur who understands complex business processes effectively. She helps in translating business into technology and is a Business Process Automation Expert and an Analyst. She incorporated Tecxar with a vision to provide curated customized solutions for its customers across the world and help them establish their digital goals. Further, Sonia has exclusively narrated a spectrum of aspects about herself and her firm with CEO Insights. Here are the excerpts!
Give us a brief detail about your educational background and professional background, and how has it helped you in your journey so far?
I have done my Bachelors in Technology with Honors specializing in Information Technology from RTU, and after my college, I joined Elitecore Technologies, now Sterlite Tech as an Analyst in 2012, handling PAN India and International projects. After a few years, I joined Bharti Airtel. In 2019, my partner, Prashant, and I started a company named Tecxar. Prashant is a young and dynamic new age technocrat who has the acumen of understanding complex & versatile technology stacks according to business implementation.
Moreover, Tecxar is a new age startup and a leading service
provider in the IT space. We at Tecxar are focused towards innovating new technologies and business processes to improve the quality, scalability, and efficiency of solutions for our customers. Tecxar has developed a strong portfolio and client base globally in a short span of time and continuously strives to expand. Our team works round the clock to empower our customers with technological solutions to succeed in their business. Our approach in Tecxar is to create curated framework for our customers, enabling them to meet their vision.

Guide us through the complete range of solutions and services offered at Tecxar.
Our solution is simplicity and automation. Business Processes itself are cumbersome enough, to add a cherry to the cake is dealing with complex real-time situations, the one we are dealing with currently. This evolution has boosted innovation in all walks of life, and tech has seen an elevation. Companies would need the correct tools of techno-functional blend with operations management, and that's where we come in with our expertise in all segments of the process. We bring industry experience in Web technologies, Mobile technologies, Database Management, Server Management, DevOps, Business Process Management & Automation, Analytics and Operational Excellence.

We blend technology with the clients' people-force to work in synergy to achieve their goals, delivering end user satisfaction and faster TAT. We are happy to be collaborated with recognized brands to accomplish our vision to make this world a better place.

What is the pain point you are addressing?
Ever heard, this is not possible because of product limitations, our technology doesn't support this flow, or business wants A, and the application delivers B, we need to add a manual process to achieve process implementation! Well, we are proud not to hinder the free flow of thoughts of our business users for their business and process implementation. We are here for your business supported by our technology and not the other way. We get your personalized business cases developed in no time to ensure you don't have to do workarounds when you already have the product. We also ensure our customers don't have to comply with product norms and sacrifice their use case. We provide the best solutions for better business operations. Our vision is to build a
world where people dream without limitations and perform without hesitation.

What is the future road map that you have envisioned for Tecxar?
We are very much on track even in this pandemic because IT has become more crucial than ever. If you are running a company and want to expand it, having an IT stack is a mandate. Technology is no more a subordinate function but is a parallel function along with core business. Businesses have to be enabled to perform in this new world of possibilities. So, this is where we are heading; we are increasing more such customers in our portfolio. We are not limiting ourselves to a specific industry. Thankfully, we have an excellent client base, and because of that, we have more recommendations and work.

Apart from this, when this pandemic situation knocked at our doorsteps, little did we know that IT will be the new backbone of the post-pandemic world, or rather existing-pandemic world. Everybody took a step back in whichever domain they were except for a few noteworthy professionals. Now, the masses have found a new way to operate which is more efficient, enabled by technology. Imagine being locked down without tech! I believe that technology is an integral part of our life, and without IT, life would have been way more complex in this situation. Hence, our mission is to enable our customers to focus on their core business capabilities and empower them to have a digital & technological presence.

Sonia Sharma, CEO & Co-Founder, Tecxar
Sonia Sharma has embarked on the vision to provide technology to all and automate business processes efficiently. She believes in simplicity and easily approachable structures for better and automated day to day processes and operations.

Prashant Sharma, CTO & Co-Founder
Prashant Sharma as a techpreneur, has been able to lead the company and it's clients to the best technology stack needed with improved application performance and clean & secure code practices. He believes technology is for all and new ideas pave the way for a better future.

Offerings
Web technologies, Mobile technologies, Database Management, Server Management, DevOps, Business Process Management & Automation, Analytics and Operational Excellence.