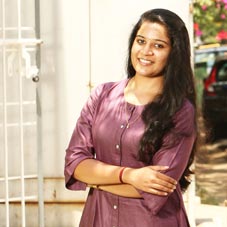 Over the past decade, the marketing industry has seen many women rise up the ranks to become influential thought leaders and trailblazers. Any digital marketing campaign is aimed at audience accumulation and streamlining the business/brand. Similarly, it was like a dream for Anushree Jayachandran to do something in the field of creativity. She completed her MBA in 2016 and started her professional journey in a start-up company. There she got introduced to digital marketing. The strategies and technologies used behind the whole marketing factor made her realize the importance of the digital era. Learning, experimenting, and exploring this field in depth made her provide stunning marketing strategies for various brands. The digital marketing platform pushed Anushree even faster to grow and venture out on her own. To help various small brands boom faster digitally, Anushree Jayachandran started a company under the name of Dternion. Further, while having an exclusive interview with CEO Insight, Anushree explains more about her company and how she helps startups scale their business effectively.
What kind of market demands do you come across or have observed that have driven Dterion's services portfolio?
Going digital is the only way every business could go forward and grow faster. Many brands have updated themselves and understood the importance of this digital world. They expect faster and better results and stay on top of their consumers' brand choice. This made us craft our services. The prime goal of Dternion is to drive
every single thing digital, and even our name states the same - D stands for Digital, Design and Develop. We focus mainly on website development & design, end to end digital marketing, graphics designing, software, and mobile app development. Understanding the various requirements from our clients and wanting to provide them with new innovative strategies has made me stay updated to the latest trends and techniques.
What opportunities do you foresee in the digital marketing segment, and what are your strategies to leverage the best of the business opportunity offered by the Coronavirus Pandemic?
The world has started moving towards videos and voice rather than reads. We can expect many viewers to lean more towards segments like YouTube and Podcasts in the upcoming years. Also, AI and ML seem to step ahead. I feel that digital marketing is going to be a need for every business. I firmly perceive that digital marketing is going to boom in the upcoming years.
The world has started moving towards videos and voice rather than reads. We can expect many viewers to lean more towards segments like YouTube and Podcasts in the upcoming years
Currently keeping the corona issue in mind, this has been a need for many brands. You can already start to see brands push their business to various digital platforms. We have many substitutes for our day to day activities. For instance, restaurants to swiggy or zomato, Gyms to fitness apps, small celebrations to virtual calls, business meets to skype calls, and so on. The current scenario is more than enough to make brands understand the need for a digital changeover.
Family plays an essential role in every person's life. How has your family supported you in your career
so far? Also, how do you manage to balance between your personal & professional life?
Being the only daughter in my family, I have always been pampered immensely. My parents have been my support system from the day I was born. Their sacrifices are purely the reason where I stand today. They had always believed in me even when I didn't believe in myself. And now I have an add on blessing. I am glad to have found my perfect better half who supports and motivates me. He has always been my backbone and strength in pushing me forward every single day. He is one of the prime reasons for me to begin Dternion.

Managing work-life balance has always been a challenge for me. Since I have just ventured into my company, I have a lot to be done professionally. I am still seeking to find a balance between them, and it is never easy. I guess with time and practice will succeed in balancing them.

Do you have any advice/suggestions on your mind for the budding entrepreneurs in the marketing segment?
A never give up the attitude with a pinch of persistence and a whole lot of consistency and discipline is very important to succeed. I have also learned that believing in yourself during your toughest times and pursuing to get out of your comfort zones will always push you forward. In my experience, I firmly believe that learning to fall in love with your failures and holding them as your guide with a positive attitude will help you reach greater heights. It's never going to be easy, but in the end, you will be satisfied and proud of your journey.

Anushree Jayachandran, CEO, Dternion
Anushree is an experienced digital marketer and CEO of Dternion, an end-to-end digital marketing and web development start-up. Dternion is specialized in creative website development, brand awareness, lead generation, and provide effective digital strategies.

Offering: Digital Marketing, Graphic Design, Web Development, Web Design, Mobile Application Development, and Web Application Development.