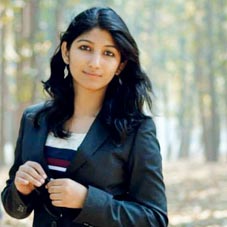 Establishing an amazing business is merely the first step but attracting customers for business growth requires marketing. And content, undeniably, rules the world of marketing. In the business world, content marketing is the 'magic wand' that has the potential to accelerate sales and drive business growth. A good content strategist is a 'magician' who knows how, when and where to use the magic wand. One such magician is Bhavana Pandey who has mastered the art of content marketing. Leveraging her expertise, she has been successfully steering her venture – Wytti, a content marketing &consulting firm that helps niche businesses achieve their objectives by leveraging the power of storytelling.
Extremely passionate about understanding the client's requirements before creating any piece of content, Bhavana today spearheads a very efficient content development squad of several expert professionals, who work remotely yet together as a team. Renowned for crafting memorable, appealing and engaging content for brands across the globe, her venture today stands tall as one of the key providers of best-in-class content consulting in the Indian market. Bhavana in an exclusive conversation with CEO Insights, talks about her journey and demystifies Wytti's activities.
What was the inspiration behind this venture? Share the inception story of Wytti with us.
I started content writing in my college days, as a hobby, as well as a source of income. But, when I went to IIM Ranchi to pursue my master's degree, I launched an experimental content marketing venture as a part of my Entrepreneurship project. I realized that there was much more to content development than just stitching together some words or images. One needs to go the extra
mile to understand the entire business story in order to deliver real value.
In 2015, I joined Hindustan Times (HT) and worked there for three years. Working with HT gave me a lot of exposure to content marketing and advertising. I witnessed closely the trend of marketers moving away from traditional forms of vanilla advertising, towards more profound and interesting content marketing. The time was ripe in 2018 and relying on my experience, and creative instincts, I commenced my entrepreneurial journey with Wytti.
I started content writing in my college days, as a hobby, as well as a source of income. But, when I went to IIM Ranchi to pursue my master's degree, I launched an experimental content marketing venture as a part of my Entrepreneurship project
What are the various services that you offer and what do you consider as your strength?
Wytti offers end-to-end content marketing solutions, beginning from content strategy development, to implementation to training and sustenance. Our service portfolio includes blogs, whitepapers, press releases, infographics, sales pitches, web development, social media marketing, video marketing, online events and workshops.3
We don't work like any other marketing agency. We work as content consultants, who help the client chart out their entire marketing vision, starting from scratch and taking care of projects from initiation to delivery. So, for us, it is not just about providing creative inputs, but helping them achieve business growth through creativity.
Most of Wytti's clients are in the B2B space. Why is it so, and what is your view on the B2B marketing segment?
Usually, B2B marketing is considered unexciting when compared to B2C marketing. But, to
be fair, the B2B segment demands certain kind of experience and expertise, which only a select group of professionals can offer. If one has a deep understanding of the business, one can eventually create more interesting solutions for the segment. Here is where our expertise comes in. We help B2B firms steer away from run-of-the-mill boring content, and instead help them develop collaterals which set them apart from their competitors.

While, we have been working on B2B marketing for various clients including a host of players in technology and finance industries, we have also worked with clients in the B2C industries like media, Edtech and luxury products. The ratio is 70:30.

How do you update yourself with the evolving industry trends?
The internet is a free university, open for all. I am a voracious reader. One of the biggest strengths that anyone has today is the availability of a huge knowledge pool at the click of a button. In a field like marketing, one doesn't have an option to say 'Now, I know everything. I am an expert'. The field is evolving so fast, the learning will inevitably have to be a continuous process. So, whenever I get time, I try to learn as much as possible by reading books, blogs, news articles and much more. Additionally, following leaders in this field, and keeping a watch on what's happening globally, helps me stay updated.

Do you have any suggestion for budding marketers or entrepreneurs in the industry?
Don't chase virality. Targeting often works better than virality. Most people run after making a piece of content viral, but there is seldom a direct benefit from virality. By targeted marketing, you have much better control of your business plan and the chances of successful conversions are higher than that for something that's simply made for mass appeal or critical acclaim. The communication message should not just be an epitome of creativity, but should be a tool to ensure that a product or a service sells, and sells well. That's something that should never be forgotten.

Bhavana Pandey, Founder and Chief Content Strategist, Wytti
A strategist at work and a storyteller at heart, Bhavana is renowned for her unique ability of crafting memorable brand stories that drive business growth.