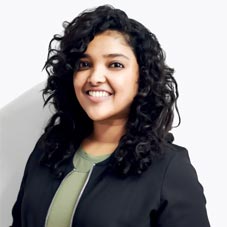 As we navigate through life, we sometimes find our passions changing, as do our careers, in a bid to pursue those passions. And that's what happened with Rebekah Thomas. Having gained over four years of experience in finance and audit domain during her article ship at Abraham Thomas & Co., a Chartered Accountant firm, she expected to be doing the same when she established Zook Studio, but life took a different journey altogether. Positioning Zook, where it stands today as a much recognizable company in the Kerala market, Rebekah not only performed her domain related tasks but scuffled with all sorts of marketing scrimmage.
Starting off as an audit assistant to co-founding Zook Studio, Rebekah, in an extemporary chat with CEO Insights, gives us an imbuing chronicle of her journey, the passion and talent that fetched her acclaimed recognition.
What inspired you to embark on the marketing venture and how did your life pan out after that?
We had rather humble beginnings at Zook. Everything was eventual, followed by a roughly planned course. But looking back, it's been six long years of learning. I started Zook after pursuing ACCA and it was quite a roller coaster ride with peaks of joy and valleys of struggles. As any other bootstrapped startup, we started on a shoestring budget. We believed that the first two years were the most crucial, as it would set the tone for the kind of investment we would need to pursue our dreams. Here, my background in finance came in handy. I believe my partners and I made some smart choices in terms of investing in an upcoming industry, and that is paying off now. In the past six years at Zook, I've predominantly done marketing,
client servicing and campaign strategy, and have also dabbled in scripting and directing for video ads. I also did an executive PG in Marketing from Great Lakes Institute of Management to get a more in-depth understanding of my new career path, as well as a number of certification programs that greatly helped me at Zook.
Brief us on the excellence of Zook Studio.
There have been aggressive changes in global marketing. Especially in the past decade, digital marketing has acquired an edge, swerving the traditional form of marketing. My partners and I, we are all first-generation entrepreneurs, so to make a name in this industry as a start-up, was the biggest challenge. Always hiring freshers, learning, adapting and evolving through experience, we constantly upraised ourselves at Zook.
Our client referrals are our biggest marketing tool – it's particularly encouraging when our work speaks for itself
We started off as an agency that delivered creative designs, but over the years, ventured into bigger productions, branding services, website development and even handling social media for a national sports team. Currently, our social media management services include campaign strategy, video production, 3D renders, ORM and ad management services. Every new project was an opportunity for us to upgrade our portfolio and hence, we worked on them with a drive and passion that our whole team shared. It took us nearly three years to land a big client. Developing user generated content, subscribing to news & updates from all platforms and keeping up with recent trends & demands, the constant need to stay updated, trendy and to better ourselves, never stopped at Zook.
We had conducted an annual event called Zook Street for three consecutive years. We also held a three-day event- flea market/exhibition featuring home based entrepreneurs & artists. Almost every time, we featured around 70-80 percent women entrepreneurs. Constantly staying in touch with them, we help and do our
bit in giving them insights on how to take their brand to the next level.

Running a business is never a cakewalk and requires ample dedication & planning. With respect to the current Coronavirus Pandemic situation, express your views on overcoming the shortcomings in business with right approach.
The times are quite concerning in terms of business & budgets for everyone, during this Coronavirus pandemic as it has affected the economy globally. But digital marketing has taken a big leap here. With restrictions on resuming life normally, companies are adapting by taking their marketing online and thus, a major chunk of the marketing budget that brands spend on advertising, has shifted to digital. This looks to be the new normal in our industry, and companies working in digital marketing must seize the opportunity. Internally, we've always used communication & collaboration tools like Trello and Slack, so shifting to the work-from-home scenario was quite smooth for us.

Women in marketing is quite a buzz in the industry. Express your views or suggestions for the budding entrepreneurs in the marketing segment?
When it comes to women entrepreneurs, the aureate diction yelps – never let anyone set your boundaries and always keep learning. The hunger to always outdo yourself, set new benchmarks for yourself, is something that keeps me and Zook going forward. Our client referrals are our biggest marketing tool – it's particularly encouraging when our work speaks for itself. Whether individually or together as a team, these qualities are vital for a marketing professional. Where we are now, can always get better.

What future plans do you have for your company?
Having worked with clients like LuLu Group, Muthoot Pappachan Group, Abad Group, Chakolas Group and the Marriott Hotels in Kochi, we have been gradually growing, and we aspire to keep up the good work and learn more as we go.

Rebekah Thomas, Co-Founder, Zook Studio
Rebekah is a jane of all trades beholding a passion for content creation and marketing.
Office: Kochi