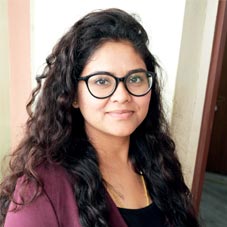 Today digital marketing is the living legend possessing the charisma to lead, innovate, and create trends in the world of marketing. Sadly, people have been a bit skeptical about women entering this field of marketing, due to cultural mindsets and practiced behaviours. But, the truth is all different now, as the marketing industry has witnessed many women rise up to the rank of influential thought leaders and trailblaizers, absorbing around a third of the digital marketing space. Part of this changing marketing world is Reeta Gautam. Cementing her renowned existence through the establishment of her company Rein Digital, she has voiced her innovative capabilities in the digital marketing space.
To know more about her enlivening story, flick through the following excerpts of an exclusive colloquy between Reeta and CEO Insights.
When did you actually realize that marketing was your realm? Brief us on your entrepreneurial journey.
Back in 2015, I kick-started my career path in Digital Marketing space with working in a startup, just after completing my Masters in Journalism from the Indian Institute of Mass Communication, New Delhi. Though there are challenges day in and out, but it's also a fact that a startup can really hit the roofs if you really believe in what you do and follow a pragmatic strategy. Working there, I gained an insider view on how things really work for a company that is just starting out. I slowly started to look at the opportunities in a business that provides full-stack marketing services to SMEs and realized that the market is huge. Combining my experience with the identification of an available, underfed market, I knew it was time for me to embark on a journey of my own!
Ensuring smooth operations takes a lot of effort and time, especially when you are just starting out. Quite honestly, REIN Digital was no less than a gamble for me. I started out with limited, but not
minimal expertise in the field of marketing. Building a company on my own was exciting as well as risky, to say the least. At the initial stages, when I was still figuring out a viable action plan, I used to have this compulsive need of taking care of everything on my own – from clients to operations. However, I took the leap of faith and as each day passed, we progressed, and I became surer of my path and putting in dedicated resources for handling the execution bit, I started allocating responsibilities. Since, I work best at on-boarding new clients, I decided to channel my energy in that area. As a reward, REIN digital kept evolving as a company and I kept growing as a likable leader.
As a CEO, I spend the majority of my time interacting with our clients and bridging the gap between them and the team to ensure smooth, fool-proof execution of deliverables
Brief us on the excellence of Rein Digital. Also discuss about your offerings.
REIN Digital, a result-oriented full-stack marketing & technology services company is a onestop for all internet related solutions. It started off in the Indian market, but eventually branched out to markets abroad. As of today, our major clientele is based out of the UK & the US. Our core areas include, but are not limited to Empowering brands, Digital Analytics, Strategy Consulting, Digital Marketing (Creative Content Development, Organic Search Marketing), Paid Marketing, Email Panels and Mobile & App Design and Development. We are a bunch of people with highly equipped expertise in implementing scalable technology and finding viable digital solutions for small-medium enterprises and startups. As a CEO, I spend the majority of my time interacting with our clients and bridging the gap between them and the team to ensure smooth, fool-proof execution of deliverables.
Could you highlight about the recent and upcoming projects that you have under your belt? What are your strategies and methodologies in achieving the best of the results?
We have a number of ongoing projects with firms specializing in diverse products. For the near future, we, fortunately, have been
able to close deals with several clients in the UK. There is no right or standard procedure that a company can adopt for a particular project. Each client's demands and needs vary, because of which, the only procedure we adopt is the one that yields tangible results, concerning client satisfaction.

Devising, sharing a well laid-out, and result-oriented plan, we execute and track them on a month on-month growth basis, keeping a close eye at all aspects of operations and executions.

And, as for the budget part, we seek clarity on it only in the secondary stages of pitching since money does not always determine the successful and satisfactory deliverance of projects. Altogether, our unique strategy and methodology of delivering services helps us grow through each project, relishing clients an optimal return on investment.

What future plans do you have for your firm?
Talking about the relevance of the digital marketing sector in the present and future scenarios, in one line I would say – the future is online. Because of the prevailing COVID situation, businesses and governments around the world have realized the need to create a virtual presence. So, all in all, Digital Marketing is not only here to stay, but to boom!

You could call this a classic case of blowing one's own trumpet, but in all modesty, every time I take a look at our balance sheets, our numbers speak and it only gives me the reassurance of my work and my path. Currently, experiencing a 300 percent YOY growth since our launch, we are growing expeditiously in financial numbers, clientele base, and even in terms of the team members as a whole. And, in terms of our future plans, we aspire to stay committed by providing success-based solutions, giving every project the utmost dedication it deserves. We are in discussion with on boarding a few big players based out of US, and if God permits, we will share the good news soon!

Reeta Gautam, Co-Founder, Rein Digital
PG Diploma in Journalism from Indian Institute of Mass Communication, (New Delhi), Reeta is a proficient digital marketer and entrepreneur with strong business sense.

Office: Bangalore (India), Edinburgh (Scotland)