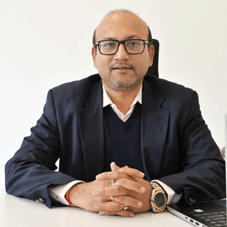 The Indian market is today flooded with co-working spaces, especially with the strong backing of private equity investments. However, businesses have not grown fast enough to absorb co-working spaces at an equal pace creating a demand and supply imbalance in the market. Shouvik Mandal, CEO, Apeejay Business Centre(ABC), one of India's largest privately held serviced office spaces brand, believes that while the market is over supplied with co-working spaces, yet most centres seem to be missing the essence of hospitality, a critical aspect for several clients. Rendering customer friendly and tailor-made co-working services with its trademark hospitality & ancillary facilities is ABC. Headquartered in Kolkata, the firm comes from the house of Apeejay Surrendra Group, one of India's oldest and largest business conglomerates.
Having ventured into the space of co-working in 1997 ABC today provides accessible, business suitable and commercially viable modern premium co-working spaces. Building on its parent company's expertise in the real estate and hospitality segment, ABC began its journey with one centre in Chennai and has today expanded to Chennai, Delhi, Hyderabad, Kolkata, Mumbai, Navi Mumbai, Gurgaon and Pune. In an in-depth conversation with Shouvik, CEO Insights delves deeper into what makes ABC and its co-working spaces a cut above the rest.
Take us through the various services rendered by ABC? How are the services designed to cater to various clients and varying requirements?
Priti Paul, Director Apeejay Surrendra Group, who is an architect herself, envisioned Apeejay Business Centres to be superlative, well designed plug & play offices and fluid co-working spaces in pivotal business hubs for new entrepreneurs, startups and corporates. Guided by her vision, the company today specializes in serviced offices, built to suit offices, co-working spaces, virtual offices,
meeting rooms and ABC lounge.
We provide an array of cost effective options keeping in mind various client requirements & business needs. Our serviced offices are an ideal choice for Large Enterprise and SMEs, whereas our co-working options work well for startups and individual professionals. For clients looking for non-traditional work spaces, we provide virtual office packages which facilitate access to high quality business services and technology at an economical price.
Flexibility is a hallmark of our solutions and it helps us understand their business needs better which in turn enables us to serve them better
In your opinion, what is the biggest concern for most of your clients? How do you answer these concernseffectively?
Most clients are looking for affordable & add-on services, and we strive hard to accommodate these requests. Our prior experience in the hospitality sector has taught us the criticality of one's approach to a problem and the Turnaround Time(TAT). Thereforein most cases we render solutions swiftly and our approach is to make it easy & comfortable for the client. We believe that our customer friendly and tailor-made services along with our hospitality & ancillary facilities have given us an edge over our contemporaries in the market. Flexibility is a hallmark of our solutions and it helps us understand their business needs better, which in turn enables us to serve them better.
Tell us about the innovative ideas being implemented at ABC.
The design and architecture of offices in each of the cities we are based is on the theme of the city like for Hyderabad its Nizam's Jewels, for Gurgaon its Indian Sports for Salt lake its Delta and so on. To encourage participation from women entrepreneurs, we also offer a specially curated scheme 'Wonder Women Who Work Scheme' that offers them benefits over and above our regular offerings.
Secondly, speaking of innovative ideas, we shall soon be launching a monthly event called Entrepreneur Talk, an opportunity for our clients to showcase and present their brand credentials, products and services to other ABC clients across the nation. An entrepreneur can be present in one location or across
our locations to exercise this. This will be a client engagement activity and will be advantageous for fellow members. All clients may not indulge in this, but looking at the acceptance, we shall open this for startups or non-member entrepreneurs who are looking for a way to advertise their product or services.

How has the company's growth story evolved since its inception in 1997? What is the next plan of action for ABC's future?
Apeejay Surrendra Group started its venture in co-working spaces in the year 1997 with its pilot business centre in Chennai. Today, we are 11 business centres strong and have recently launched our brand new and second business centre in Delhi–NCR, taking the total capacity to 2300 seats.

As briefed earlier, at Apeejay Business Centres, we have doubled our revenue in the last three years and wish to continue in the same manner. The growth has been exponential in many ways, and for us, we do not count the growth by just the number of seats or centres we have added, but also by the number of retained clients and positive client testimonials. These are also an affirmation of good work and growth.

It's noteworthy to mention that we are a conventional business house and our expansion plan is based on financial model lead by the group's vision. We have compassed our growth foreseeing the growing participatory culture and collaborative work zones. The concept of serviced office space model in India is increasingly becoming favoured in our country and ABCs are designed keeping in mind the support and functionalities growing businesses need. Our way forward is to make ABC workspaces accessible, suitable and viable to all.

Shouvik Mandal, CEO
A CA and cost accountant by qualification, in his earlier role at Apeejay Surrendra Group, Shouvik was spearheading the finance and accounts of the Real Estate Division. Following his move for a career change in 2010 he rejoined Apeejay Surrendra Group in 2016 and was given the responsibility of leading the group's Real Estate Division and in his current role as CEO, the astute leader strategizes the company's progress at every step.

Offerings: Serviced Offices, Built To Suit Offices, Co-Working Spaces, Virtual Offices, Meeting Rooms, and ABC Lounge

Offices: Chennai, Gurugram, Delhi, Hyderabad, Mumbai, Navi Mumbai and Pune