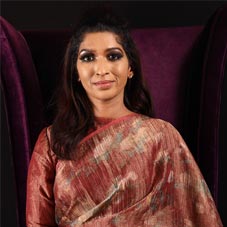 A quality higher education is coveted by everyone around the world. Percase today more than ever before in the history of India, individuals coming across the competition surges have significantly realized the same and the hype in quality higher education acquisition is culminating. However, the overall responsibility in dispensing a comprehensive and structured curriculum that fosters holistic development of students rests upon the cornerstones of the industry - educational leaders, schools or institutes.
The education and learning community are already under immense pressure to innovate, devise and reformulate a curriculum that beats off the challenges in the space and help students to be future-ready for any competitive endeavours in life. Thanks to Archana R, Managing Director, SAN Academy Group of Schools, a fervid Edupreneur who plunged into the field of education & learning with the same penchant of imparting quality education to students. As a change catalyst in the education space, she is tenaciously working towards shaping the future leaders who can contribute to accelerating sustainable economic development of the country.
Below are the excerpts of Archana's conversation with CEO Insights, highlighting upon her entrepreneurial journey and uniqueness of SAN Academy Group of Schools.
What inspired you to take the road to entrepreneurship in the education space? How has been the journey so far with San Academy Group of Schools?
I am a B.Tech. and also hold an MBA degree. My inspiration was nothing huge, but the education in itself. I am a self-motivated student and was a topper during my school days, almost all the people in my family were well educated, so knowing the importance of education was not a big deal, but knowing the difference in education was. Well, to begin with the desire to enter into the education industry & exhibit an exotic change was deep sown within me at the age of 15 only when I visited London with my father.
I was awed to gen up with their (London) teaching styles, where students had plenty of room for learning that too in a fun way. The teachers were implanting the motto of self-expansion into the children through everything they taught there. Also, during my one year
studies on teaching at Vels University I came to know more about the understanding of a student and different learning abilities. Also, that the different learning styles need to blended into teaching curriculum such that it leads to holistic development of each one.
I wanted the children to learn by themselves where the teachers are the support system to guide them the right way. Hence, the inspiration gained at 15, was set to motion in 2008 with the inception of SAN Academy Group of Schools (post completion of my engineering at 22) with immense support from the family & friends.
Well, as it was my desire that led me to plunge into the industry and bring forth a framework that every parent and child needed to experience the educational & ethical opportunities, and awaiting breakthroughs, the journey has been enriching with abundant adventures. More is yet to follow.
Success is certain if the purpose is pure!
What were the major challenges that you encountered during your professional journey till date?
Yes, there were challenges initially and it took a long run for the school to be popularized, but with immense support & guidance of teachers the students achieved a lot during their education at San Academy. The quality of education provided here made San Academy popular. I fell proud & contented that this success paid for the challenges that we went through.
Brief us on the excellence of San Academy Group of Schools. What new strategies are you planning to leverage in the coming years to significantly improve the performance of your school?
San Academy, is a landmark educational institute in Chennai and offers the best of learning practices leveraging a comprehensive & structured curriculum. It aims to impart quality education using innovative classroom methodologies while catering to a holistic all-round development of children.
The interactive lesson plan and classroom ambience are set on personalized learning. The school has a dedicated faculty of highly qualified and efficient teachers, who use modern techniques of teaching. Students are facilitated & mentored individually to adapt to their new environment with the help of academic specialists and behaviour & cognitive counselors, and professional caregivers. Through our 'English Everywhere 360°' mission, we are striving to consciously make every student proficient in the English language by fine-tuning their listening, reading, speaking & writing skills. Academics and the extra-curricular activities here augment the students' talents so exquisitely that they get identified, be it National or State level competitions.
Planet Nutrition, robotics training, green thinking bonsai cultivation, teachers' knowledge circle, and British Council professional guidance are some of the quality education quotients uniquely offered by us. We value students who are intellectually curious and creative and mentor them towards attaining academic excellence. We are planning to go with the upcoming technology & co-exist them with the tradition and feed into the children using the most innovative & fun learning method, with enthusiasm.

Family plays an important role in every person's life. How has your family supported you in your professional journey so far? Also, how do you manage to balance between your personal & professional life?
Yes, my family has been very supportive, right from when I was inspired & dreamed to make a change in the education field. My dad was my moral support throughout my journey. My friends & relatives almost all of them have supported me with ideas, encouraging me rightly everytime, everywhere. Their guided support has moulded me into a person I am now. Also, I haven't seen my SAN family as any different from personal, so on that note my professional journey has been all along blended into the personal life and have never impacted each other.

Do you participate in any mentorship programs or give keynote speeches in conferences & seminars to share your industry insights with your peers?
Yes, I have participated in various conferences to keep myself updated on the current trends & practice the same in the field of education. I have delivered a speech on best educational practices during my felicitation ceremony (Leadership Award for Educational Excellence) by Ms. Maneka Gandhi.

Message For the Budding EduLeaders:
It's not over when you lose; It's over when you quit to try.

Particularly, in education sector, if you have decided to pursue your goal as a leader, be ready to come across a lot critics & negativities.

You might be young or old, never mind, once you have decided just do it right and at the right time. The right stuffs you do in this space would reach places like you have never imagined (through students). Success is certain if the purpose is pure!

Archana R, Managing Director, SAN Academy Group of Schools
An engineering graduate and MBA holder, Archana R. is one of most respected woman of admiration who started her career with the pure passion of tapping the innate potential of young minds and is zealously spearheading the space.

Interests: I enjoy travelling & getting to know about the historic importance of the places I visit. During my free time, I read a lot of self help books.