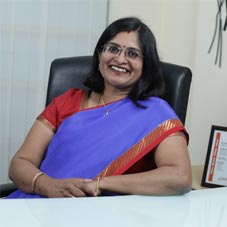 Does education make one literate, help acquire a job and gain social status? Or does it bring enlightenment to deal with life events adaptively?
Undoubtedly, it's the latter that illumines the purpose of education. Currently, when the country is predominantly comprised of youth— with a veritable army of more than 600 million under the age of 25 —classes 11th and 12th become vital for deciding the future course in terms of choosing a preferred career
There are many educationists and institutes who are either in the school space or are leveraging the test prep space and helping students prepare for Competitive Exams like JEE Main, JEE Advanced, NEET, etc.
Among them, we have a lady who stands apart with her unique approach towards education. Mrs. Lalit Sridhar, Founder of Deeksha, is apioneer who has brought in a dynamic academic ecosystem of quality learning programs aimed at children's all round excellence and backed by robust academics & technology. This is to ensure a comprehensive learning for students with an integrated approach in preparing them for competitive exams.
The wellness of every child is the pre-requisite to enabling their academic aspirations. Lalit Sridhar is on the quest to provide each child with an effective and caring academic environment that nurtures original thinking and creates young, confident individuals with a sense of responsibility towards society. Here are excerpts from an exclusive conversation between Lalit and CEO Insights:
Walk us through your professional journey. Also, brief us about the birth of Deeksha and its distinguishable aspects.
I am a Chartered Accountant with Masters in Commerce. My background in Commerce and my later qualification as a CA fueled the entrepreneurial drive in me. Having an inclination to serve the community, I chose education as the sector. I tall started in 1998, when together with Dr Sridhar G (a B.Tech. in Mechanical Engineering from IIT Kharagpur), we founded Deeksha.
The inspiration behind Deeksha - or
what we refer to as the DNA of Deeksha - is 'We Care' and our motto is to 'Nurture the success of every child'. We saw children going from their schools to different tuition centers after school hours, carrying a big bag, only to return home quite late in the evening with hardly any time left to pursue their personal interests. We wanted to solve this problem, and hence we took structured supplementary coaching to their schools (a reinforced learning right after regular class by a Deeksha teacher), thus, establishing continuity.

But, in a few years we realized the most ideal situation would be if the complete teaching could be imparted within the regular school session (freeing up more time for children & enhance their effectiveness). This propelled us to launch our full fledged comprehensive & all-encompassing Deeksha Triple integrated model, where we take complete ownership of children's education at our campuses.

Our faculty members ensure that all the academic requirements of the children are taken care of, right from conceptual understanding, to preparing for Board exams, and honing their speed & accuracy for competitive exams like JEE Main, JEE Advanced, NEET, CET etc. Deeksha's unique approach towards academic integration assimilates Board and Competitive Exams, while technology integration (dClass, eDUCATOR, & dCloud) offers next-gen learning solutions anywhere, anytime. The learning program offered here charts: Integrated College Program, Residential Program, PU 2 Program, Deeksha Higher Education Program, Long term Program, School Program and Tutorial Model. Today, we are proud to have nurtured the success of more than 60,000 children over the past two decades.

What were the challenges that you encountered during your entrepreneurial journey and how did you overcome them?
Dr. Sridhar and I had started Deeksha with a few handpicked people who resonated with our beliefs. The biggest challenge came when we started growing at a rapid rate and had to come up with a method to maintain the same DNA.

We are happy to say that we formulated our dCARE (Deeksha for Children's All Round Excellence) methodology to ensure that the founding vision of Deeksha remains intact, no matter how much we grow. We have processes defined, right from hiring to training to actual day-to-day operations, where decisions are taken keeping the child in mind. I am extremely proud to say that our vibrant team of Deekshaites have maintained the same level of care ever since.

Family plays an important role in every person's life. How has your family supported you in your career so far? Also, how do you manage to
balance between your personal & professional life?
I'm blessed to have my husband as my partner in Deeksha. We complement each other's strengths quite well. My children are also actively involved in the directions the organization takes and constantly offer insights into the same. As they are students themselves, it is enriching to gain an insider's perspective from them. Taking breaks every now and then to reconnect as family — with work aside — is something we all take very seriously. So, whether it is taking off on a holiday or simply relaxing in the backyard to catch up, is sacrosanct for us. I take the initiative to lead these getaways.

Do you have any advices/suggestions on your mind for the budding leaders in the segment?
There is always a need for quality educators. In fact, I think this is one industry that will never faze new entrants on account of 'competition'. Education is a noble and noteworthy cause and will never go in vain. This endeavour requires real passion and cannot be half-done. Remember why you began in the first place and let the genuine desire to help motivate you. The going will get tough, but the satisfaction gained from witnessing the transformation in the youth of the country is unparalleled.

Tell us about your future plans for Deeksha?
At present, Deeksha is a leading brand in the higher secondary / PU education space, having carved a niche for itself in the JEE / NEET realm and also expanding horizons into the Commerce segment.

Our success in the PU & Competitive Exam Coaching spheres have inspired us to take the leap into the K-12 space with Deeksha STEM Schools, our latest venture. We would like to translate our success in the higher secondary education space to the early years. This will also brace us to reflect the proposed changes of the New Education Policy.

Lalit Sridhar, Founder, Deeksha
A Masters in Commerce and a Chartered Accountant by profession, Lalit is a passionate educationist. She has made laudable contributions to the field of education and Deeksha is a testimonyto her quest to help children learn in a lively, creative and joyful way - integrating academics with technology.

Awards: 'Women Super Achiever Award' by World HRD Congress in association with ET Now (February 2019)

Hobbies: Reading, Gardening, Catching up on sleep when I can
Favorite Cuisines: South Indian Cuisines

Travel Destinations: Having a special liking for mountains, I prefer places with abundant natural beauty.