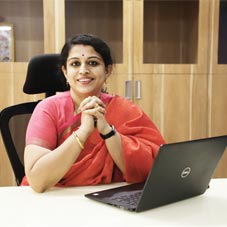 Education not only enlightens the future of the young minds but also encourages them to harness the possible opportunities to reap better outcomes. A woman whose embarkment into the empodium of education has created a whirlpool of novel educational trends embedded with technological advancements and co-curricular activities, Mangala Madhavan has emerged as one of the premium personas renovating the Indian Education sector. Through her unique educational institution, The Shri Ram Universal School, Chennai, Mangala is determined to create a concrete educational institute equipped with transparency, straightforwardness, clear and correct communication along with an honest relationship between teachers and students.
Engaging in an exclusive interaction with CEO insights, Mangala Madhavan shares her journey as one of the leading educationalists and woman leaders who is unperturbedly contributing towards society and the nation.
What inspired you to Establish the Shri Ram universal School and what are the challenges that you have encountered in your journey so far?
The inspiration to establish The Shri Ram Universal School was the aspiration to look out for a School, where students are not considered as a raw materials and schooling as a mechanism to produce finished goods. One of the common challenges that I have encountered in my professional journey is young parents wanting their children to be left on their own, conceding to all their tantrums and when the child is in middle School suddenly the desire to see their child excel in everything arises. And, by now neither the parent nor the child is ready to accept any kind of deficiency/failure in attempts made.
Education is continuum of learning, spiral in nature. It is important that right from a younger age, children are introduced to developing age-appropriate routines, habits, values, quantity and quality of recreational activities to spend leisure time which also caters to their physical,
mental, emotional and spiritual wellbeing. And, if they get into a routine by Primary classes, then taking up challenges as they grow into Secondary and Senior Secondary does not create stress in them.
Yet another challenge is when the teachers and parents knowingly/ unknowingly establish the subjects liked and disliked by the student and finalise career options for the child. And this creates undue expectations from child leading the child to anxiety, stress, depression and more. I feel if at a younger age, the right support, adequate exposure and proper environment are provided to students both at school and at home, then the child only needs timely guidance to make the right choices in life for himself/herself. And, when he/she can think independently and take decisions then there is no stopping for that child.
The focus of any education segment must be to create right Learning environment, ensure curriculum alignment and nurture responsible lifelong learners
Brief us about the various academic courses that your school provides. What new strategies are you planning to leverage in the coming years to significantly improve the performance of Shri Ram universal School?
We are adhering to the guidelines shared by CBSE regarding the curriculum which gives lots of importance to Co-curricular, sports and liberal arts along with curricular subjects. We are an inclusive school where students with special needs are handled by Special Educators. As of now, we have tied up with Gary Kristen Cricket Academy for Sports, Padukone Academy for Tennis and Rock School of London for Music and Dance. Going forward, we would like to associate with the best of training groups to facilitate students who would want to excel or become proficient in areas of their interest.
How do you cultivate and encourage in building strong peer relationships along with parents and students?
We believe in three-way handshake - A transparent culture of communication among teachers, students and parents. We ensure collaborative events and activities for parents and students,
workshops for parents/students, participation in School functions/ events/celebrations, Parents invited to speak to students in their areas of specialization as a guest speaker, and involving students in planning, organizing as well as the conduct of events.

Where is The Shri Ram Universal School positioned in the current education industry of India and what are your thoughts on the present and future scenarios of this space?
The Shri Ram Universal School has the pedagogical strengths of the The Shri Ram Universal School, New Delhi and the internal IT strength support by SEL that develops quality educational establishments in the K-12 sector across India and abroad.

There are more than 34 + schools across India and that is a testimony to how well the school is positioned. I feel that the world has begun to realize that society needs well balanced sensible individuals to take humanity forward and that marks should be a by-product of true understanding and learning, otherwise, they turn out to be insignificant numbers which neither takes the student nor the humanity any forward.

What are your major strengths as a principal and what is the most rewarding experience of your Career?
My major strengths as a Principal are persistence, dexterity, simplicity and approachability. And, for me, the most rewarding experience of my career is when my older students, whom I have taught long agoget in touch and enquire about my wellbeing. It's truly endearing.

Mangala Madhavan, Founder Principal, The Shri Ram Universal School
With more than 22 years of experience in School education at CBSE Schools, Mangala has always been inclined towards the teaching profession since childhood. Owing to her schooling across the length and breadth of the country, Mangala adapts as well as relates very well with people and organization. Holding Masters in Physics, Computer Applications and Education, Mangala is operating as the Founder Principal at the Shri Ram Universal School at present.

Her current role and responsibilities include forming a team that believes in the philosophy and ethos of The Shri Ram Universal School. Under her guidance, The Shri Ram Universal School is creating a culture of Integrity, Sensitivity, excellence among staff and students with pride in one's own culture.