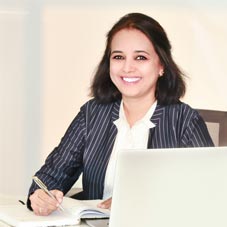 Societal, communal and national development is an imperative concern, and it is education that plays an important role in driving the overall growth. In India, embracing the opportunities put forth by the digital disruption, individuals are stepping into the evolving world of knowledge, exploring the extensively spread resources of education without spending exorbitantly. However, despite experiencing phenomenal expansion along the years with a 77.7% literacy rate, the staid Indian education system still lags behind the standards of the world's best universities. Educationists are riding on hopes of scaling-up the literacy bar, but it is best to temper expectations with education that enhances one's cognitive, intellectual, social and personal skills. Leading the path like many others in this peregrination is Seema Poddar, Founder of Synergy Institute for Accelerated Learning.
Understanding how crucial is education to shape people's lives, she holds it her duty to empower students to become benevolent contributors to society. In this quest today she is a doyen educationalist in the industry empowering students with a learning curriculum that is fun, simple, and customizable as per each students' grasping capability. It enhances one's critical & intellectual thinking such that they are future ready for any academic or life challenges.
Synergy Institute's Excellence
When learning is simple & fun and not marks oriented, students accelerate their cognitive abilities. Established in 2018 Synergy Institute for Accelerated Learning, a guiding light for students believes in the collective energy of many that can create the momentum required for the bringing change in the current education system of the nation. To take forward their mission the institute has curated its own programs known as 'Accelerated Programs' like 'Maths-Physics Accelerated program' and 'Bio-Chem Accelerated program', which are an integration of Maths with Science & Humanities along with Design and Technology.
Today, the institute has assimilated best practices of the IB, IGCSE, American Curriculum, Australian curriculum, and the Indian curriculum. The integrated curriculum at Synergy supersedes the rote learning method and provides conceptual understanding and building strong foundations by preparing them for along with academics. Its coaching for IB Diploma programme, IB Middle Year programme, IGCSE, Advanced Placement (AP), and other International competitive exams are getting recognized and popular. Its team members are consistently busy brainstorming various ideas to keep adding more value for students. Also, the faculties here are deployed from places like Delhi, Kolkata, Bangalore, Hyderabad, Kerala, Malaysia, Spain, Dubai, and many other places.
For providing holistic guidance and empowering applicants to make informed choices about studying abroad, Synergy holds association with Edmission - India's Leading Education Counselors. Pranav Doshi, the Founder and CEO has played an elementary role in this
pursuit. The entire process of university admissions is extremely intricate (be it academics, recognizing one's strength, writing personal essays, and concluding on finding the perfect university and course), and requires expert guidance to pursue the cherished dreams. Mr Pranav Doshi has till date has counseled more than 25,000 students from almost all the cities in India and over 29 different countries like the UK, USA, Singapore, Hong Kong, Dubai and many more.
Good Education is one that enhances one's cognitive, intellectual, social and personal skills, prepares them for life and makes students aware of their responsibilities as global citizens
The Genesis
"Coming from a very traditional background where girls were encouraged to take courses like home science, I being extremely passionate about education (be it school & college) made my way through the stereotype, becoming the first graduate girl in my entire extended family (comprising 20+ cousins). I believe that education is the social and emotional need of every individual, and to acquire knowledge that feeds all the requisites, students need to develop the fundamental understanding of how the compartmentalized subjects are inter-related with life. Once they acquire strong conceptual understanding of each subject they can build the blocks further", says Seema.
Known for her deep knowledge and insights in the education industry, Seema started off her entrepreneurial journey setting up a small centre where she offered a very unique program known as 'Knowledge Khazana'. The curriculum focused on the enhancement of IQ and EQ of young kids. It was perceived very well by the parents and children, but a shifting of residence brought a temporary breakthrough in the journey which lasted for 7-8 long years. In due course she empowered herself by taking up formal studies once again. Howbeit, realizing it wasn't enough to fulfill her vision of empowering and educating the hearts & minds of young students, the latter further pursued MA in Philosophy, Masters in Education Management, Executive MBA from IIM Calcutta, B.Ed, and few online courses from Oxford, Harvard University, and IBO and connected with various educators to learn about the best practices, context, pedagogies, and children's emotional & psychological needs.
Her experience in the industry is an accumulation of working in the top most IB schools in Mumbai for over six years. It helped her understand the know-how, design courses, and ultimately entrench her brain child Synergy Institute - for Accelerated Learning.
Roles & Responsibilities
As a Founder of the startup Seema manages various roles to propel the growth of the institute. From taking key decisions about the finances, marketing, sales, presentations for parents & students - orienting them for the programs to creating strategies for the implementations of the courses (integrating technology). Also, hiring well experienced IB teachers, and other staff members, networking, organizing, planning and prioritizing work to assessing the qualities of things, services, and people.
Budgeting and allocation of funds to optimize the resources becomes a very important factor. Alongside maintaining information systematically, coordinating the work culture and handling regular administrative work, she communicates with parents, students, marketing people, and other external sources and well establishes and maintains the interpersonal relationships. Lots of research on the latest trends and collected updates by talking with experts, never let her stay behind. These roles collectively help her in aligning the mission of the institute.

The Roadmap Ahead
Though the beginning was humble with just two students until March 2019, it increased to 32 students by year, and became 90 in 2020. Where the team members were just three, it has now grown up to 18 teachers and staff members in 2021.

However, similar to other industries Synergy was also hit hard with the COVID-19 pandemic, and had to abruptly suspend all the classes. It took awhile but the institute made a comeback to online classes to the existing students. Never shying away from any opportunity or challenges, Seema came out very strongly. From being available to all its teachers, staff, parents and students for all the requirements 24/7 she is relentlessly working towards her vision and mission.

Going forward in 2021, with the purpose of providing quality education in all fields, the institute has launched courses like 'GenNext Leadership' 'Young Entrepreneurs' 'Design Thinking' 'Advanced Maths' and 'Advanced English'. Shortly it will be introducing 'Multiple Perspectives', 'Personal Finance' 'Ethical Dilemma', and a few more. Seema adds, "We want to keep investing ourselves in the services we provide, thus are upgrading our technological infrastructure for smoother process work & user friendly experience. We are hopeful of many more students benefiting from the enriching programs offered by Synergy Institute. An institute in Boston is interested in the programs offered by us and we are in the discussion stage to move further with it. Our teaching methods, our curriculum and the dedication for the vision will surely lead us and our students to amplify our strengths".

Seema Poddar, Founder, Synergy Institute for Accelerated Learning
A B.Ed., MA in Philosophy, Masters in Education Management, EPLM from IIM Calcutta and more, Seema is an extremely passionate educationist who is on a mission to empower the nation with youths who are future ready for any challenges life spikes them with.

Hobbies: I enjoy having meaningful conversations with people from all walks of life, which significantly includes the network of educators, principals, professors, researchers, counsellors, students and parents.

Travel Destinations: I have travelled across the globe and have been amazed by the various aspects of each destination. Thus, each destination is exciting for me.

Favourite Cuisines: I have also enjoyed the finest food at the best of places, but ginger tea is my all time favourite. Message for the Budding EduLeaders:

Important attributes for all successful leaders (be it man or woman) would be, a belief in themselves, risk taking abilities, hard working and staying passionate about the idea they wish to grow their business in. Women have their own advantages and disadvantages, but a woman who is willing to take criticism/ridicule in her stride would emerge to be successful.