Shalu Juneja: Enlightening The Indian Education Sector With The Infinite Possibilities Endured By Art And Design Arena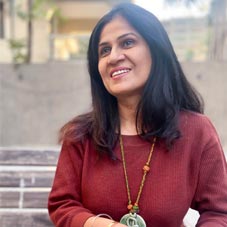 Even if India has been consistently regarded as the epicenter of arts and design since the medieval period, the mindsets of many Indian parents often shy away from considering it as a career option for their children. Dispersing the clouds of doubts and enlightening the Indian education sector with the infinite possibilities endured by the art and design arena, Shalujuneja has emerged as a creative and nurturing force within the industry via her brainchild Uno Lona Academy.
Channelling the inner creativity from the heart to the hand of the students, the Uno Lona Academy has emerged as an ultimate platform for many young enthusiasts who are ready to plunge into the arts and design domain. Striving to build an ecosystem of art and design education that is facilitated by empathy and nurtured by collaborative creativity, Uno Lona Academy was entitled as a leader by the Times Education Icons (Ahmedabad), 2018, and ranked 1st position for Mentorship for Education Abroad.
Interacting with CEO Insights, Shalu Juneja, Co-Founder, Uno Lona Academy, reveals her journey as one of the phenomenal personalities of the Indian education sector who is determined to steer the art and design education sector towards a promising future.
Along with the brief details about your educational and professional background, explain your current role & responsibilities at Uno Lona Academy?
After completing my Masters in Fine Arts from Stella Maris College, Chennai, I made sure that I kept updating myself and kept learning new things as I have always been a believer of continuous learning. And so, I did workshops and courses in Ceramics, Wood Inlay and Pyrography and even Stained Glass. Using my learnings, I started my professional journey as an artist and exhibited my Paintings in Ahmedabad as well as Chennai. After taking a break for my family, I then ventured into retail décor and customized furniture under the banner Art n What Not.
I felt that the Ahmedabad target
audience at the time had not yet developed a taste for my language and somewhere, I too lacked the business and marketing skills which I realize now, after having learned these things from my time at Uno Lona Academy. Now, I am the Director and Lead Educator at Uno Lona, responsible for designing curriculums, delivering these curriculums and also teacher training. Apart from that, I also oversee the Ceramic Studio as an educator as well as production head for products/customized orders in Ceramics.

Brief us about the various academic courses that your Academy provides. What new strategies are you planning to leverage in the coming years to significantly improve the performance of Uno Lona Academy?
Our academy is dedicated towards art and design education for K-12 Students and our primary focus has always been on helping students build a career in art and design. So, our courses offer assistance and mentorship for building applications to colleges and universities abroad as well as in India. Apart from that, our courses focus on building a foundation for these students and helping them understand the fundamentals of art and design.

Our one-on-one education model enables us to understand the capabilities of each child and customize the course accordingly. We're currently in the process of developing online, on-demand courses that can help 9-12 grade students understand potential career paths in art and design should they choose the creative fields. We're already in our test phase and are hoping to do a formal launch before the new academic year. For the future, we're venturing into the space of online education for art and design and hybrid learning model.

What inspired you to Establish Uno Lona Academy and what are the challenges that you encounter during your professional journey till date?
Teaching to me happened by chance when 2 girls walked into Art N What Not and requested me to teach. I had taught in an academy before but at Art N What Not, I started to enjoy teaching. After a few years, I had roughly 10 students who were learning from me and I never focussed on it so much because I was still trying to run my retail business. Looking at the potential that education had and the gap that existed in terms of services, I hung my boots on the retail business and decided to go full time into art and design education and there's been no looking back since.

I think the biggest challenge that I've faced, and honestly face even today,
is gaining the confidence of the parents that art and design can be as lucrative a career option as engineering or medicine. It baffles me honestly, that they don't realize that art and design are omnipresent – is there anything that you can find around you that is not probably designed?

What are your major strengths as a Co-Founder and what is the most rewarding experience of your Career?
My knowledge in art history has enabled me to design courses differently and give a lot of exposure to young students. Through these, I have managed to enable freedom of expression, nurture imagination, build competencies and skills – which is something that makes me happy. Challenging students to be as open and bold in their creativity and watching them achieve their goals in terms of acceptance to the college of their choice has been the most rewarding experience. And I hope to continue that for years to come.

Do you conduct regular community building events and activities to promote industry-oriented skills among students?
Before the pandemic, we used to participate in group exhibitions, events and more in the city which gave opportunities to develop teamwork skills, leadership skills and even operational and managerial skills for students. Post-pandemic, continuing the same has been difficult. So, in December 2020, we launched our very own online arts store called 'Arts Will Make It' - a brand by the community of Uno Lona, for the masses of an eclectic society.

All the products and objects such as paintings, drawings, ceramics, merchandise, poetry and more, that we sell through the store are made by the students and faculties of Uno Lona. We launched this brand not only from the perspective of building our community online but also from the perspective of giving our students practical exposure to buying/selling works and dealing with contracts as well as clients. The brand is still at a very early stage, but we hope we can capitalize on its true potential.

ShaluJuneja, Co-Founder, Uno Lona Academy
An artist by profession, ShaluJuneja's work is dominantly figurative-abstract in the form of mixed media paintings. With experience in retail décor and interior decoration, Shalu moved on to enter the realm of education. She co-founded Uno Lona Academy with a passion for mentoring young children into independent creative individuals.

Hobby: Ceramic Sculptor, travelling, music, books