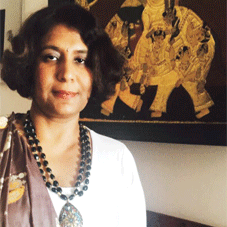 Ofttimes the work of a painter is only truly appreciated posthumously. History is not short of examples of well-known painters who had lived lives of destitution only for their work post mortem to be highly sought after and considered priceless. The primary purpose of the Archna Wadhwa Gallery is to create a global community through art by bridging the gap between artists and art admirers and by helping people realize the transformative potential of art. A platform that will concomitantly provide accessibility and availability so that art can be demystified and enjoyed by all.
With a thought like that, Archna Wadhwa laid the foundation of Archna Wadhwa Gallery in 2018. Established as an exclusive podium that highlights the artists at a global level, Enduring a continuous journey to enrich the lives of the artists by promoting their artwork and conducting offline as well as online exhibitions, Archna states this concept as her passion rather than just another business venture, as she is determined to unleash the beauty and exquisiteness of the Indian art to the masses.
Engaging in an exclusive interaction with CEO Insights, Archna Wadhwa shares her views and visions as one of the paragon art promoters of the country.
1. What were the initial challenges that you had faced at the beginning of your journey as an entrepreneur?
I was fortunate enough to have ample opportunities via my job to travel, and on a personal basis, I loved exploring what the different cities around the world could offer. Every time I visited somewhere, I'd make sure to find me an art gallery or a museum to explore and admire.
As a connoisseur of art, I felt Indian Art was missing out on appropriate appreciation for itself. Without any prior experience in this industry, my first challenge was reaching out to various artists within India. I did my research and not only did I individually reach out to some of them but also engaged personally with them in terms of helping them curate their artwork, which finally led to the establishment of this gallery.
Moving on, the second roadblock was to introduce the concept of online art galleries in a traditionally offline world of Art Galleries. The challenge was to convince the artists that online art galleries are equally as good as offline ones. It was about time the perception about selling the art only through offline channels had to be changed.
Apart from these two basic challenges, the third challenge was
to promote Art to the art deprived audience. I don't see many people in India buying art and within India, art has always been considered a weightage for exclusively elite people. To bring awareness amongst Indian people that art is a way of life, I engaged pragmatically in this sec-tor at a clear proximity to overcome all these challenges.
2.Tell us about the prominent artworks featured on your website. Also, throw some light on the creation or sourcing process followed for these artworks along with the pricing model.
To promote something dynamic and new, we had to make sure we don't follow the age-old redundant practice of getting in touch with the artists via a middleman. At Archna Wadhwa Gallery, we get in touch with artists for promoting their artworks.
Art has no barriers. It has the power to bring together people from across countries, races and languages
The Pricing Model at Archna Wadhwa Gallery works on a consulting-based framework, i.e. advising artists on the quality of their artwork, prints and pricing them according to the best market standards that put the best proposition forward for their artwork.
We boast of artists that are Lalit Kala Academy Scholars, bestowed with national awards. Their artwork has regularly been exhibited across continents, and some of the artists are National Award winners here in India. I am grateful that they were equally on board with the idea of this gallery when I approached them for my online art gallery. They believed in my passion!
Regarding the prominence of artwork which we have right now largely encompassed contemporary, Impressionism, landscape, anthropomorphic artform showing the primal instinct of humans, abstract, and even sand work.
We aren't very specific in terms of promoting any particular kind of art. The idea of this art gallery is to welcome all kinds of artists with their different views on art. And that is how I differentiate my gallery from other art galleries as we promote the artists and not any particular form of art.
Regarding the authenticity and sourcing of our artworks, we directly get them from the artist. Their genuineness reflects in the art we display at Archna Wadhwa Gallery, we make sure that it is a unique piece with guaranteed authenticity.
3.How does Archna Wadhwa Gallery aim to bring artists and art admirers across the globe together to provide accessibility and availability of art which can be admired and enjoyed by each one of us?
As I said the conventional mindset about art is that it is the recreation and admiration of only a few can enjoy. My idea is to change that
perception and encourage the masses to have open access to some really good artwork that can instil a graceful touch of personalization to their décor. I have always been enthusiastic about promoting prominent and young artists, it's the value that the new minds bring to the table. I can't change this mentality immediately but I can certainly encourage young talents to pave their way through this unique industry along with my seamless support.

Despite being such a country of expressive and vivid diversity in terms of our cultural heritage and history, when it comes to art, I've seen the grave disparity in terms of how Indian art has been valued outside India. So, the vision of Archna Wadhwa gallery is to introduce Indian art outside India and I am eager to build that awareness by flying out the artist to various international platforms. At the end of the day, art has no barrier in terms of culture, heritage, and country and that's what we are striving towards.

4.How are you planning to upgrade with new artworks and paintings in the future?
My plan for the future is to expand our community of artists as we continue to grow further. Apart from promoting Indian artists internationally, I also want to pave the way for global artists in India for sharing their knowledge and the best of their works.

I also intend to revamp this industry by leveraging the next big thing, that is, Artificial Intelligence in their artwork. The aim is to come up with a digital app in the next 12 to 18 months. My mission is to promote artists first and once they create a name for themselves, my next step is to enhance and enrich their art through artificial intelligence and make it more affordable for the larger community. I have also been focusing to convert some of my artists' art-work into merchandise to create a source of revenue generation for them.

Archna Wadhwa, Founder
An engineer from Punjab University and MBA from IIT Kharagpur, Archna is an Entrepreneur, running a RegTech start-up, Analytics Saves at work (aSaw). Before her entrepreneurial journey, she worked in the BFSI Sector at a Senior Executive Level for almost 14 years before setting up the Archna Wadhwa Gallery. Without any professional background in art, Archna is not only a passionate admirer but has also been collecting numerous masterpieces while travelling across the world. Archna lives in Bangalore and likes to spend her free time with her daughter travelling to new places, visiting museums, art galleries, and promoting art and artists. Through her brainchild Archna Wadhwa Gallery, she intends to promote artists and highlight their artwork at a global podcast.

Awards:
'Most Inspirational Women Entrepreneurs 2018' by Technology Widgets magazine and 'Woman of Excellence award 2020' in Technological Innovation by Indian Achiever Forum.