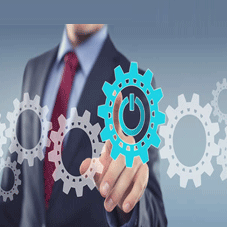 In this fast paced ever changing and advancing world all industries are on the brink of a major revolution. Besides, the customer's expectations are changing and 'cost arbitrage'is no longer the key consideration. They are looking for a value added solution with futuristic scalability provisions and what they expect is how their business partners can add value to their systems and processes and make their product and process more competitive in the industry. Hence, the need of the hour is an innovative and value driven organization that offers not just suitable solutions but creates and drives more value for the clients. Peoria-based ARi is one such rare gem that does not walk in the common stream and blindly follow the traditional measures.
Founded in 2001, ARi was created out of the passion to provide engineering solutions to heavy machinery and construction equipment manufacturers. Since then, the firm has guided various clients to achieve their business goals. Today, ARi is reckoned as one of the leading providers of integrated engineering solutions. Starting from a single office, located in Peoria, IL, ARi has opened offices in nine additional locations globally in North America, Europe and Asia Pacific regions(Hyderabad, Chennai, and Bangalore). Talking to CEO Insights, Vinod Sharma, Associate Vice President & Head of APAC, ARi, shares in detail about the company, its offerings, and future plans.
How do you distinguish yourself from others?
We distinguish ourselves as an exclusive engineering solution provider to address specific needs and provide unified solutions to tackle the industry specific challenges. To address these challenges, we focus on specific competency and domains, such as product engineering, embedded, electronics, power solutions, digital and connected technology industry 4.0. We operate our organization as a Centre of Excellence(CoE) centric organization. The solution which we provide to our customers possesses futuristic scalability and any change in process/product definition or technology our solution will be capable to adopt changes and refine self to move forward.
Tell us about your offerings and the service portfolio that you bring to the table.
We are offering fully integrated, end-to-end engineering services to our clients. From embedded systems & software to power train testing & validation, we assist our clients in a variety of ways to help them achieve their business goals. We are the one-stop-solution provider in the industry and we combine the capabilities of electronics, embedded, software, data analytics, IIoT, and product engineering to offer best-in-class integrated engineering solutions under one roof.
Our aim is to ensure that every investment in our technology amplifies the benefits for end customers
Elaborating more about the service portfolio, we offer Embedded Systems & Software, Product Design Engineering, Manufacture Engineering solutions, Powertrain Test & Validation, Engineering IT, and Connected Technologies. Besides, the industry that we cater to are Heavy Machinery, Construction, Agriculture, Mining, Power Systems, Transportation, Automotive, Oil & Gas Media & Entertainment, Process Manufacturing, Defense, R&D and Prototyping.
What opportunities do you foresee in the current engineering service industry and how are you moulding your company with respect to the same?
The services that we have offered in the past may not fit the future requirements of our clients, as the industry is evolving day-by-day and digital technology is the backbone for industries' growth. We as a solution provider and business partner focus more on value-driven (simple, scalable and innovative) solutions and leverage the latest technologies to build solutions around our strengths that solve our customer's bigger problems rather than attacking and solving interim problems. Further, to achieve that, we mould our company by broadening our scope and enhancing our investments in new processes and technology. Besides we are focusing on quality services, sustenance of growth, and in time delivery mechanisms. We are also creating new integrated service models that add measurable value and innovation to our customers.
What is your prime objective as a service provider?
ARi specializes in understanding the customer's business objective and helping customers realize their objective while being a vital part of their future journey. Our aim is to ensure that every investment in our technology amplifies the benefits for end customers be it through better experiences, higher product quality or operating efficiencies that reduce prices and adds value. We adhere to process-driven planning and engineering, ensuring delivery of quality products at the optimum time and cost.

What is that factor that you consider as ARi's strength?
We consider our workforce as the prime factor for the development & growth of our organization. Hence, our vision is Through our people, create world-class innovative solutions that will positively impact the industry. ARi is a team of passionate people and driven by our core values of integrity, commitment, ownership, team work, and excellence. Employees have always been and will continue to be viewed as our greatest asset.

What is the future roadmap set for your company?
As industries are witnessing major shifts due to the advancement in technology, futuristic solutions would be data-driven with IoT enabled definition. Besides, it's very important for us to understand where the customer would like to see their organization in the next five 10 years and how we can be a part of theirjourney to add differentiated value. Hence, we are continuously upgrading ourselves in the 4.0 technology space and building solutions according to it.

Our future plan is to build a value added technology solution to support the industry and meet our customer's needs we are on the growth path and spreading our technology driven solutions footprint in the USA, Europe and APAC.

Key Management:
Vinod Sharma, Associate Vice President & Head of APAC– Business Development
Leveraging his 23+ years of global experience in sales, operations (delivery) and other strategic roles, Vinod is engendering significant growth for ARi.

Office:North America & India

Offerings: Engineering Service, Embedded Systems & Software, Product Design Engineering, Engineering IT, Connected Technologies, Manufacture Engineering solutions and Powertrain Test & Validation