DIN Engineering Services: A Quality-Driven Workforce Delivering the Right Project On - Time Every-Time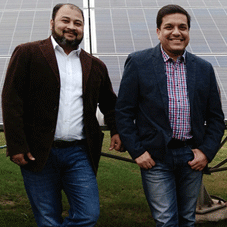 DIN Engineering Services is a one-stop destination for end-to-end services in CAD (Computer Aided Design)and GIS (Geographic Information System) along with Staff Augmentation, serving niche industry verticals such as Renewable Energy and Telecommunication. Under the excellent guidance of Anuj Gupta(CEO & Director) the company has successfully completed over 100,000 projects for more than 250 clients from nearly 30 countries with an impressive quality score of 4.8/5 and on time completion rate of 99 percent. Owing to such global exposure and meticulous processes, DIN always keeps pace with the best CAD drafting & designs practices and industry trends. This enables its clients to achieve lower production cost, higher rates of innovation, fast scaling for access to new markets & opportunities, lower cost & risk in expansion and thereby higher revenue & profits.
Post the completion of his Masters degree from IMT Ghaziabad, Anuj chiselled his management skills by serving in various management positions in his family business(Dimension India Networks, Arkadin ConferIndia, RCMC Share Registry, Pan Portfolios, and VCloudX). He is adeptly steering DIN towards the industry pinnacle with his prowess in customer acquisition & operations management and by instilling a quality driven culture. Anuj in an exclusive conversation with CEO Insights, illustrates the unique factors that facilitated him to propel DIN ahead of the competition.
Kindly tell us about the secret ingredient that has catapulted DIN into one of the world's leading CAD services provider.
It's the hard work & dedication of
our people that is the driving force propelling us to reach rarefied heights annually. We take pride in our team's competency and our capability to showcase the same to our clients. We have implemented efficient processes, always followed best practices and utilized proven methodologies of Lean, Six Sigma and Theory of Constraints to ascertain that everything delivered to client properly in the very first attempt. In fact, we have inculcated a merit-based work culture with a quality driven incentive plan. We keep the team motivation intact in order to earn a great customer satisfaction score.
It's the hard work & dedication of our people that is the driving force propelling us to reach rarefied heights annually
Please throw some more light on your work culture.
As we strongly believe that customer is loyal to quality, our work culture revolves around delivering top notch quality to the client. We promote sincerity,loyalty, cooperation, enthusiasm for customer pleasure and confinement to accomplish perfection by discovery & delivery of unique solutions. These values are intertwined into our work culture to an extent, where these principles resonate in every action & decision our people take while serving the client.
Overall growth of the employees being our focal point, we periodically take feedback & suggestions from our people & finetune ourselves accordingly, which reflects the tremendous belief & trust we vest in them. As a cherry on top, DIN's flexible working environment with plenty of fun & social activities enables the employees to strike the perfect work life balance as well.
How do you ensure to maintain the quality and authenticity of your services?
Our operations are process driven. All project related processes are covered under our quality framework including understanding quality and delivery requirements, creation of a Quality plan, documentation of service
specifications, management of quality feedbacks, performance review mechanism, continuous monitoring and control apart from the project specific technical processes. We run continuous improvement programs for all projects.

Based on the proven methodologies of Lean, Six Sigma & Theory of Constraints, these projects are selected based on various factors like client feedback, internal process performance, C-sat survey analysis & so forth to ensure superior customer service and excellence in quality. Besides controlling the quality with a meticulous Quality Control & Quality Analysis process, we have also deployed a business excellence team that works in parallel to the operations team to identify loopholes/ gaps in the current processes and optimize them to ensure cent-percent quality.

What is the future roadmap set for your company? Also how are you updating yourself with the latest technologies/trends in the engineering services?
Not only our leadership team participates in global events to stay up-to-date, but our company also sets up exhibits in international trade shows like Solar Power International. Presently, we are in the process of automating certain parts of the processes to optimize them & share the resulting cost benefit with our clients.

Besides broadening our activities in the existing services, we also intend to foray into other related verticals like Business Information Modelling. Although we are keen on acquiring new clientele, the major thrust is towards retaining our existing ones, since we have garnered an amazing client base.

Key Management
Anuj Gupta, CEO & Director
A hardworking, trustworthy & self-driven individual, Anuj is an exemplary mentor who believes in his team and spearheads them with the intention of making everyone successful.

Offices: Noida (Headquarter) and The Netherlands (Europe)

Offerings: Engineering Drawings Services, Geographic Information Services, Architectural Services, Internet/Intranet Solutions, Remote Infrastructure Management and Staff Augmentation