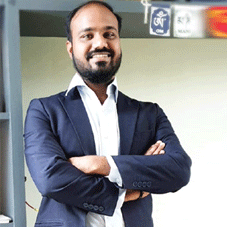 The accidents at solvent storage tanks and pumping stations across industrial facilities in India are increasing at drastic rates, thereby resulting in alarming property losses. One of the prime reasons behind these accidents is that most industries tend to prefer inexpensive process safety products available in the market with no proper knowledge on its technical aspects. Besides, the massive expansion of chemical and pharmaceutical sectors in India is accentuating the demand for these products. Diligently addressing these two prevalent concerns is Kingsley Engineering Services with Industrial Process Safety and Environmental Protection at the core of its day-to-day operations.
Back in 2006, S.S.Tiwari, a technocrat with over 35 years of experience in fabrication & valve manufacturing, established this firm with an aim to provide innovative solutions for industrial process safety. Today, Kingsley excels in designing, manufacturing and exporting safety valves, flame arresters (with pressure & temperature sensors), breather valves, emergency relief valves (with limit switches), pressure relief devices (with proximity sensors), and safety valves, to diverse industries. Precisely, the firm stands-out as a one-stop-solution for all tank protection devices!
Since 2018, Bipin ShyamSundar Tiwari(Chief Operations Officer) is spearheading the overall operations & product development activities at Kingsley Engineering Services. Bipin holds a Master's degree in Sustainability Management from University of Toronto and Bachelor's degree in Chemical Engineering from R.V.C.E Bangalore. He has exclusively articulated volumes about the excellence of Kingsley Engineering Services with CEO Insights.
How has your company's journey been so far?
It has been quite enlightening, yet full of challenges! Some of the initial challenges were in bagging big projects due to lack of infrastructure and production capacity, and dearth
of technical knowledge to surpass our MNC counterparts. Yet, we overcame each one of these challenges by leveraging support from our technical consultants and strong networks in valve business. Today, we have evolved into a quality-driven company with 600+ satisfied customers spread across 45 countries!
Today, Kingsley Engineering has evolved into a quality-driven company with 600+ satisfied customers spread across 45 countries
Walk us through the hallmarks of your product portfolio.
We strongly believe that each product we create, design, supply and service will make a big difference in the community, while providing safety to the people working in hazardous environment. In fact, we firstly comprehend customers' process requirements in depth and accumulate multiple inputs from them through our team of adept engineers. Thus, we not only produce cost-effective and top-notch products, but also that are light weight and easy to operate, maintain and function in the long run across variegated environmental conditions. Besides, we offer technical support in design, sizing, installation & maintenance of these products. To spread awareness on storage tank safety, we have conducted free seminars and training sessions at 55+ leading chemical & pharmaceuticals companies spread across Gujarat, Telangana and Maharashtra.
By large, the trust of our customers is our biggest motivation, while 70 percent of the revenue we generate is through our repeat customers who are associated with us since our inception.
How do you ensure to maintain the quality of your devices? Also, brief us on your team of experts.
We adhere to a set of international standards like API 2000, ISO 16852, API 521 and API 2521 & 527, while our range of flame arresters are CIMFR certified for IIA/IIB gas group vapors. Being an ISO 9001:2015 certified firm, we conform to Quality Assurance Procedure and Quality Control Plan for all our products and also enhance their quality based on our customers'feedback.
Our team comprises of a technical consultant with 20+ years'experience in designing valves, pressure vessels & storage tanks two business consultants with
15+ years'experience in process optimization solution, 10 mechanical engineers with two-five years experience in engineering drawing, quality inspection, production planning & technical support, and 30+ well versed technicians. With over four years' experience in HR & administration, my wife Priti Tiwari is currently heading the administration, purchase & accounts department.

What is your company's take on innovations?
Currently, we are striving to integrate automation into our products and garner feedback from our shop floor staff to improve efficiency of our process cycle. Recently, we unveiled a lowcost pressure drop and flow rig for measuring pressure and mass flow rate across valves.

Tell us about your future plans.
Our current focus area is complete digitalization of our business, while ensuring certification of products through third party agencies and registration with leading engineering consultants for the next two years. We will be modifying our current 2000 m2 facility into a R&D and technical center with facility to check mechanical and chemical properties of materials. In the next five years, we will also be building a new, state-of-the-art 3000 m2 facility at Ankleshwar. Moreover, to gain long-term success, we are seamlessly associating with the right suppliers and customers.

Key Management:
Bipin ShyamSundar Tiwari, Chief Operations Officer
Bipin is a proficient Chemical Engineer who has worked with eminent scientists, research scholars and industrialists in waste management, extraction of value-added compounds from waste, process safety, and instrument design.

Quick Facts:
•Inception Year: 2006
•Location: Gujarat

Awards: One of the fastest growing Indian companies in 2018 by International Achievers Conference at National Economic Development and Social Responsibility Forum, New Delhi

Major Projects for Supply of FlameArresters, Breathers Valves and Emergency Vent:
•HAL Offshore Ltd. Projects for ONGC North Eastern Region & Western Region
•Emerson Process & Automation Solutions for Adani Kattupalli Project
•Tata Projects Ltd.for ONGC Madnam Pipeline Project
•Tata Projects Ltd. for ONGC Bokaro Project
•Honeywell Automation India Ltd. for Adani Hazira Projects (Ongoing)