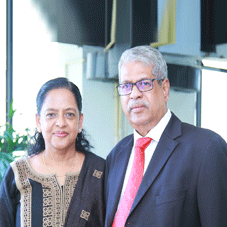 There is no denying that the profitability of a shipbuilding project is decided on the drawing board. Albeit the design cost is only a fraction of the ship's total cost, some shipyards opt for designs based on lowest bid, and land in troubled waters with huge cost overruns due to poor designs. In fact, a design created without an eye for construction, operation and eventual recycling will end-up being more expensive, and probably an ecological disaster. Hence, flawlessly accomplishing such a critical large-scale designing project calls for abundant expertise. Smart Engineering & Design Solutions (SEDS), a ship design & engineering services company, is one of such select few experts with a true grasp of the maritime industry.
SEDS carries forward the legacy of its well-established sister concerns GTR Campbell Marine Consultants (technical consultants for some largest ship owners for over 70 years), Algoship Designers, and Algoship Brokers – all of which are names to reckon with in the maritime segment. With a vast portfolio that includes cargo ships, passenger vessels, patrol vessels, and naval combatant ships, SEDS is the designer of choice for many yards in India and abroad, meeting the demand for innovative and quality ship designs. With ship design from concept to completion as its flagship offering, the company also offers services to ship owners and their technical consultants to re-engineer ships to meet new regulations, improve efficiency & versatility, enhance capacity, or even convert the vessel type. The company has even expanded its footprints to general engineering services with design support to defense equipment vendors & contractors.
The secret recipe behind its error-free designs is its holistic approach to the ship design process, where an engineer has a 'cradle to grave' understanding of ships while designing. "We can think like an owner, thanks to our sister concern GTRC. We have senior engineers with decades of sailing experience. We bring-in ship broking experience through Algoship Brokers. We deputed our design engineers at shipyards where ships were being built to our designs, so that they understand production issues first hand. We partnered with a leading classification society and trained our engineers in design approval process. This enables us to think like an owner, a charterer, an operator, a builder, an approval agency, and finally like a designer," remarks Antony Prince, President & CEO, Smart Engineering & Design Solutions.
Repeat business from its customers and the company's astonishing growth into a hundred members strong engineering team from its humble beginning in 2007, stand as a testimony to the success of this approach. To further demonstrate, every single ship of the twenty Fast Patrol Vessels built to its design and delivered to the Indian Coast Guard met the highly demanding speed target, exceeding customers' expectations. Like wise its 'Seatransporter' series of bulk carrier ships fetch higher charter rates for the owner than their competitors due to the design's versatility.
While SEDS is renowned for its full ship design services, it also works on projects where its role is limited to a certain aspect of design or a certain stage of design. The company works extensively on retrofit engineering, where an existing ship is modified to fit new equipment. Its consultancy service doles out as a boon for land-based industries venturing into marine segments, as SEDS' experts specialize in identifying & resolving critical problems, say a stability issue of an amphibious combat vehicle quite early in the project
saving them ample time & rework.
"As a leading engineering service provider in the maritime segment we love to take challenges head-on and help our clients succeed in their businesses be it recalibrating an existing equipment to meet the new requirements instead of buying new systems or revamping a project that reached a stall due to faulty design," says a proud Antony. For ship owners struggling to comply with new regulations due to financial burden or technical challenges(especially in existing ships), SEDS figures out optimal technical solutions that make financial sense to them, yet meet all mandatory requirements.
SEDS also offers an immersive 360o virtual reality experience for the end-user, who can walk through & feel the product in advance, and understand what they are paying for
Being People & Technology Centric
This ISO 9001:2015 certified company has international reach through its sister concerns and decades of working relationship with leading government agencies & classification societies(third party non-government vetting agencies whose approvals are must for insuring ships). Hence, it clearly understands their requirements, which helps in faster approvals and lower rework.
SEDS has not only deployed skilled & experienced workforce in each discipline, but also ensures that they have adequate experience & knowledge in various aspects of the product lifecycle in addition to design. "We have a good share of employees sticking with us since our inception, and have a core team groomed to take the company into the future. We remain people-oriented while staying at the cutting-edge of technology," remarks Antony.
SEDS excels at wielding the power of technology to identify the critical issues quite early and find solutions to them when the project is still on the drawing board. Besides using state-of-the-art modeling & visualization tools(enables multidiscipline experts at multiple locations to resolve realworld issues in a virtual environment) it also offers an immersive 360o virtual reality experience for the enduser, who can walk through & feel the product in advance, and understand what they are paying for.
Needless to say, the company has a long list of tools procured commercially or developed inhouse for checking stability & propulsion of ships pipe flow & stress, electrical load analysis & harmonic distortion and so on. SEDS has the latest finite element analysis tools for checking strength vibration and shock requirements. The company predicts & minimizes noise levels inside cabins using advanced tools for comfortable travel.
Positioning itself to emerge into a key player in helping the industry transform towards a more connected & smarter environment, SEDS has joined hands with a leading automation company to develop smart ships for the future.Ingraining environment friendliness in design being its declared quality goal, the company has developed various designs powered by LNG(cleaner and has lower carbon footprint than the currently used fuel oils). "We are the first company in the world to receive 'approval in principle' for a bulk carrier powered by LNG. A spin-off from this project is a tool developed to understand the complex thermodynamics of LNG boil-off and predict safety issues in a marine environment," explains Antony. SEDS has also developed concept designs of vessels powered by solar energy & hybrid solutions.
Where Preparation Meets Opportunity
Seneca, the Roman Philosopher, once said, "Luck is what happens when preparation meets opportunity". This holds true for the story of Antony. During his tenure at Dockendale Shipping as a marine engineer, Antony used to send reports to the company headquarter proposing better design alternatives for each of those faults, though this
was not his job. Luckily, these reports caught the attention of the legendary Canadian Naval Architect George Campbell and eventually paved way for his job at GTRC,a pioneer in series production of ships that helped the world war torn Japanese ship building industry to bounce back and become the backbone of Japanese economy. "Looking back, I feel that was a payback for the extra effort I put in then, without thinking about an immediate reward," reminisces Antony. From a junior engineer, he climbed up the corporate ladder to become the president of GTRC, and spearheaded the company through very challenging times during the financial recession of late 80s.

His quintessential leadership qualities bestowed him with more additional responsibilities as the Vice President of Dockendale Shipping Company in Nassau (Bahamas)in addition to managing the Campbell groups farming and light engineering design & fabrication business. However, his passion for ship design never died, and he kept burning the midnight oil to improve his designs and produce new designs. When the ship building industry bounced back in the 2000s, GTRC was intact, thanks to its people-centric approach, and was prepared with the best designs, giving it a head start to work with Chinese shipyards to produce remarkable ships, many of which were selected as Significant Ship of the Year by Royal Institute of Naval Architects, London.

In 2003, GTRC was tasked to deliver bulk carriers to a large Danish holding company. Against every advice to continue to work with Chinese shipyards on this prestigious project, Antony placed his bets on Cochin shipyard, and awarded the contract for six ships. At a time when Indian shipyards had infamous track records for project delays, he applied his project management principles to deliver all vessels months ahead of schedule, thereby showcasing the Indian shipbuilding industry in the right spotlight. The end result was a delighted customer, followed by over 100 export orders in various shipyards in India worth Rs.50,000 crore and the creation of more than 50,000 jobs.

When the world again went into a recession in 2008 these lessons propelled Antony to work even harder, improving SEDS' skills & designs and today, the company is reaping the benefits. "My wife Alice Prince, a Canadian Chartered Accountant & CFO of all our companies, not only ensures the numbers and books are correct, but also actively participates in all technical discussions and motivates our team. Any claim of my success is our success jointly,"declares Antony.

As the maritime industry has awaken from the slump this year SEDS has posted an impressive three fold increase in revenue, owing to its intelligent investment in technology & people that facilitated it to readily cater to the resurging market. The company anticipates finding new territories in the coming years by diversifying its portfolio and catch the wind in its sails by preparing itself to leverage future opportunities.

KEY MANAGEMENT:
Antony Prince, President & CEO
Kickstarted his careeras a marine engineer Antony has reached rarified heights with his passion, perfectionism & perseverance.

Offices: Bahamas(headquarter) and Cochin

Clients: Cochin Shipyard, Colombo Dockyard Tsuji Heavy Industries, Blom Maritime, Goltens, Harris Pye Engineering Tata Power SED, Kerala Shipping & Inland Navigation Corporation, Scorpio Marine Management, MailBoat Company and Cleanship to name a few

Awards:
.Exceptional Contribution in bringing CSL to global standards in Shipbuilding-2007 by Cochin Shipyard Employees Union
.Excellence Award– 2013 for contributions to the growth of Ship design in India & abroad by National Maritime Foundation
.Emerging Kerala- Business Excellence Award 2013 for Outstanding & Innovative
Entrepreneurship, DC Books, Kerala
.Emerging Entrepreneur of the year– 2013 at TIECON, Kerala