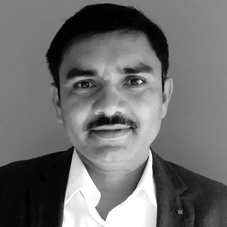 Standing on the brink of another technological revolution, most Indian behemoths are ceaselessly outsourcing their engineering & design tasks to reliable players in the market, thereby cutting down time and costs incurred. Outclassing among this horde of reliable players is Virtuoso Projects & Engineers Pvt. Ltd. with excellence in providing a spectrum of engineering services and executing turnkey projects across Automation,Electrical and Instrumentation. Since its establishment in 2011, this ISO 9001:2015 certified company has been sailing ahead as a torchbearer to its clients OEMs and EPCs, in terms of enhancing their productivity, operations and product quality.
The mastermind behind Virtuoso Pravin Chaudhari (Director & CEO) has explained a great deal about his company's journey, fortes, services and other aspects over an exclusive interaction with CEO Insights.
How are you leveraging your experiences to create a successful future for Virtuoso?
Post graduating as an Instrumentation Engineer, I started working for Honeywell Automation India for almost nine years. It was here I acquired a breadth of technical as well as soft skills and the knack to negotiate with customers. I also used to read articles and Economic Times, while attending training workshops on innovation. But later I realized that I had to update myself about other verticals too besides technology to successfully lead a business and also build healthy relationships with people. Yet, the interesting aspect is that business has always been in my blood since childhood.
A blend of childhood experiences in business, professional experiences and relationships with people, is what defines me today, and my inspiration to establish Virtuoso!I take immense pride in upscaling the company single handedly from just five engineers in the first week of inception to 330 people today. Kick starting with engineering services in
2011, we executed turnkey projects from 2014 across PAN India and Middle East. Not just in manpower, we have grown in terms of business value, solutions, and technologies too. By large, I want Virtuoso to always sustain as a standalone company even in my absence!
We execute turnkey projects not only in Electrical, Instrumentation & Automation, but also in IBMS & Industrial Security
Tell us about the challenges you encountered in this journey.
Right from the point of being a single person company to recruiting manpower and currently employee retention because of competing against MNCs, challenges always pop-up! Hence, we are working on continuously enhancing the skillsets of our employees through training workshops and provision of multiple opportunities. Today, we are proud to have a team of engineers with experiences ranging from three to 18 years across big OEMs like Honeywell, Emerson, Schneider, ABB & others. Also, we have consultants with expertise in domains like EPC projects, solar systems, technology, software and many more. With regards to skillset, I can proudly say that our engineers with two years of experience are way better than engineers with over five years of experience at MNCs.
Walk us through Virtuoso's portfolio of engineering services and turnkey projects.
We offer electrical, instrumentation & automation engineering services for domains like oil & gas,chemical, power,pharmaceutical, sugar, distillery, water, utilities and many others. These services cover the entirety of project right from site survey, detailed engineering, documentation till procurement, material supply and site erection & commission. For instance,we deliver data sheers, instrument index & cable schedule under instrumentation, document preparation & panel designing under electrical, and hardware engineering & FAT under automation. Automation is our flagship service!
On the other hand, we execute turnkey projects not only in Electrical, Instrumentation & Automation, but also in IBMS & Industrial Security, which includes CCTV, fire control applications, access control and others. All throughout, we seamlessly work on
new technologies like OPC Communication, Foundation Fieldbus Communication, IIoT, Virtualization & others, while multi skilling our resources and developing new tools for project execution. That's how we improve productivity & quality and also reduce costs for our customers!

How do you maintain utmost quality of your services?
By following the first time right concept! Besides, we have three levels of quality improvement. The first level involves preparing JIDs (Job Instruction Documents) for people and training them on their project. The other two levels are Quality Control performed by the developer of that particular project followed by team lead/ engineering manager. We also ensure to send the QC records along with deliver ables to our clients. Moreover, believing quality is a mindset, we are regularly inculcating this mindset among our team through several weekly, monthly, quarterly & annual meetings as well as training sessions.

What future plans have you concocted for Virtuoso?
Currently, we are working on new areas like IIoT, software services, virtualization and remote engineering services. Our shortterm vision is to have 5000 employees and accomplish 500 projects by 2025, besides setting-up offices at Hyderabad, Chennai and Mumbai. Globally, we are focusing on Europe, North America and Africa to procure new projects through our overseas sales teams. Further, by enhancing relationships with EPCs & OEMs, we are striving to add mechanical design services, piping engineering services and other services into our portfolio. Well, our long term vision is to establish more companies in India that are capable of executing outsourced engineering projects for global clients.

Key Management:
Pravin Chaudhari, Director & CEO
Pravin is a wellexperienced technologist and business leader currently taking Virtuoso to unparalleled heights through seamless development of people, processes and systems.

Quick Facts:
•Inception Year: 2011
•Location: Pune

Offerings:
•Engineering Services
•Control Panels
•Turnkey Solutions

Major Projects: Shah Gas Development Project in Abu Dhabi, TCO Oilfield in Saudi, Aramco in UAE, IOCL Paradip, BPCL Projects, Pharmaceutical Projects, NTPC Projects & more