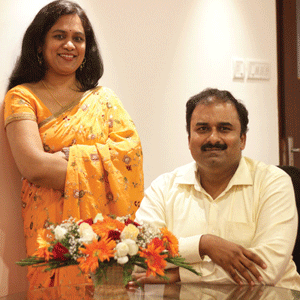 No two human beings will ever be alike. They will come with their own set of instincts, qualities and experiences. However, most change work methodologies fail to address this very fundamental trait. With trainings and programs addressing issues in a generic manner, they fail to take into consideration that every participant is unique and thus requires a customized approach to addressing challenges. This is where Master Yourself Academy (MYA), a Chennai & Bangalore based provider of NLP training, coaching and counseling, differs from the other players in the industry.
Functioning with the aim to help people build happier and more fulfilling lives, Arul Subramaniam and Narmada Rao, Co-Founders & Trainers, Master Yourself Academy, ensure that every participant gets a personalized experience. Crafting highly experiential and customizable trainings, the duo works with people from all walks of lives such as teenagers, students, parents, educational institutes and corporates. In a hearty conversation with CEO Insights, Narmada and Arul speak about the growing need of NLP training in the corporate scenario and how MYA intends to empower people to craft successful lives and relationships.
What approach do you undertake in building your NLP training programs in order to increase their effectiveness?
While most other programs are made and delivered, our NLP programs are real-time; they are custom-made based on the audience and their needs. Instead of giving people suggestions or advice, we focus on helping them look inwards, learn about themselves and enable them to change their thinking process in order to change the output altogether.
We understand that most people are not comfortable in sharing their personal challenges; but our NLP training can be done content free and is conducted by spotting patterns in people. It is difficult to go wrong when you are spotting behavioral patterns in front of your eyes. Any seasoned NLP trainer is an expert at observing, spotting patterns and giving feedback that will empower you to change. While going into training, we never have a pre-decided agenda. Instead, we follow the mood in the room, sense what is required at the time, and make interventions based on
that. Rather than focusing on theory, we teach NLP in an experiential way by using stories, activities and participants' personal experiences. This enables them to immediately learn what they are being taught. Also, a common notion is that change is achieved gradually. But with NLP, it comes instantaneously and can be sustained over time because it is integrating the conscious and unconscious mind together.
What are the various applications of your NLP training, and how does your academy ensure the quality of the methods being used?
We provide NLP with a wide range of applications. We don't focus on an isolated part of a participant's life. Instead, we empower them to improve their overall quality of life, be it personal or professional. We help people deal with all forms of relationships more effectively.
Our idea is to teach people how to balance work and life so that they can have a peaceful life irrespective of the challenges that life throws at them
These modules can be useful for corporate professionals, entrepreneurs, teachers, parents and students a like. We also specialize in training teenagers and work with entire families to improve their interpersonal dynamics.
Maintaining impeccable quality is of primary importance to us. Therefore, we conduct our training and workshops on our own. We are also bound by the rules and regulations of ANLP (UK), along with other standards that we consciously focus on. The company also adheres to a code of ethics and has a feedback system in place. Even after the program gets over, we continue to be in touch with the participants to encourage continuous engagement.
Take us through your NLP training focused on the corporate sector.
People from the corporate world undergo a great deal of pressure, which ultimately affects their relationships within work and beyond. People bring back work to their homes and are not able to differentiate who they are, beyond their job titles. Additionally, most companies now are looking beyond the run-off-the-mill personality development courses, which have brought the spotlight on NLP training in the past few years.
Our idea is to teach people how to balance work and life so that they can have a peaceful life irrespective of the challenges that life throws at them. We also train people according to their organizational goals, and after customized NLP trainings, which guarantee transformation.
Our corporate NLP training covers a wide range of topics. How to give and receive feedback this is something that companies often struggle with and it leaves a bitter taste in people. People lose confidence and faith in their managers. This module really helps people give & receive feedback in empowering and healthy ways. Additionally, we provide NLP trainings for building leadership presence, goal setting, building motivated teams,improving communication skills, interpersonal skills and managerial effectiveness, and NLP for sales, among others.

How has Master Yourself Academy's journey been so far, and how do you plan to expand in the near future?

Founded in 2013, we have trained over 6,000 participants across India and abroad. We have always had good word-of-mouth reviews that helped us. We are both accredited trainers by Association of NLP(ANLP, UK based organization).

We specialize in 'Positive Parenting using NLP' - a 2-3 hour workshop that can help parents to bring a significant change in their parenting style. They will have a new paradigm shift and will begin to enjoy parenting!

Since a lot of us get attached to negative identities, we have come-up with a new training program, where we help individuals to break free from those negative identities. We don't use the lingo or jargons, and it can be simple for any layperson to walk-out with a change in them selves. In the near future, we are looking to launch more of these short module training programs that last for 1-2 hours and people can derive great value out of them. Our objective is to reach-out to as many people and companies as possible. We have recently started a YouTube channel in the name of Master Yourself Academy to share our resources to a wider audience.

KEY MANAGEMENT

Arul Subramaniam, Co-Founder & Lead Trainer

An MBA graduate, Arul also runs an organization for children's development, which is spread across 42 countries. Armed with experience in teaching NLP and coaching people for more than 20 years, he gives lasting breakthroughs to people.

Narmada Rao, Co-Founder & Lead Trainer

Coming from an HR background, Narmada has also worked as a psychologist and specializes in coaching people. With her background in Psychology and NLP,she blends them both and offers unique interventions to her delegates.She is also an author, and her book 'OPEN UP' has received a wonderful response. It is a collection of 201 thought-provoking quotes written by her.

Offices:Bangalore, Hyderabad, and Ernakulam

Offerings:NLP Foundation Training, NLP Practitioner Training, NLP Master Practitioner Training, NLP Trainer Training, NLP for Corporates, Teenagers, Educational Institutes, Parents and teachers and other Mentoring and Life Coach Programs across India and abroad.