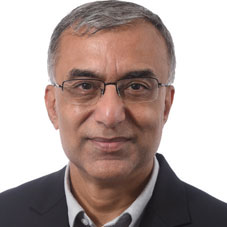 Arun Khanna, the Managing Director(SE Asia, India, and Middle East) at Johnson ville, is a leader who enjoys the dynamic process of building organizations and helping people grow. He is a Chartered Accounted and Management Graduate from the prestigious IIM Ahmedabad. With customer obsession at the core, Arun worked with some of the best companies like Nestle, P&G, Cabot Corporation, and Dun & Bradstreet before joining Johnson ville Sausage. Currently, he is also part of the Advisory Board of THP Vietnam.
In more than three decades of his professional journey, Arun learnt how to build strategies tailored for different market and consumer segments across Asia. His drive has always been in building businesses and products that meet consumer needs and drive customer success. Apprec iating Arun's growth in Singapore and other countries, CEO Insights engages an exclusive interview with him.
What basic lessons did your initial professional life teach you?
My professional journey had a great starting point with Nestle and P&G. These companies nurtured me as a professional and a leader, helping me learn the nuts and bolts of running an organization, understanding processes, policies, and systems. At the same time, working with some great people in the FMCG Industry helped me learn a lot about business strategy and how to tweak it for differing markets, and meet multiple stakeholders' objectives. When I moved out of India and worked in
Hong Kong, China, Japan, Singapore, and later in the Philippines, Malaysia and Indonesia, I understood different cultures and how strategies should be adapted for different geographies. What works in one country may not exactly work the same way in other countries. This journey has made me flexible in many ways.
Arun's success mantra is being with organizations with great vision that matches his values of customer obsession and employee welfare
Working for successful companies, I worked with Cabot in chemicals, and with D&B in information industry, I also learnt different business models and how to lead regional operations. I try to leverage these lessons now at Johnsonville, whilst continuing to learn and grow each day.
Take us through your journey with Johnsonville in a few sentences.
The last five years with Johnsonville have been rewarding. While large in US, when the company entered the Southeast Asian market, we were more of a startup, with a small footprint in the region. At present, with a talented local team and great support from US team, we have been able to grow very well. This experience of building things from scratch has been very satisfying. Over the last five years, we have reached about 15 percent of the total global sales.
Being MD of the company, how do you align strategies with its overall goals?
First of all, the philosophy of Johnsonville is globally consistent because it is customer and employee focused. Having this at the core makes it easier to build strategies aligned with business and customer goals. We look at the company's 5-10 year vision and its mission of growing the people to their fullest potential. From there,
we join the dots for short term goals, which will contribute towards the long term goals. Along with that, we align our partners. The second element of building growth plans is a collaborative and iterative effort by taking member feedback on the goals. Also, being flexible to change, we adapt to paths that help us achieve the vision faster.

How has been your response to the challenges of the COVID affected market?
Our approach was to ensure the safety of our team members and support our customers and their businesses. Since we are into the food business, we continued to provide prompt and timely service because we could not afford shortages of such vital items. Moreover, the degree of the outbreak has been different in various countries. As an international business, we had to change our responses based on what was available on the ground.

Amidst all these difficulties, we have continued to invest in systems and new brand launches. We have been able to observe continuous growth even if it was at a slower rate than usual.

What are the changes in market behaviour that you anticipate in the future?
In my opinion, the broader changes would be around digital adoption and AI. The companies that will adapt digital are going to be more impactful and productive in their own industry segments. Also, there is an increasing move towards regionalization of supply chains, which will impact the logistics, sourcing, and production in our industry. Specific to us, recent growth of plant based proteins will be an interesting space to watch.

Arun Khanna, Managing Director, Johnson ville
Arun is a seasoned professional experienced in leading large teams to achieve business objectives. He is highly skilled in team building and working with people from multi functional and multicultural back grounds.