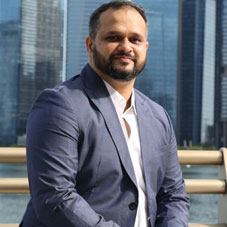 Thousands of miles, uncountable hours of effort, and a drastic shift in career outlook, these three elements perfectly describe the journey of Abhayanand Singh from Bihar to Singapore. As a finance professional who is passionate about media and entertainment,he clubbed his expertise with his interests. He followed his heart and moved from investment banking to media and ideated a firm that supports many other passionate people in the business of films and entertainment.
The go-getter with nearly 17 years of experience, is playing a significant role in the evolution of content and the convergence of various segments of media and entertainment through his Media Investment Entity Vista Media Capital. CEO Insights engages in an exclusive interview with Abhay to further explore the endeavors in his journey.
Throw some light on what promoted your journey and a businessman in the niche that connects media and finance.
After completing my MBA, I initially started my career in banking and wealth management. In 2014, when I indulged in research about the media and film industry, I realized that there was a huge gap between media and finance. Unlike western countries, institutional funding was not available for content creation in India and South-East Asia. At the same time, I knew that content creation would witness a boom. Indeed, when the demand increases,
the supply should also increase. But the question is: Where does the money come from?
Followed by deep studies, we (including co-founder, Piiyush Singh) identified a business opportunity in this niche. With a collective experience of over a decade in the industry, I wanted to venture into my area of passion in media by bridging the gap between creativity and finance, and that marked the start of my entrepre neurial journey with Vistas Media Capital.
The biggest rule of business, is to stay in business!
Give an overview of Vistas Media Capital.
Vistas is a Singapore based Media Tech Company operating in India, Middle East, and North America. We are an ecosystem of companies that function independently and yet in synergy with each other. We are essentially into Film Production & Distribution, Animation, OTT and Gaming/ NFTs.
Enlist some unique strengths and services of your brainchild.
We approach the business very holistically and therefore we are present in the complete value chain of content. We also balance the creative side of the business very well with the finance side of business and that makes us unique in our approach since we can grow both organically as well as inorganically.
In August 2020, Vistas Media Acquisition Company(VMAC) raised $100 million and got listed in NASDAQ. The company has also announced a merger with Anghami the first legal music streaming platform in the Middle East.
We also run a 'Red Carpet' Investment Program, wherein HNIs can invest in content as an alternative asset class while enjoying the privileges of the
glamour and glitz incidental to the business like the Cannes Film Festival and more.
Tell about some initial challenges you faced as a business person. How did you tackle them to reach this level, and what is your success mantra in business?
With a prior experience in banking and finance, it was initially very difficult to convince people to give me money to make films. We had to make them understand that we are not just making films but creating a media company which needed capital. But the biggest rule of business is to stay in business and we survived the initial rough patch till there were some initial supporters who believed in our vision. Thereafter, the journey has been phenomenal and the growth has been significant.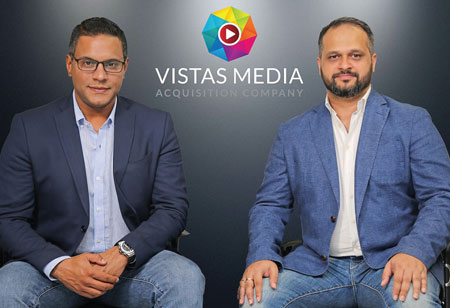 How has been your response to the challenges posed by the COVID-affected market and the need for new strategies?
While we had to slow down our investments, we built our team and motivated them to look beyond the COVID era. We were successful in holding our team together and creating effective business models since covid also threw some unique business opportunities. Today, there is a huge focus on media tech more than just media. Thus, the OTT and gaming verticals have picked up great traction.
Abhayanand Singh, Group CEO, Vista Media Capital
Abhay comes with over a decade of experience across various industries like Media, Banking, Finance, and Consulting. He has worked in the corporate environment managing investments for HNIs and advised clients on the decision related to investment into various businesses. He has been instrumental in multiple investments involving building businesses from scratch.