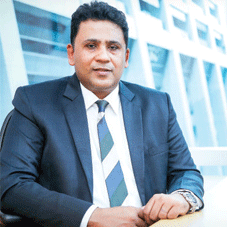 In the realm of financial business, effective business management necessitates strategic planning and strong leadership inculcates inspiration amongst workforce for achieving the desired goals besides when integrated together, these proactive traits propel organizational success. What further perfects this success is the leader's expertise in integrating organizational responsibilities and business requirements with personal life, a stellar avatar of which is Arun Nayyar, CEO, NeoGrowth Credit. An ace leader instrumental in the company's growth, Arun has climbed the ladder of success gradually by seamlessly integrating managerial skills with exceptional leadership qualities.
Arun's professional timeline started as a Credit Analyst for CRISIL in the year 2000. After working there for almost 2.5 years, he joined Citigroup wherein he undertook larger leadership responsibilities. The leadership spectrum further escalated when he became the CEO of SME Lending business for Edelweiss Financial Services in 2011. The continuation of this growth led him to become a seasoned financial service professional as well as a leader with diverse and vast knowledge in the financial domain. Currently working as the CEO for NeoGrowth, Arun is leading the organization the responsibility of scaling up the company and steering it towards making NeoGrowth a market leader in the digital MSME lending space. In an exclusive conversation with CEO Insights, Arun elucidates on his instrumental role of leadership that goes hand in-hand with steering work-life balance and driving innovation in the company.
How did you amalgamate your professional experience with industry requisites to carve out exceptional business modules? Also, how has your journey been at NeoGrowth so far?
After completing the degree of Chartered Accountant from The
Institute of Chartered Accountants of India, I kick started my professional journey with CRISIL in Financial Sector Ratings. Further, undertaking various strategic roles in companies like Citigroup and Edelweiss helped me ace managerial skills and leadership qualities at equilibrium. In the last two decades, the major achievements have been around managing diverse assignments in businesses at various stages of their life cycle, such as Startups, Scale Up and Turnaround. Apart from that, I have a strong experience around commercial and consumer lending across several key positions in Business Development and Risk Management.
My major achievements have been around managing diverse assignments in businesses at various stages of their life cycle, such as Startups, Scale Up and Turnaround
The journey so far has been very exciting NeoGrowth was large and rapidly growing organization when I joined the company as the CEO. Talking about the role & responsibilities what I have been doing in NeoGrowth is playing the role of a coach as well as a player depending on the goal to be accomplished.
When you join a large organization that is growing at a rapid pace, one should focus on the right way to function and carry out the business operations according to the context of the organization. My ability to get into details, which I call as 'zoom in & zoom out', gives me the liberty to decide and build the right team for both innovation and execution. I have also seen the organization steering towards a more data driven culture with a strong focus on new-age analytics.
In your professional journey so far, which are the milestones that bestowed you utmost satisfaction?
The seven years stint of setting up(from scratch) and establishing a large and successful SME Lending business for Edelweiss Financial Services has been the most satisfying experience of my professional life. I also believe that my assignment at NeoGrowth will be even more fulfilling as our company emerges as one of the largest and efficient tech driven SME
financiers.

How do you update yourself with latest trends and technologies along with steering innovation on the professional facet?
Having a good & close relationship with my clients & employees helps me to update and upgrade my self with the current and future industry trends. Besides, I believe that continuous engagement with youngsters in the organization is extremely insightful as they bring in new perspectives to the well established framework which may no longer be relevant.

Apart from that, there are multiple informal channels of communication with peers on industry trends, success stories, blind spots and risk factors. These informal channels work well for knowledge sharing. To be true, these are more reliable as one can get unfiltered information from these informal channels of communication.

What is your mantra to strike right balance between professional commitments and personal life? Also, how has been the support & inspiration from your family in your journey so far?
I believe that there is nothing like work life balance. I have been able to integrate my work and personal life well and have never felt the stress of managing the two independently. I have made many lifetime friends through my workplace.

The support and inspiration from my family have been phenomenal so far. They appreciate my work priorities well.

Tell us about your hobbies, favorite cuisines and favorite travel destinations.
Being a North Indian, I love to have North Indian cuisine. My favourite traveling destination is Singapore and my hobbies are going for long walks and reading. I also like to read short summaries of books on a mobile app called Blinkist, which comes very handy for me.

Arun Nayyar, CEO, NeoGrowth Credit
Arun is a seasoned finance professional with over 20 years of diversified experience in the domain of commercial and consumer lending. He has a proven track record of managing a variety of roles covering sales & relationship management, credit risk management, product & portfolio management, corporate credit ratings, auditing and overall profit centre management.