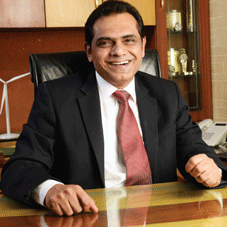 Albert Einstein once said, "The mind that opens to a new idea never returns to its original size". Ashok Bhosle, CEO, ULTRA ENGINEERS, completely agrees to it. He also believes in the Chinese proverb, 'Learning is a treasure that will follow its owner everywhere'. A learner by exploring things in his daily life and from everything that surrounds him, Ashok leverages these learning to take his company ULTRA ENGINEERS to newer heights every day.
Under his aegis, the company is engaged in manufacturing of precision and high quality heavy duty metal components used for specific application in Oil & Gas industry, Energy & Power Sectors, and Heavy Engineering Projects, serving global clients. CEO Insights catches-up with Ashok to discuss more about his company, and his personal & professional lives.
Tell us about yourself.
Post completing my fullterm apprenticeship course from Tata Motors, I pursued the AMIE course, which I had to quit midway to start my own professional career. I believe that learning need not be confined to a classroom and that there is something to learn in everything that one does. I hence chose to learn every day in a more practical aspect.
I believe that my focus and passion towards my goals have been the secret mantras to my success. Also, understanding the various aspects of business makes it effective for me to delegate tasks.
How did ULTRA ENGINEERS come into being?
My journey with ULTRA ENGINEERS began in 1991 when I laid the foundation to this organization. We started with couple of machines and few people. Today, we have
manufacturing facilities spread over eight lakh square feet and total manpower strength of over 2000.

We have created a niche for ourselves by placing the company as a unique solution provider to global market in sectors like Renewable Energy(Solar & Wind)and various other verticals of Oil & Gas like Hydraulic Fracturing, Cementing and Completion Tools.

What different hats do you wear at ULTRA ENGINEERS?
Having fathered the company, it is a delight seeing it grow profoundly. This has allowed me to do any and every aspect of work that was demanded, and I believe this has helped me in my challenges as a CEO, be it stating the vision and strategy for the company, or leading and managing people continually.

I believe in situational leadership and that one should be flexible in one style between Directing, Coaching Supporting and Delegating as the time demands.

What were some of the initial challenges you faced and how did you overcome them?
Entrepreneurship is always fullof challenges, and that is what makes it more interesting. Like others, my initial years too were quite curvy. I encountered several challenges like acquiring capital funding, identifying the right technology, finding skilled manpower, and instilling the right attitude for quality export business.

In today's cut throat competition, it is crucial for the leaders to keep them selves updated with any industry or technology change. How do you keep yourself abreast with these?
I often travel across the globe exploring new technologies and visiting machine tool exhibitions to understand what the latest technological trends in the market are. I also interact with our global customers to understand their expectations and give solutions to their problems which keep us updated.

In your professional journey so far, which are the milestones that bestowed you with utmost satisfaction­ both as an individual and a CEO?
As a businessman ULTRA ENGINEERS being awarded the EEPC Award as a star performer in Exports for five consecutive years
gives me immense gratification. I also feel grateful for being honoured as a PCMC Icon in 2011.

Personally it gives me a great sense of fulfilment when I am able to give back to the society.

An entrepreneur has to juggle between several roles, while also balancing his/her personal lives. How do you achieve this?
One needs a sound body and mind to take care of the demanding challenges of business. I play badminton four days a week which is a great stress buster for me.

To have a balance between personal and professional life, I think it is very important to know your priorities both for personal and professional lives. Once the priorities are known, I think the act of balancing between professional and personal lives becomes easy.

Family is the pillar of strength for every entrepreneur. How has been the support & inspiration from your family in your entrepreneur journey so far?
I am truly lucky to have my better half, Pratiksha Bhosle, who takes care of all house hold responsibilities. She indeed treats me as a KING. I have two boys Sameer & Yash, who are a delight to interact with every day. Their support and love makes things smooth for me and always energizes me to take-on the challenges bang on.

Tell us more about you as a person, talking about your hobbies favourite cuisines & travel destinations.
My hobbies include playing badminton & golf. I also often resort to reading in my free time. Travelling has also been my hobby. But if you ask me to choose my favourite destination or cuisine over others, I cannot as I believe different countries with their unique people is what makes it special.

Ashok Bhosle, CEO, ULTRA ENGINEERS
An entrepreneur who believes in learning from every day things, and a member of ASCENT, he has crafted winning strategies for his organization thus making ULTRA ENGINEERS one of the most sought after company engaged in manufacturing of precision and high quality heavy duty metal components.