Kris Puthucode: A Self-Made Technology Leader Helping Global Organizations See Beyond Hoarding Certifications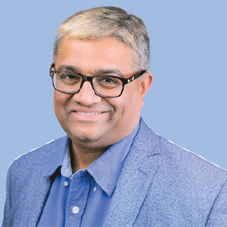 A YouTube video, which has a watermark of the year 1997, starts streaming with a question asked from the background:'Hey, who are you?'The camera shows a fairly bald, nerdlooking man who appears to be in his early 30s, introducing himself as 'Jeff'and talking about selling books through the internet and the bijou business plans he has in mind. You might have guessed it right the one talking is the world's richest man and the founder of amazon.com Jeff Bezos! While 'everything IT' hosted a paradigm shift with the dawn of the new millennium, engendered was a bunch of self-made leaders who were the ambassadors of genuine change and the limitless possibilities of technology. Most of them not only pioneered the industry, but also created the market themselves by making a tangible difference in customers' lives. Right from the beginning of the digital age, Krishnan ('Kris')Puthucode, the Founder & CEO of Software Quality Center(SQC), has been a torchbearer of making that difference within the small & large scale organizations the world over by helping them adopt the best practices across their business functions, right from Sales & Business Development to Delivery and Service.
This industry veteran's anecdote in the areas of Software Quality Assurance and Software Process Improvement is closely tethered to the tangible impact in SQC's clients' business, which eventually traces back to the happy & satisfied endcustomers and retained engagements. Kris made a genuine difference by provoking organizations to think beyond just the lure of ratings and certificates that hang in the boardrooms and leverage such standards and models to benefit the organization at large. This strong vision coupled with an innovative approach drives Kris, while it's also something that discriminates SQC from the competition in the industry a proposition made as early as 2001.
From Pro-bono Teaching to Global Leadership
Kris' story takes us back to his college days in the 80s. The young Bangalorean, who accomplished his computer engineering from Karnatak University, in truth had kick started his professional journey simultaneously by working as a part time teacher in a local computer institute. Ask any teacher in your acquaintance, dealing with dozens of students on a day-to-day basis is no less than a job of dealing with a bunch of clients. The solution-seeking mindset of a teacher was however a boon when he commenced his IT career. After eight years and having a strong plinth of IT excellence & knowhow on his side, Kris grew his combined experience into a solution seeking, challenge facing mindset of an entrepreneur. But it's still the 90s and outsourced IT service was merely an experimental concept.
"The jobs I did after school gave me exposure to some of the best and the prominent IT outsourcing companies that were getting established at that time such as the Center for Development of Advanced Computing (C-DAC) under the Government of India," recalls Kris. It was in the late 90s Kris moved to the US and pursued his education in Carnegie Mellon University, Pennsylvania to become a CMU Certified CMMI (R) High Maturity Lead Appraiser (he is also a CMI Certified CMMI DEV and SVC Instructor). In the US, he started working with the Aerospace &
Defense sector as his chosen industry, while in the pursuit, he also had a stint with one of the big-5 core management consulting organizations. "There began my entrepreneurial shift," he elucidates about the turning point.
Going Against the Tides
In 2001, after a summer of brainstorming, Kris went-on to launch SQC. He indeed was lucid about the gap he entailed to bridge. Back then, a couple of giant companies ruled the industry with their focus on providing ISO certification services, which was basically a business made out of helping IT companies focus on models such as CMMI. But the issue was that they blindly stamped the run-of-the-mill certification approach on any business model and every industry. This led to the giants being profitable for sure, but it left their clients with little but the laminated certificate. "When I setup SQC, in the light of my academic & professional background in the same area, I knew that I could help companies adopt practical, pragmatic best-practices that would help them grow their bottom-lines and save cost/effort and focus on better quality of products & services," adjoins Kris. In the next few years, Kris walked the talk and swiftly became a disruptor in the area by keenly focusing using the standards and models with the right intent & to benefit the clients, and not for a laminated certificate that provides aesthetics to the boardrooms.
Kris made a genuine difference by provoking organizations to think beyond just the lure of ratings and certificates that hang in the boardrooms and leverage such standards and models to benefit the organization at large
Imagine the first day when you wake-up earlier in the morning to start jogging. You are well convinced about the eventual health benefits, but altering your comfortable sleeping habits is yet a huge mind-battle. Just like that, disrupting the market and making the industry take a different path than the usual ones sound a lot easier than its practical counterpart. Kris had to face a lot of resistance initially but eventually, SQC's clients started witnessing the inevitable difference that Kris & his team made by engaging and working with them for long term and in turn integrating the best practices through a wide range of models that they were licensed for. This includes everything from the BD-CMM for Business Development/Sales best practices, CMMI for Software/Systems Engineering & IT services, Automotive SPICE model for automotive software organizations, and much more. "For me, the biggest inspiration that led me to hang-on and continue with SQC was the constant inflow of referrals from existing customers, which started after our second year of operation. That made me believe in our approach and what we believed in as a company," adjoins Kris.
Cut to the present, we live in a world wherein technology amuses every enthusiast every day. It's not surprising that SQC's clients expect Kris, as a leader of the segment to be on top of the trends and be cognizant & knowledgeable in the latest best practices that will affect them. Be it Industry 4.0 paradigms such as cybersecurity, AI or IoT, this veteran consultant today is getting ready to command with the latest best practices that will affect them. In the process, his focus remains on keeping SQC a lean but agile organization. Under his aegis, the company is laser focused on the US and India markets, alongside a few countries in the MEA region and a
healthy set of about 50+ clients.

Success Takes Support
"All of our people strongly and firmly believe in our extremely focused approach. You know, we say, if you have been around 20 years and thriving, you must be doing something right. Our biggest achievement is a bunch of trusted, decades strong partnerships with our customers, besides adding a steady set of new customers. We as a team take pride in that. They (the SQC team) have been the cornerstone of this success," adjoins Kris. He seemed quite overwhelmed while talking about his father, a technologist himself, being an inspiration and the immense support he continues to receive from his big family that includes his wife who was his best friend in school, a smart teenager son, loving mother who fed him freedom from the childhood, and a brother who is always a friend.

Having started his professional journey as a part time teacher, sharing his wealth of experience today has evolved into a sense of social responsibility for Kris. In addition to holding seminars(free of cost) and webinars for clients & attendees on contemporary topics such as Industry 4.0, Quality 4.0, and Cybersecurity, he writes pro-bono in several magazines and is a part of the Forbes Technology Council as well. Going a step further, with Kris' unconditional support, his teenage son has setup a charity for helping people with refurbished and recycled eyeglasses in the US and India. Above all, this unique technology leader never stops learning. His degree in Entrepreneurship and Innovation from Stanford University is a strong testament.

KEY MANAGEMENT:
Kris Puthucode, Founder & CEO
A self-made leader, Kris is an industry veteran with close to three decades of experience in the industry. He is best known for his contributions in the areas of Software Quality Assurance and Software Process Improvement and the genuine differences he made by provoking organizations to think beyond fancy certificates.

Favorites:
•Hobbies: Loves music, especially Ghazals and the latest Bollywood songs.
•Mobile Apps: Banking Apps(about five-to-six of them, including the ones in the US and for India), Twitter, LinkedIn, newspapers and magazines on apps & e-papers, and Flight Radar.
•Travel Destination: Hawaii

Organization:
Software Quality Center(SQC): SQC provides IT Services in the areas of Software Quality Assurance (SQA) & Process Improvement, Proposal and Bid Management, Business Development Process Improvement, and Knowledge Process Outsourcing (KPO).

Offices: Arizona (Headquarter), Virginia & Bangalore

Employee Talks:
"Kris is one of the most remarkable lead assessors I have come across. He analyzes not only the type of work that is done in an organization, but also the focus group, senior management and their approach and then gives his recommendations"~ Lakshmi Menon, Sr.Consultant, SQC

Clients Talk:
"SQC must be the best; So to implement good engineering practices, you need the best and nothing less"- V. Meher, IBSS Solutions

"Very lively and instructor's knowledge was great!Thank you so much,"~A.S. Rahul, Daimler Chrysler Research India

"Working with SQC has been such an immense learning and a very pragmatic experience in bringing the CMMI to real world situations in Defense and Federal sector that we are in,"~ A Major Defense Contractor