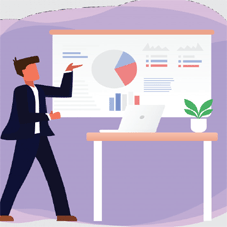 To know more about Nedthesh and his inspiring journey, delve into the following snippets of an exclusive colloquy between him and CEO Insights. He speaks a great deal about his professional as well as personal life and also his current position as the CEO of Markets & Partners.
Cast some light on your educational and professional background.
My educational background involves pursuing BSc in Applied Sciences at Hanze University of Applied Sciences, Groningen, and MSc in Forensic Accounting (Specializations: Supply Chain Management, Valuation & Finance) from Nyenrode University. I also studied MBA at Columbia Business School. My professional journey began with working as Assistant Auditor for BDO Nederland followed by roles like Assistant Auditor at Vander Werf Accountancy, Forensic Auditor at Deloitte, and a lot more. By large, this journey bestowed me with immense skills in areas like Finance, M&A,Restructuring, Strategy, Business Development, and many others.
Could you walk us through some of the biggest milestones in your career so far?
Sure! During the last six years of my career,I take utmost pride in successfully closing multiple transactions as a sole player. At the age of 27 years, I plunged into the world of entrepreneurship and an elite group of advisors for cross border structuring. I'd also like to articulate about my three biggest recognitions so far. The first is recognition from Enterprise Singapore for being appointed as a Strategic Advisor for companies foraying into Europe. Secondly I was being recognized by multiple Government organizations as a rainmaker. Lastly, I was a key player on cross border/India outbound transactions.
During the last six years of my career, I take utmost pride in successfully closing multiple transactions as a sole player
What are the various roles & responsibilities that you currently hold at Markets & Partners?
The roles I hold here include leader, visionary, decision maker and HR Management. Since the primordial engine of Markets & Partners is its employees, I consider being the CEO an extremely pleasant role. Further, I believe motivating my employees is a great way to motivate myself too!
How do you & your employees stay abreast and constantly upscale Markets & Partners?
Every six months, we ensure to evaluate the entire organization and accordingly modify or change the business model. We adhere to the Porter's Five Forces model every time we undertake an analysis, while deploying state-of-the-art technologies for competition analysis. Being extremely client centric, we follow a business model that is oriented on the evolving needs and behaviour of our clients. We also have a dedicated team of people from various industries and specializations in order to assure that we aptly comprehend the nuances of the market as well as the corporate language of our clients. Besides, we interact with a range of bodies and like minded people to absorb their vision,
requirements and vision.

Altogether, we sail ahead with success even across the uncharted waters by breathing the policy 'No business, no compliance'.

Are you a part of any organization where you deliver speeches?
Yes! I'm proud to be an active member of The World Hindu Economic Forum (WHEF), AIMA's Young Leaders Council(YLC), Business Leadership Council, and many others.

How have your parents supported you in your career so far? Also, how do you maintain the work-life balance?
It is indeed because of my parents, I outshine as a CEO today! They have been great pillars of support and strength all through out my career. My wife has also been extremely supportive and I'm lucky to have such loving kids who wait for me to reach home and spend time with them, every single day. Moreover, my friends have always been more like my brothers and sisters in every phase of life.

Since most of my friends are a part of the core team at Markets & Partners, I always enjoyed working here while they support me all the time. In fact, I behold business as a pursuit of passion and not as a monotonous work!

Do you have any suggestions for the budding leaders?
Business is based on a continuous trial and error process. It is imperative to have extremepatience and think irrational. Don't overthink and enter into action. Don't create any expectation. If you have a goal, go for it and achieve! On the whole, discipline and structure are very important to achieve your goals.

Key Management:
Nedthesh Sarma, CEO
Wearing many hats in his professional journey, Nedthesh has soared into a strong pillar behind building the bridge between India and Europe.

Favourites:
•Hobby: Reading
•Cuisines: Indian, Turkey & Italian
•Travel Destinations: Turkey, India, Netherlands & Switzerland
•Apps: WhatsApp for easy communication with colleagues & clients