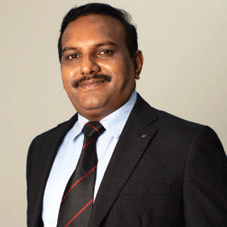 Management means doing things right, leadership on the other hand entails doing the right things; and this is what makes the largest difference in any venture's success. Doing the right things since 2007 and propelling the wheels of the company's accomplishments is Vijai Arun, CEO, MSC Technology India. The technopreneur who began his association with MSC Technology as a General Manager, has today built a 700 people organization that provides exclusive IT solutions to MSC worldwide. Whether it is his views about delegating work judiciously, his beliefs about team work or his perspective about understanding the needs of the clients, a lot is to be learnt from observing his leadership skills and management approach. In an extensive conversation with Vijai, the CEO Insights'team traces his journey from a small town in South India to be the leader and much more.
How did you traverse the journey from being a Systems Officer to becoming the CEO of a large organization?
I started my career as a Systems Officer with Citizen Watches India Limited. Then, I moved to Dubai on getting an opportunity to work as a Systems Analyst focusing on Development and Implementation. My strong technical knowledge along with the interest in the domain enabled me to become the Product Manager, taking care of the company's flagship product
Shipping and Financials.
Next, I got the challenging opportunity to work for Mediterranean Shipping Company (MSC)and their agencies across the globe by setting-up a development centre in India. When I started the operation in India, we were just a small team of 17 members, but this 17 member team turned out to be the strongest team and together with hard work and dedication, we are still growing successfully. Now, we are a 700 employees' company, contributing for MSC's global expectations.
Whether good or bad, it is always better to be transparent which is sure to bestow confidence among the team and the stakeholders
Employees and clients are two of the most significant stakeholders for a business. How did you acquaint your self with the needs of the clients and the aspirations of thecompany's employees?
Performing individually is much easier than getting the job done with the team. Also, it is much more challenging to make the team perform in a way to satisfy the client's needs. But having my goal and vision clear, I was able to manage both in the right way, because I understood that both are important for an organisation's success. I learnt that the output of the team is directly related to how well the team is groomed and motivated. On the other hand, I also realised that customers are always correct and there is room for improvement. Making the team understand about the clients needs made me master this art.
Given your illustrious career, what management lessons have you imbibed in your approach to leading your team?
I always believe in positiveness and transparency. Whether good or bad, it is always better to be transparent which is sure to bestow confidence among the team and the stakeholders. Honesty hard work and commitment are the things which I have imbibed, I never compromise on the job that is to be performed. At the same time, I believe in equality and respect everyone irrespective of what they do or who they are.

They say a man is the product of his surroundings. What role has your family and early life played in shaping you as a business leader?
I hail from a small town in the Kanyakumari district of South India. I completed my under graduation and then moved on to do myMCA at Madras University. Being raised in a small town allowed me to be surrounded by family and friends at all time and this enabled me to understand that family is special for all. My wife and both my sons are very lovable and understanding, they support me always in whatever I do. My father being an Ex service man, has always taught me about the values of being honest, hardworking & committed, and my mother's utmost love and care has made me achieve what I am now.

How has your journey been so far and how have you handled the various responsibilities that befall the shoulders of a CEO?
The last 22 years have been highly fulfilling for me. Since the very beginning, I have been focused on defining and achieving my career goals. In the fifth year of my career I became the Product Manager and by the tenth year, I was already a General Manager.My understanding from the whole journey has been that executing a task is easy but getting it done by the effort of others is an art, while making both sides feel equally satisfied. Being the CEO I am not only responsible for the tasks that I perform individually but for my entire team and its growth.