Arvind Bhandari: Scaling Unprecedented Heights In Indian Corporate Realm Through Updated Strategies And Constant Innovation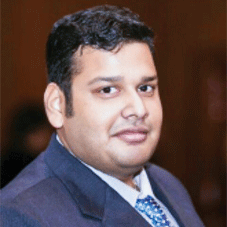 Truliv Realty has been able to carve out a niche in the real estate industry owing to the quality of their offerings and the company has over six decades of industry experience. The company's expertise in promoting realty assets with a portfolio spread ranging from large sized integrated cities to small scale plot development has helped the company to cement themselves as a pioneering brand name. Arvind Bhandari holds the position of CSO at Truliv Realty and his business acumen and industry knowledge have helped him to come up with innovative sales strategies to take Truliv Realty to greater heights.
In an exclusive interview with CEO INSIGHTS, Arvind talks more about his professional journey and what it takes to be a successful CSO in a reputed business organization.
Tell us about your educational and professional background prior to Truliv Realty? Also, what different roles have you been undertaking at Truliv Realty and how do you keep your team motivated to successfully complete an assignment?
I completed my BBA from Madras University and I am currently pursuing MBA from Amity University. I started working in 2005 post my schooling and have a combined experience of 15 + years in sales, marketing and operations with numerous organizations from diverse sectors. I have been blessed to have a successful and exciting professional career and while working in my previous organization, I was able to secure a never before order of 400 containers in a single billing for rice exports from M/s. Indian Grains. Also, during my stint with a Delhi based company, I established business relationships and subsequent orders from corporate giants like Samsung, Nokia, Micromax and Bikanerwala, Forest Essentials and Kama Ayurveda.
At Truliv Realty, my role is not restricted to Sales alone. I also handle post sales Customer
Relationship Management as well. Striking a balance between Sales and customer relations is a huge task as many a time the Sales team in order to get a closure, makes commitments which might be difficult to execute from and organizational an operational point of view. I have daily calls and weekly reviews to keep the team motivated and also have devised and implemented an all-pervasive incentive plan to motivate the team to achieve their goals.
When my team gets recognized, incentivized or even get a pat on the back for their contribution I derive great sense of achievement and satisfaction
How does your experience help you to chalk out innovative business operations for the company?
Right from setting realistic targets to recruiting, training, motivating the team and achieving the targets, has been made possible only due to exposure gained from previous experience and team management. The above-mentioned traits have also given the parent company tremendous amounts of confidence to give me their existing projects and even new ones too. We have pioneered ourselves in a product that gives double the returns when compared to industry standards. Ours is a residential product giving close to 6% return as compared to 2-3% from the actual market.
We have pioneered the concept of Co-Living which offers better returns on the investment. We also incentivize our channel partners on a regular and timely basis based on a slab system. Our business operations basically specialize in taking up third party mandates of difficult to sell/market projects.
What kind of team talent is needed as you build and evolve the sales operations team? As a Sales leader, how do you think sales strategy should evolve as the business evolves?
When it comes to sales, the most important aspect is to be honest about your offering but at the same time be street smart to not lose a potential customer. Being candid has helped us in long lasting relationships and to retain your customers. Sales strategy should be two prong – Build trust for future traction and build a team that shall
act together and stick together to achieve business objectives.

What emerging marketing trends have you identified that could affect our real estate industry and what are the Sales Trends for 2021 and how are gearing up your company in the coming future?
Post pandemic, we have realized that people are looking for secure investments and there has been an upswing in plotted and ready to occupy residential apartment segments. Banks are providing interest rates which are currently at an all-time low, hence in my opinion the scenario is just perfect for our industry to take the next big leap.

Who do you look up to for inspiration or mentorship? How do you continue to grow and develop as a leader?
Both my grandfather and father have played major roles in what I am today as they imbibed in me great sense of values and integrity. During my initial days of work life, Mr. Vincent Barboza played a major role, and lately, Mr. Ranjeeth Rathod, MD – Truliv Properties and Services Pvt. Ltd. has had a telling effect on me. They have provided me the sense of business acumen that has made me what I am today professionally.

In your professional journey so far, which are the milestones that bestowed you with utmost satisfaction - both as an individual and as a Sales leader? Also, what are the most important attributes of successful CSO leaders today and what are some of the successful mantras that can you recommend on leadership?
The most satisfactory feeling is when your team looks up to you and also stands by you in all situations. Achieving targets set year on year across organizations has been a milestone of repeat. When my team gets recognized, incentivized or even get a pat on the back for their contribution I derive great sense of achievement and satisfaction.

To be a successful CSO, one should ensure that his/her team is inclined to growth and motivation. It's up to the CSO to ensure that every member's strength is identified and groomed to the optimum level. Targets should be achievable and both marketing and sales must go hand in hand.

Arvind Bhandari, CSO, Truliv Realty
As the CSO of the organization, Arvind has been able to make data-driven business decisions that offers the best results for the company. His industry expertise has also allowed him to formulate one-off business strategies for Truliv Realty.