Devesh Garg: An Industry Veteran With Over 25+ Years Of Experience In Converting Sales In Corporate Growth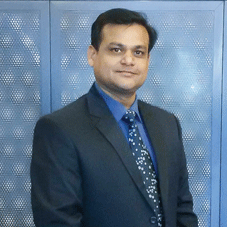 Today, the sales force plays a vital role in the success of any company. It has the peculiar yet critical function of bridging the gap be-tween potential customers' wants and the products/services that a company can provide to meet those demands. The Chief Sales and Marketing Officer is responsible for extending the customer base, creating loyalists out of current clients, and growing sales through market development projects, advertising campaigns, and new product introductions. Currently operating as the Chief Sales & Marketing Officer at Summit Digitel, Devesh Garg is establishing world-class sales and service deals. He is well-equipped to handle this with panache, being a business leader with over 25 years of experience in strategy formulation and execution, business expansion, and brand building.
In an interview with CEO Insights, Devesh Garg enlightens us about his professional journey and the sales strategies led by him for business development.
What different roles have you been undertaking at Summit Digitel and how do you keep your team motivated to complete an assignment?
As is the case with most other companies, our team has been working from home, without physical interaction with each other. Despite that, we were able to start our Greenfield project at Summit Digitel Infrastructure and onboarded several professionals. During our initial days, I worked along with the CHRO on various aspects of the company, from operational functions to recruitment to the organogram, while we continued serving our primary roles too. It is important now more than ever to have a unified approach and take it as a learning opportunity when we have to perform outside our comfort zones.
When it comes to keeping our workforce motivated while we work
from home, it is essential that every team member feels involved and included. Since most of the projects at Summit Digitel were constructed from scratch, our workforce naturally got involved in most of the developmental functions. We encouraged them to build on systems and processes to execute the organizational functions, the business goals, vision, mission, and values of the company. This resulted in a strong sense of ownership felt by every member of the team.
I am fortunate to have worked for the coveted organisations that helped me grow in my career and furthered me to establish a distinctive sales and brand communications team at Summit Digitel
Having extensive experience of 25 years in strategy formulation & execution, business expansion, brand building, and sales; how do you use it to chalk out business operations for the company?
I have been able to construct strong sales functions for Summit Digitel Infrastructure through my wide experience of working across varied sectors, in organizations like Honda Siel Power Products Limited, LML Limited, Indus Towers Limited, and Ester Industries. At Summit Digitel, we assign responsibilities to a person and provide them with additional working hands, rather than having a fragmented structure. Furthermore, we have customized concepts and have divided our domestic sales into eight zones, with a Regional Sales Manager (RSM) assigned to each zone. All resources and devices needed to conduct their tasks are provided to the Regional Sales Managers.
What was the most comprehensive sales strategy you created and executed using your expertise? How does your style make you unique as compared to other competitors?
When I joined Honda Siel Power Products Limited, I was promoted to the senior officer in two years, because of several inventive sales techniques I developed rather than following traditional concepts. In 1999-2003, inverter technology was launched in the Indian market and generators took a back seat. While such evolutions were underway, Honda decided to start
manufacturing engine-based application. I was assigned with the duty of developing institutional sales in collaboration with a government organization, the Railways, the Indian Army, and Navy, and the paramilitaries' force like CRPF. Within few months, we received the DGQA and DGS&D approval, which offered direct sales of our products to the government functions.

Later, I joined LML, where I was given the tar-get of selling approx. thousand motorcycles within six months. I take pride when my colleagues compliment me for always being ready to meet and exceed targets. Perhaps, this approach helped me sell approx. fifteen hundred motorcycles, and I was promoted to Zonal Head for the central India with an addition-al responsibility of southern market immediately after that.

As a Sales Leader, according to you what kind of talent is needed to build and evolve the sales operations team?
As a leader, when I am building my team, there are three things I look for. First to have a mix of employees across age groups. For instance, currently, in my team, I have members from the 20s, 30s, and 40s. With their approach and experiences, they often contribute uniquely as well as they are keen to learn from each other. The second important factor I often look for is the optimistic attitude to make it happen. Challenges are bound to obstruct growth, but a positive attitude will help one to navigate the hurdles. One should have the competitiveness to achieve a goal and should have absolute clarity about their role. And third, each team member must collaborate with the stakeholders and understand the customers' requirements, pain points, and offer solutions that serve their demands.

Devesh Garg, Chief Sales & Marketing Officer, Summit Digitel Infrastructure
Devesh has more than 25 years of experience in a variety of sectors, including automotive, oil and gas, industrial products, and telecommunications infrastructure. Before joining Summit Digitel Infrastructure, he worked for Honda Siel Power Products, Gujarat Gas, Ester Industries, and Indus Towers. With senior policymakers, technology partners, and external agencies, he has been active in developing partnerships and stakeholder management. He has a strong entrepreneurial drive and is skilled at establishing and managing businesses.