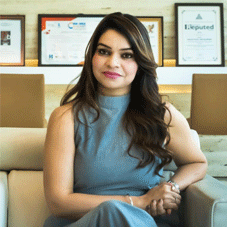 Today, women are excelling across sectors, and real estate is no different. While traditionally the industry has been a male-dominated business, today women are not only fast catching up, but they are breaking all the stereotypes as well. Several women have carved a niche for themselves in the Real Estate field and are making their presence felt. While the ratio of women in real estate in India is smaller than abroad, but the statistics are rapidly escalating in our country today. Owing to the fact that women in leadership roles bring an extra measure of multi-tasking, assertiveness and determination to succeed, real estate-focused lending institutions and private equity firms are now bringing over women to join their force in senior executive roles. Bringing her years of experience to the advantage of Kolte-Patil Developers is Nidhi Srivastava.
Operating as the Chief Sales Officer of Kolte-Patil Developers, Nidhi Srivastava plays a key role in the growth of Kolte-Patil Developers across all operations. Owing to her 18+ years' of experience, Nidhi has a rich personal portfolio which is reflects her proven management capabilities in the field of Sales, Marketing and CRM. Some of the leading Real Estate brands where Nidhi Srivastava has portrayed her skillsets includes, Kolte-Patil Developers, Godrej Properties, HDFC and ICICI Bank where she has fine-tuned her knowledge in challenging domains like Sales, Marketing, and International Sales with Analytics.
A women leader who has paved her way to the top with the help of her extra ordinary skills and experience, in this interaction with CEO Insights magazine Nidhi shares her experiences from how she made her mark in the male dominant real estate domain to how she is striking the right balance between her personal and professional life.
What is it that inspired to pave your way into the corporate world and make your mark in the Real Estate Industry?
I believe today, everybody should have a vision in life. A vision and an aspiration of doing something which you really want is very important. It doesn't matter whether you come from a very small background or you come from a very blessed background, I say so because I come from a small city like Bhopal where the exposure levels are not that much, especially when it comes to females. But, I have always been very determined and since my childhood, I understood that there is something which is known as a professional background, and apart from doctor and engineer, there are other academic backgrounds also. So, this was the time where I decided that I need to do something large.
Since I belong to a family which according to those time was a very forward family, I think I had a fantastic support from my mom and dad. And, of course, being the youngest in the family and the only daughter, there was a lot of attention. But during those days, there was a lot of emphasis on the guy to make a career as it was believed that even if the female or the daughters might come up well, ultimately they have to get married. This was definitely not there with my family, but of course, relatives and friends always thought that when it comes to career, it has to be the son who needs to be concentrated but I always believed myself to be out of the box.
And I always thought of life outside the small town, going to the big places, maybe working in Bombay and big corporates and imagined how life would be. So, I always had that vision in my mind that sparkle in my eyes that you know, one day I'll be doing something really large, sitting at a big company, having this ability to drive people, to motivate people and that always led me forward. I would definitely not say that I was a very bright student but I was a very hardworking student
right from the beginning to the best of my abilities and that helped me turn my dreams into reality.
After making a major career switch from banking to real estate, how did you deal with the substantial changes that occurred throughout the transition?
Switching from banking industry to real estate industry was an entirely unique experience. While I was in the banking industry, I was not only attached with the retail banking segment, but I was also working for the auto industry which is considered to be the toughest sales in the banking sector these days. Coming from banking industry, I had the upper hand as I got a platform where I worked with dealers and brokers, and car manufacturers, and clearly it was the toughest of all. Post this, when I migrated to the real estate industry, it was much more cream or you can say sophisticated. So, I think that gave me ground off what could be the worst situation in which you might have to do a sales that was moderately organized.
It doesn't matter whether you come from a very small background or you come from a very blessed background, i say so because i come from a small city like Bhopal where the exposure levels are not that much, especially when it comes to females
Real estate is often perceived as a male-dominated industry. Tell us about the challenges that you faced in the initial days as women leader.
So, we have a mixed bag of people belonging to age groups 20-25, 30-35 where they have seen the kind of a generation in which female colleagues or female partners have been out there, very actively participating, and they have the acceptability factor as well. But there is a different age group which comprise of age of 35 to say 55, where they can't absorb the fact that today, women can actually perform all roles - from managing household to a particular corporate role. In this male dominant sector, maintaining emotional balance to think in the right way is very essential.
In today's world, Knowledge can be your most powerful weapon and that is what I brought to the best use. It was the best tool or I would say the most powerful weapon that I had always been with me and which had kind of worked day in and day out for me and I continuously strive to enhance my knowledge base. Throughout my journey, I have always been prepared before presenting my opinion on things and that's when a person is considered to be genuine, when you have the right set of knowledge about the subject.
So yes, there were hindrances and a lot of times being in the male dominated society, it is very difficult to prove yourself that you have that emotional and intelligence balance, that you can take the right decision that is necessary. However, I think when you are backed with right kind of knowledge, and when you are thorough about a particular subject, when you bring in a lot of result oriented performances, that's when you prove your potential to the people, that's when people you know and take you more seriously.
What are the most important attributes of a successful CSO leader today? What would be your message to future CSOs? What is your success mantra?
Having worked as the Chief Sales Officer for Kolte Patil Developers, I have come across numerous situations that have taught me a lot, not just about business but also about life. For budding CSO leaders, the first and the foremost thing which I want them to do is to understand the set of resources and capabilities they hold. There is magic that happens with each and every sales, and each and every sales person is different, and each resource and every talent is different. So, I might be a good salesperson because I have certain set of qualities and there might be some other person who is good because they have different sets of qualities. First and the foremost point is to understand the resources as well as the capabilities.
The second thing is to make forecasting plans which is when every time when a target comes to you, one should have entire roadmap in front of you as to the right forecasting and the right risk and mitigation plans of what could be the risk in that particular journey and all the necessary details and what could be the forecasted way of doing that particular activity.

Third is the ability to take risk, the ability to derive adventure into different form and style of leadership's that is not there. I believe, there is no stereotype way of methodology or I would say there is no guru mantra for that matter. Not every time can you apply a particular theory and become successful. I think one has to be open in taking risks and explore different style of working, wherein every time there is a different procedure or I would say different formula of working. And, last one is to make sure that you have the capability of taking instant decisions. It is very very important to have the right capability which enables you in taking the right decisions. These factors actually comprise of what a sales leader actually needs to be successful in present days.

"The support from my family has been my biggest strength so far because i believe that it is impossible to achieve such success and balance things without the right support from the family"

Who is your role model and why?
Inspirations are always taken from small instances of life and there's not one person who can motivate you. But few people impact you a lot in a different way in life and inspire you to work in a particularly challenging situation in life as they work in their challenging situations. They help to live a more positive life.

Some people inspired me in personal life and some people inspired me in my professional life. Starting with personal life, I've always been inspired by Mother, who has always lead her life as an independent woman. Even in those old days, when women were confined to household chores. She was always an independent working woman in that time and now is living an independent life. The second inspiration I derived is from my husband who has always been a go-getter and I have always seen him working on odds in very stable ways.

In my professional life, I really owe my success and got inspired by two people – one is Ratan Tata, who is a person whom I listen to learn about his works. I watch a lot of his videos. I've studied his life, the pattern how he grew. Today, he is dedicating his life not only to business but also to the society which he is doing from the early days of his business career. He is the first and foremost person from whom I get inspiration and want to be a professional and human like Ratan Tata.

The second professional inspiration is Gopal Sarda, the CEO of Kolte Patil. He has handled me and given me this kind of growth. He taught me how to be courageous and always be positive towards life or career or the challenges we face in a job.

How do you maintain the right balance between personal and professional life? What has been your constant source of motivation?
The support from my family has been my biggest strength so far because I believe that it is impossible to achieve such success and balance things without the right support from the family. Undoubtedly, behind every successful women, there is an immense amount of support and appreciation given by the family, which I've been blessed with. Adding to this, of course, I think, positive thinking and having confidence in yourself, these are the two things that can take you far ahead. There's no-body who's going to come up and motivate you, unless you pull up yourself.

Positivity is a charisma that adds up to your personality. Today, while there's too much sorrow around the world, I think people just don't want to listen, but at this moment, I think your personality should have the charm, that charisma of contributing positivity in a way that people automatically get attracted to you. This is something that I have always followed and I want the future corporate leaders to feel inspired by this.