Avantika Singh: A Proactive Leader, Expert In Developing & Implementing Overall Growth Strategies For Businesses & Brands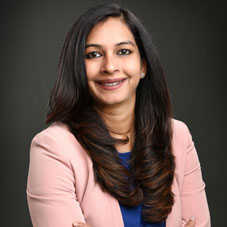 An established leader and a startup veteran, with rich expertise in business establishments and growth, diverse team enablement, mentoring, and coaching, Avantika Singh is currently the Director New Initiatives at Jar, where she is invested in brainstorming both short term and longterm milestones of the organization. Her extensive experience across diverse industries and ability to catalyze growth culture allow her to spearhead the organization's initiatives and keep them aligned with the company's visions and missions.
Prior to taking up the leadership position at Jar, Avantika was Head - Consumer Partnership, at Cleartax where she seamlessly led a team of 50+, managing alliances, and enterprise sales, for the three biggest verticals of Cleartax GST, Mutual funds, and ITR Software & Compliance Services. Previously, she has been associated with Urban Company where she built a strong foundation around consumer dynamics and sourcing strategies. Her HR stint at Volvo, helped her understand the corporate culture and firm her belief in strong team synergies and bringing the best out of each individual.
Avantika is an empathetic and dynamic leader known for her strong business acumen and skills in business development, planning & executing business & brand strategies, developing new market channels, and building strong relationships with customers and industry leaders. Leveraging her rich experiences, she is adept at scouting growth opportunities and venturing into new markets to provide accelerated growth for her organization.
Let's hear it from her.
Could you tell us about the unique experiences the University of Cambridge, England offers and
what did you learn from the campus beyond academics?
The Cambridge course offered a unique blend of cross-industry and cross cultural learning experiences that provided a good perspective on global demographics and consumer pulse. The course was structured around use cases, which helped bridge the gap between industry and academia. Acing the collaborative power coupled with immense research and deep dives on a day-to-day basis helped us understand the outside-in and inside-out view much needed by business leaders. This approach challenged our critical thinking and problem-solving skills and enabled us with stronger convictions in our business decisions driven by data and consumer analytics. The learnings that I take away from Cambridge are adding advantages to my professional career.
To me, consistent learning, striving hard, & challenging the status quo are the secret sauce for building a strong foundation of success
You began your career as an HR Generalist. What made you shift your interest from HR to Sales & Marketing?
Being an extrovert with a parttime anchoring career during under grad days helped me build an outlook on consumer dynamics. I was always willing to learn, goal-oriented, driven by ambition and sought more responsibilities. A deeper introspection backed by my MBA in Sales & Marketing, triggered me to change my profile and foray into the field of Sales and Marketing. My Experience in Volvo helped me shape my leadership style which I apply to date across organizations.
How would you define Jar as an organization and its current position in the market?
Jar is a digital platform where people are encouraged to develop the habit of saving and investing in digital gold on a regular basis. Within just three months of its inception, the company was able to reach 0.5 million users. Today we have over 15 million users and we have been constantly putting our efforts to add value to millions of Indians' lives, one rupee at a time. It takes a long time for any fintech company to acquire 0.5 million
users in such a short time. The sole reason for Jar to perform so well is that first, our UI is extremely simple second, our main goal is to help common people third, our focus is not just to cater to tier-one cities, but we want to resonate and connect well with users in tier-2 and tier-3 cities as well.

What is the future destination you are heading towards?
I am looking forward to making India's biggest 'Save now, Buy Later' platform-VIBA, where the user will get an opportunity to turn their aspirations into reality. Right now, we have Jewellery in our portfolio. Going forward, we will have a plethora of categories people aspire for like high-end consumer products bags, Sneakers, and many more products.

What keeps you motivated?
I want to see a world full of women leaders. I want my daughter to look up to me leaving behind the social dilemmas around motherhood and professional career. One must not stop dreaming big, creating a difference, and becoming the person she wants to be. To me, consistent learning, striving hard, and challenging the status quo are the secret sauce for building a strong foundation of success which keeps me motivated.

What advice would you give to budding industry leaders?
I believe leaders should focus on building a strong foundation of knowledge and skills in their respective fields. It is also important to be adaptable and open to new ideas and technologies. Networking and building relationships with industry experts can also be beneficial in learning new things and staying ahead of the competition. I believe in leading by example and creating a culture of transparency, trust, and collaboration. My advice to budding industry leaders would be to stay focused on their goals, be adaptable to change, and always strive to learn and grow as professionals.

Avantika Singh, Director- New Initiatives, Jar
An alumnus of the University of Cambridge, Avantika has a deep understanding of Digital Marketing - Positioning & Branding, Creating Business Strategy, and expertise in Growth & Business Development. She has partnered with more than 750+ brands. She is a very well-known personality in the Fintech space.