Kush Mehrotra: An IOT Visionary Offering Specialized Services In Asset, Fleet, & Enterprise Management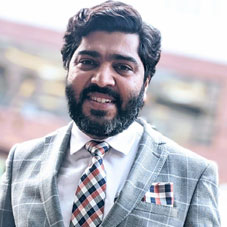 Global IoT market is projected to grow from $662.21 billion in 2023 to $3,352.97 billion by 2030, at CAGR of 26.1 percent. IoT technology has been game-changing across varied operations in business ecosystem and its importance is growing with every passing day. Dependability of this technology has increased which is evident from the CAGR which is why solution providers in this domain must always implement most advanced resources possible to serve client requirements. Technology entrepreneurs need to be always aware of the newest innovations and should have the expertise to customize those according to client requirements. Kush Mehrotra is seasoned management and technology professional who has witnessed all the changes industry has undergone and has served many reputed organizations in different capacities. CEO Insights magazine engaged in conversation with him in order to know more about his career and impact his company is having on the market.
Throw some light on your professional background and experience. How has been your journey so far with IMZ Corporate and what drives you today?
I am a result-focused management professional offering over decades of rich experience in senior level leadership for start-ups, Early Stage Growth, and Global Operations. I am MPhil (CS), MCA, MSc(IT), GNIIT, IPRs (IIT Delhi), CEM (IIT Delhi), BEC (Univ. of Cambridge), Transport Management (GIMI, Israel). My previous employers have been NIIT, Oracle, Pantel Technologies, ACQUESTA Group of Companies (Daphne Systems, Glozon Technologies, Prudence Consulting). In the past I was working with Rosmerta Technologies as AVP - Technology & BD from 2013-2021. In FY 2021- 2022 I have worked with organization NKC Projects Watsoo Express as Vice President Technology & Business Development for FY 2021-22. Currently I am elevating and building IMZ as CEO, IMZ Corporate from 1st March 2022 onwards (continuing). Being practitioner in field of AIDC & IoT vertical for last two decades, I have been paving path of organization in E – Lock Solutions, GPS-based VTS, LBS, AIS – 140 VLTD with BIS 16833 standards, Non–AIS 140 GPS Devices, Analog Fuel Rods, Digital Fuel Rods/ Sensors based FMS, IoT Sensors,
RFID Integrated Solutions, IT & Infra Solutions - IDC, DRC, CCCC, FAS, PAS, ACS, CCTV Camera Surveillance Solutions.
How has IIT Delhi contributed to your rise as a successful industry leader? Could you talk about the learning and experience that you acquired from IIT Delhi and how you apply them in your current role?
IIT Delhi has played a great role and has acted as positive catalyst for better understanding of entrepreneurship management. I consider it as temple of institution, which has ensured to clear my thought process, vision, mission, decision-making. I was able to understand that among all 06 functions of management Planning, Organizing, Staffing, Directing Controlling, Coordination Coordination, delegation are key essences of management, which ensures inclusive and exponential growth of organization and myself. Whereas networking, technology remain main two pillars, at DMS, IIT Delhi.
Imz Corporate Excels In Tracking, Tracing, Secure Logistics, Where We Emphasize Technical, Operational, Administrative & Financial Efficiency Via Providing Turnkey Solutions In Field Of Iot
How would you define IMZ Corporate as an organization and its position in the market? What is the unique proposition that your organization offers to its clients?
IMZ Corporate is new-age IoT tech company that offers holistic remote asset, fleet, & enterprise management. Understanding importance of asset security, safe transit, enterprise data, & manpower management, IMZ develops cutting-edge hardware, software, & solutions through IoT, Big Data, & AI rendering an all integrated & end-to-end monitoring system. Innovative, cost effective, time saving, IMZ's wide range of apps & h/w assure zero possibilities of tampering.
IMZ Corporate as organization specifically is one of largest Digital based Electronic Lock Solution providers on PAN India basis in B2G, empanelment, B2B, B2C markets. Have renowned clients, verticals like examination, excise, customs, cargo, asset tracking, FCI, RRDA's, to name to few.
IMZ Corporate excels in tracking, tracing, secure logistics where we emphasize technical, operational, administrative & financial efficiency via providing turn-key solutions in field of IoT.
We provide services, turnkey solutions in SAAS, OPEX, keeping
transactional, rental based IoT based services on highest priority, along with same, equal provisioning of outright purchase, as per the requirement elicitation of clientele.

How do you maintain the perfect balance between your personal and professional life? What is your success mantra?
In path of attaining success, pride, honors, degrees, certifications, being a candid well read, and well travelled professional in global era, I sincerely feel I have faced challenges of time management between my personal, professional life, always looking forward to being present in industry 24 by 7, have made me miss out some of precious and priceless moments of my personal life. On daily, weekly, monthly, yearly basis, almost 1,500 business travels, more than 3,000 flights in the last two decades, and reading almost crossing 1,000 novels, have surely made me a better, wise professional, but equally challenging to keep my emotional quotient, family well attached, served much better, in terms of being in person present, to cherish those priceless moments with them.

Each & every single project, travel, contact, connection, communication, conversation that has happened with me or along with me in two decades, has taught me better things in my professional as well as personal life, has made me inclusively a better proficient professional, leading to being calm, composed human being.

Four success mantras have been Networking which is more than my Net worth, Technology, Well Travelled, and Well Read.

Going forward, what are the changes in market behavior that you anticipate, and what are the opportunities that you foresee?
In the IoT era and in near future, due to the epidemic and pandemic of COVID-19 critical crisis, a severe shortage of chipsets, and electronic components has led to an exponential increase in the prices of the IoT components, and their products, making the solutions less optimized, as well as the timely delivery of the products and its solutions, has been equally challenging.

Opportunities are there in the extended part of IoT where the combination of AI, robotics, e-Commerce, and logistic industry would be ensuring to lead the market.

Kush Mehrotra, CEO, Imz Corporate
Being practitioner in field of AIDC & IoT vertical for last two decades, he has been paving path of organization in E – Lock Solutions, GPS-based VTS, LBS, AIS – 140 VLTD with BIS 16833 standards, Non–AIS 140 GPS Devices, Analog Fuel Rods, Digital Fuel Rods/Sensors based FMS, IoT Sensors, RFID Integrated Solutions, IT & Infra Solutions - IDC, DRC, CCCC, FAS, PAS, ACS, CCTV Camera, and Surveillance Solutions.