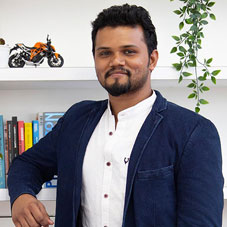 Ask professionals in the business what the key to success is in advertising, and they will say it's creativity - the soul of advertising and branding. And Mithil Shetty, Creative Director - Art, Jio Creative Labs is the catalyst of creativity who is navigating high-powered design thinking and planning to achieve the best possible outcome, essentially meeting customer expectations and driving sustainable growth for brands.
Design was something that Mithil always had a knack for since his childhood. He eventually developed his taste and vision and grew to a stage where today he has been designing and creating brand identities for a few of the many big guns in the industry. He worked in numerous agencies where he met creative, visionary people and that's how his journey began. After all the fast-paced life of an agency when the days turn into nights and nights turn into mornings, that's when he also started as an expert lecturer in one of Mumbai's top colleges. He began teaching Mass Media Graduation students Advertising Design. In short, Mithil's journey began right from designing a 1000x1000 pixel digital post to branding a larger-than-life airline.
In this competitive and cluttered industry, Mithil is leveraging his design thinking to break free and stand out, never forgetting to smile at the beautiful pieces of work he has carved. Let's hear it from him.
Tell us about the unique experiences the University of Cambridge offers and what did you learn from the campus beyond academics.
Being a part of the University of Cambridge was a life-changing moment. The application-first curriculum and the life it offers to its students were beyond ordinary.
Everything that I learned inside the campus had an impact on what I did outside in the professional world. It takes special care of each and every student by providing them with the attention and help they need; hence the capacity/intake of each classroom is limited to a certain number. This helps students grow truly in the right manner. Be it sports, culture, or studies, each and everything is given equal importance. It pushes you a step ahead and ensures that you are industry-ready.
Design is something that should ignite all five senses in a consumer. So that's what I want to achieve to design a brand that you could feel, sense, taste, smell, and hear
How would you define Jio Creative Labs as an organization? Tell us about the value additions that customers can expect from its flagship offerings.
Jio Creative Labs is a 360-degree communication and creative agency with a wide span of services to offer including mainline and digital advertising, content creation, celebrity endorsement, and in-house production. In the Indian market, it is well-known as the marketing and advertising wing under Reliance. JCL played a significant role in the successful launch of Jio.
We have created ads for over 150 top global and national brands that have garnered the highest recall amongst all others advertising during the same time and created digital films that have repeatedly trended on all platforms.
One of the biggest value additions that customers can expect from our offerings is that, unlike other agencies, we have everything in-house. Right from planning to strategy to execution to production to having all DOPs, creative producers, and heads under one roof, enables us to have a great turn-around time and ROI for our brands.
Tell us about your leadership approach.
My leadership approach is very
simple - learn and earn. My learnings and my people are what pushes me to be a better person and a much better leader. They say you are as good as your team, so all my efforts are for the betterment and upskilling of my team because eventually, they are going to represent me in a larger forum. I believe in one secret ingredient and that is 'Patience'. As a leader, managing work is much easier than managing people. So being patient and being there for the team is the most important aspect which helps me to connect with them better.

What is the future destination you are heading towards?
My future destination is heading towards complex design problems. I would love to see and solve things with design because this will not only solve the greatest problems but also give a sense of satisfaction. Design is something that should ignite all five senses in a consumer. So that's what I want to achieve - to design a brand that you could feel, sense, taste, smell, and hear.

What advice would you give to budding industry leaders?
Not every piece of work needs to be a piece of art. Sometimes you need to solve a functional need and sometimes you need to solve an emotional need. So, it is okay to take some time out and just go for the simplistic way of treating a problem. Patience is your only strength - patience to deal with people, clients and to get things right.

Mithil Shetty, Creative Director - Art, Jio Creative Labs
An alumnus of the University of Cambridge, Mithil is a dynamic creative thinker and leader passionate about designs and creative ideas. His dedication and enthusiasm towards his role inspire his team to go beyond the creative boundary.

Awards & Recognition: Masters of Modern Marketing (mCube) Awards, Inkspell Media, Edelweiss Mutual Fund's Bharat Bond campaign was awarded Best 360 Degree Marketing Campaign 2020, HBO's Bumblebee Comes Home campaign was awarded Best Content in Social Media Marketing Campaign 2020, ICICI Prudential Mutual Fund's Year of SIP campaign was awarded Best Multi-Channel Campaign for a Financial Services enterprise in the Sector Specific Awards