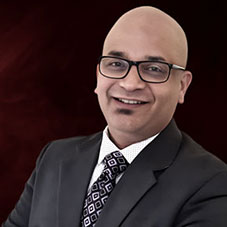 A passionate leader with handson experience in contemporary teaching methodologies, Saumyajit Choudhury, Founder & Director, Skillgym is leveraging 22 years of exposure in the training and hospitality industry to bring a positive change through education. His nature of work is constantly focused on finding better ways to use education to enable better life skills in people of all age groups.
From the beginning of his career in the hospitality business to the present, Saumyajit has always been connected to the service sector and delighting customers. He has worked in sales, customer service, technical support, teaching, and even company creation over the years. Through out his time working as a business development consultant, he had a better understanding of the value he offered as a trainer and how to position success for the future, for both himself and his customers. In 2016, leveraging a variety of abilities and putting all of his knowledge to use, he decided to take the road to entrepreneurship and established Skillgym.
"We are excited to create a platform where students & the teaching community can exchange ideas & engage with the brightest minds on the planet"
Under his leadership, Skillgym, over the years, has helped 7000+ students become more confident and proficient with their skills, 700+ educators become skilled and effective in delivering learning, and 30+ clients provide learning solutions for their staff, teachers, and learners. The company has also received APAC Business Award 2022 for being the best teacher training company in India.
Let's hear it from Saumyajit as he shares with us valuable insights and talks about his journey.
Describe your leadership approach. What is the main goal of your venture?
I follow a people-centric approach towards leadership. In my opinion, no matter the sector or the nature of the services or goods, people are at the center of all we do. My attention is on people and their potential as human beings. I believe we could win people's trust and hearts (gain access to people's brains and hearts) if we take the time to learn who they are at their core, what motivates them, what they value, and how these traits show up in their encounters.
During my educational journey, I have come across universities that don't provide us with the skills we need to deal with life's obstacles and shortcomings. And it is precisely the goal that my group pursues preparing young people for the future discover the limited opportunities presented and unleash their ability to achieve in life by not just making the right decisions, but also taking responsibility for those decisions.
Give a brief account of design
thinking. Also, what latest tools and technologies are used in the organization to empower the teachers?
Design thinking has been playing a major role in the life of students, however, design thinking hasn't been utilized to its potential in the life of a teacher. Class rooms across the globe face unique challenges every day. The challenges that teachers face are complex, real, and varied, and design thinking is one of the approaches with new tools. To assist our teachers, keeping in mind the new education policy and also the emergence of ICT tools in the education sector, Skillgym has designed its own online tool for training teachers. The tool has helped us connect with teachers across PAN India allowing them to explore new teaching methods and also learn at their own pace.
A diploma holder in Hospitality Management from the IIAS School of Management Studies and a Diploma holder in training adult learners from the University of Cambridge International, Saumyajit has over 22 years of experience in the Training and Hospitality Industry. He brings with him experience in the fields of sales, hospitality, business process outsourcing, knowledge process outsourcing, and training. He has done training at various levels and has to his credit the exposure to dealing with college students in various parts of the country.
Could you reflect on some of the toughest challenges you have encountered in your journey so far? How did you overcome them?
When we started Skillgym, the biggest challenge we faced was to bring teachers to the platform of Continuous Professional Development remodeling their behavior to match the need of 21st-century learners and bridging the gap of ICT usage in the classroom. To overcome this challenge, we connected with the best of the institutes in India that had a similar vision. What we learned throughout our journey is that there is a huge gap between the content that we deliver and the skills that we are trying to inculcate in our students. We were more focused on knowledge transfer than the critical skills being nurtured.
What are the factors you look into when developing effective corporate growth strategies?
Several businesses provide broad to highly specialized services to the education industry. The creation of niche offerings is challenging. When I consider what is effective, specifically with regard to Skillgym, it is establishing strategic alliances and collaborations and creating goal alignment with clients or market audiences. We also see examples of this working quite successfully for big businesses coming to market collectively and offering unique values that the audience wouldn't have otherwise obtained.
What are the methods you have suggested for the team to draw insights from the market?
Initially at Skillgym, I tried to provide my clients with cutting-edge technological solutions to address their perceived needs. Although technologies like automation have clear benefits and a certain amount of glamour, they are not always the best option for the clients at that time. As a team, we've now learned to focus on 'what needs to be solved for' and 'how we achieve disruptive results' rather than worrying too much about the platform or modality. Technology and content accessibility are commonplace today, and new methods of learning and doing things are always being developed. Trends also come and go; we must always be relevant for us to continue to add value.

What are the changes in market behavior that you anticipate and what are the opportunities that look forward to grasping in the future?
With the implementation of the new education policy in 2020, the education sector will see a paradigm shift in teaching methodologies, with more focus on skill enhancement to multi-disciplinary learning. The teaching community will have to adapt to the new changes. Keeping this in mind, Skillgym has started the journey of upskilling the teachers on NEP 2020 with the support of many institutions of national importance/prominence. We see a big opportunity for Skillgym in contributing to the teachers' upskilling, providing them with a platform where they can engage with like-minded faculty from across the globe, and also assist the teachers in developing the skills, be it communication, collaboration, or critical thinking in our students and playing a role in shaping their future. As a company, we are excited to create a platform where students and the teaching community can exchange ideas and engage with the brightest minds on the planet. We intend to take organizations nationwide in India, with a particular emphasis on rural areas where teachers and students are in need.

What would be your advice to upcoming leaders in this industry?
Being in the education sector for such a long time, I believe that we need to focus on the holistic development of both students and teachers.So, my advice to future leaders would be to keep an open mind, focus on overall development and not only specific areas, and work on improving the skills which are an integral part of education.

Saumyajit Choudhury, Founder & Director, Skillgym
A diploma holder in Hospitality Management from the IIAS School of Management Studies and a Diploma holder in training adult learners from the University of Cambridge International, Saumyajit has over 22 years of experience in the Training and Hospitality Industry. He brings with him experience in the fields of sales, hospitality, business process outsourcing, knowledge process outsourcing, and training. He has done training at various levels and has to his credit the exposure to dealing with college students in various parts of the country.

Hobbies:Playing drums
Favorite Cuisine: Indian
Favorite Travel Destination: Shillong, India
Awards & Recognition: Received awards and appreciation certificates from various universities and colleges in India