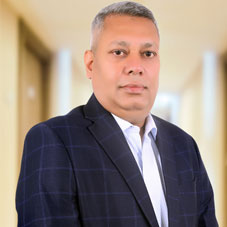 A famous quote by Albert Einstein says, "Only a life lived for others is a life worth while". Driven by a similar ideology Shalinder Bernard, Business Director & Country Head - India, Jafron Biomedical, an industry veteran, chose the most fascinating and dynamic profession the profession with the highest potential for greatness, to emphasize continually that safe, high quality, compassionate care remains the top priority in healthcare and ensure that the voice of patients and clinician is consistently heard at every level.
Coming from a small town in Punjab, Shalinder grew up observing his father who was deeply involved in patient care and their well being. He developed a similar interest while growing up and decided to dedicate himself to the service of humanity. He chose healthcare as his profession, and ever since then, has been completely invested in patient care. Along the way, he has been blessed with the opportunity to work with multiple organizations whose main line of business has been patient care. This brought him into close contact with the daily struggles of critical patients, and develop a deep understanding. This helped him to shape himself into a better leader in this industry. Shalinder was successful in spearheading positive drives, that helped many clinicians and patients overcome clinical and medical adversity. Under his leadership, during the COVID-19 lockdown, his teams were able to go above and beyond, risking their own lives, to help their patients.
This passion and dedication to making a difference in society has brought Shalinder a long way. He aspires to help Jafron Biomedical nurture a culture that ensures the delivery of compassionate healthcare. Let's hear it from him.
How has your path to success been and what is your success mantra?
Three simple mantras for success are Passion towards your assignment, Focus on how and what you want to achieve, and Courage to take significant steps towards a bigger goal that would impact a larger audience. In a field that seeks to improve the quality of human existence, empathy for the patient and comprehension of their suffering are essential also understanding of clinicians perspective towards new therapy and their adoption of innovative products. I try to continuously engage with patients and clinicians and this has helped me consistently improve my approach. How has your path to success been and what is your success mantra?
If you want something you never had, you have to do some thing you've never done
What is the motivation that fuels your
daily routine?
Every new day brings with it a ton of goals. I try to meet them to their fullest by focusing on compartmentalizing different streams of thought or activity to help reduce the transition time between the many things I need to get done. Visualizing and setting mental goals and then creating deadlines helps me to make progress on multiple fronts each day. Having a balance between my personal and professional life is one of the most critical tasks and I always emphasize and allocate proper time for both. I make sure to enjoy the journey with a smile and define productivity to include relaxation and time for myself to help keep the fuel burning.
How would you define Jafron Biomedical as an organization?
Jafron Biomedical was founded in the year 1989. In the last 25 years, Jafron has diligently devoted itself to the R&D, production, and sales of blood purification products primarily in the hemoadsorption. It is dedicated to providing professional services to patients worldwide, covering ESRD diseases, acute poisoning, critical illness, hepatopathy, immunological disorders, and more, and other critical illnesses across the globe. The company's flagship product, the HA series disposable hemoperfusion cartridge, has been adopted in more than 8,000 key hospitals across 80 countries and regions.
Tell us about your leadership approach.
The single biggest way to impact an organization is to focus on leadership development. There is no limit to the potential of an organization that recruits good people, continuously develops them, and raises them as leaders. I feel so satisfied looking at my associates filling the leadership gap and growing in their professional life.

I believe and have always adopted diversity, equality & inclusivity in my team regardless of gender, caste, creed, religion, and most importantly previous experience. A leader must not be biased towards these specific pointers while choosing team members and should focus on talent, enthusiasm, and attitude; if I can select those who can be developed as a leader, my job is done.

What is the future destination you are heading towards?
In the years to come, our goal is to ensure that we enhance access, improve accessibility, and provide affordable products in the country. Together, these should propel our company to a leadership position and we should be able to provide gainful employment to hundreds of our talented fellow citizens.

What advice would you give to budding industry leaders?
In today's rapidly changing, evolving, and emerging world, no advice is permanent but a few principles have endured the test of time, these are hard work and commitment. Leadership is not so much about technique and methods as it is about opening the heart about inspiration the ability to connect with people for the purpose of inspiring and empowering their lives; it is about human experiences and not processes. Courage is an inner resolution to accelerate despite obstacles and integrity is the most valuable and respected quality of leadership.

Shalinder Bernard, Business Director & Country Head – India, Jafron Biomedical
A Transformational Leader with over two decades of professional experience in healthcare leadership in various organizations, Shalinder is driving teams and business for Jafron Biomedical in India to enact the vision and values of the organization to provide the best-in class product and patient care.