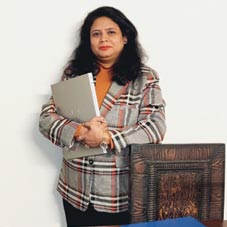 Much more than any smart device provider, AVITA stands as a premium brand of Nexstgo that not only offers products that fit your lifestyle but also represents you. Right from Laptops, IOT products to IT accessories, and more, the brand offers the perfect blend of design, performance, and the latest technological innovation. Leveraging the current opportunity of rapid digitalization, the company is embracing amazing innovations. With this, AVITA has won several awards during its journey and has shared the stage with the best at numerous prestigious events including back-to-back appearances at the CES convention in Las Vegas where it won the award for Most Innovative Brand. Recognizing the services of the brand that topped the charts of Amazon India Bestseller's list in 2020, CEO Insights had an exclusive conversation with Seema Bhatnagar Regional Business Director (South Asia), Nexstgo Company Ltd.
What are the strategies that you offer while justifying the company's smart, innovative, and technological standpoint?
AVITA as a brand has chiefly catered to youngsters as a targeting audience since its inception. All of our laptops have multiple colors and options which is just one of the many unique attributes that makes us the top choice for individualistic young buyers. We have recently launched LIBER V which has earned rave reviews and has established record-breaking sales all over the country. We have also launched ESSENTIAL which is a low-priced laptop targeted especially for the young price-conscious consumer. We have just concluded the festive season with a resounding success owing to these models.
Our PURA series is a great choice for people looking for performance laptops. A month ago, it topped Amazon's Bestseller List in the
consumer laptop category. LIBER, PURA, ADMIROR and ESSENTIAL have features like FHD Screens, premium audio, versatile connectivity options, great battery life, and come with SSD storage as a standard.

Enunciate on the technical and marketing expertise that is a part of the brand and what are the techniques that you adopt to propel the brand's name efficiently?
Most of our laptops can be classified as ultra-portables due to their slim design and lightweight which is the need of the hour. Our portfolio of vivid color and pattern products gives us a distinctive identity and appeal over other brands. Our IoT products like Smart scale and Smart mirror are lifestyle accessories for the home, which combine different functions of daily routine with technology to make them easier.

We offer the latest and the best in PC tech to our consumers at a much better value for money than other brands. This USP coincides perfectly with our marketing strategies which target the young and aware audience. Our audience is already proficient in the language of technology and knows what is on offer. They want the brand to talk about specifications and they like a brand that evolves constantly and that is how the brands communicate with them on various channels.

Enumerate your product distribution model and how are you tapping into new designs and aesthetics to build stronger consumer ties?
Our products are available on all major e-commerce portals. We have exclusive brand stores operational in India and we wish to expand in the coming times. Through our offline channel partners, we have a pan India presence via dealerships. Our exclusive e-brand store NEXSTMALL is fully operational and houses all of our products and accessories.

We have aggressively reached out to tier 2 and 3 towns with affordable and lean variation of our flagship products. In terms of design, we have revolutionized ultra portable PC models and aesthetically pleasing looks in our products. Our modern, minimal, and ergonomic designs make us a big draw among consumers of all kinds.

What are your thoughts on the current consumer electronics
industry in India and what opportunities do you foresee?
It can be summed up in one simple statement India is the youngest and the fastest-growing consumer electronic market. It is an untapped ocean of opportunity. And, not just in India, but all over the world the industry has stagnated in its product offerings and that is why we will continue doing well. Our model of constant R&D innovations, the most diverse product offering which gets regularly amplified is serving us well. So, we just have to keep giving the consumer what they want. Comprehensive market research and understanding is the key here.

What are your steps to infuse the latest trends and cater to the millennial audience?
We currently have two products on offer for the millennial audience. AVITA Essential which as mentioned earlier is an affordable product and MAGUS which comes in a two in one form factor. Our other models like LIBER and PURA also have variations that have been built keeping first-time consumers in the mind.

Kindly tell us about the future road map and vision set for the company.
We wish to become an industry leader in both online and offline channels. We are committed to grabbing a 5 percent market share of the Indian PC Industry by 2021. We are working ferociously on establishing new brand stores every month. We have established a solid footing and brand prestige in India. Thus, now we are free to work towards diversifying and becoming leaders.

Seema Bhatnagar, Regional Business Director (South Asia)
Awards & Recognitions
• CES 2020 Innovation Award - In the category of design for exquisite offering AVITA ADMIROR, which was also featured in the 3-day CES exhibit with other products.
• Digital Brand Award 2019 - AVITA ADMIROR won the Award Most outstanding laptop of the year.
• PC3 Platinum Brand 2019 - AVITA won the award in the category of top consumer laptop brand.
• E zone E brand Awards 2019 - AVITA ADMIROR won the award in the category of the best lifestyle notebook.
• Best Choice Award 2019 - AVITA LIBER won an Award in Jury's Special category.
• ET Best Brand Awards 2020- AVITA won in the consumer laptop category